Luke Seelenbinder, originally from the United States, is a software developer who moved to Switzerland six years ago. A year later, he applied for e-Residency of Estonia to establish a location-independent consulting company. He never imagined that one day he would tour this small Northern European country on a bicycle.
Estonia by bicycle: this is a translation of an article first published in the September 2022 issue of the Estonian magazine 'Ma Olen Jalgrattur' (I am a Cyclist).
Based on the title of this article, one might think that Luke Seelenbinder is just another cycling enthusiast from Central Europe who has toured dozens of exotic countries. However, that's not the case. "When I moved to Switzerland, I bought myself a bicycle. At first, I wasn't sure if I was going to use it at all, but something told me that I might need it, and that's exactly what happened," recalls Luke, who got himself his first "proper" bike last year. "My rides kept getting longer and longer, because for me, cycling is actually very relaxing. It's like a holiday that couldn't be more different from my day-to-day work which is quite technical. I also find it to be the best way for discovering new places," explained Luke.
In 2015, Seelenbinder decided to apply for e-Residency, a programme launched in 2014 by Estonia for foreign entrepreneurs. His e-resident status has brought him to the country's capital, Tallinn, around a dozen times. "I've been here mostly for Latitude59, and I really love Tallinn, a true European city,' described Luke. "There's lots to do here, and interesting people to meet. Over the years, I have developed some close friendships in Estonia. I know that Estonians think of themselves as cold, but my experience is different."
Despite his frequent visits to Estonia, Luke had never made it out of Tallinn until this August. This time, work took him to Viljandi for a couple of days. Since plane tickets were significantly cheaper for a week-long stay, Luke decided to prolong his stay. "That's when I thought that I didn't want to spend the whole week only in Tallinn – I wanted to venture out. Half-jokingly I tweeted that perhaps I should embark on tour around Estonia by bicycle. My Estonian friends and the e-resident community were all in favour of the idea, and that was that,' recalls Luke.
Luke received a lot of helpful tips via social media, together with detailed recommendations on what places to visit. "I realised that although riding around Estonia by bicycle started as a joke, it was actually doable because I had the support I needed," said Luke.
Five days on the road
In total, Luke's 500km long cycling tour around Estonia lasted for five days. First, he set out along the coast in Lahemaa National Park, stopping at Vihula Manor. The easternmost point of his tour was Kohtla-Järve, in Ida-Viru County. From there he travelled to Estona's second-largest city, Tartu, cycling along the shore of lake Peipsi. Although Luke was planning to continue from Tartu to Viljandi on bike, he was too tired and decided to take the bus. "I'm not really a top athlete. However, touring Estonia by bicycle gave me a new understanding of the importance of bus connections for getting around outside Tallinn," recalls Luke when talking about how the rest of Estonia differs from Tallinn.
"I knew that Tallinn was different from the rest of Estonia, and now I know how. I didn't have any preconceived notions, but now I see Tallinn and the rest of Estonia as different countries," laughs Luke, referring to sparse population density only a few dozen kilometres outside Tallinn, with only one country house per kilometre. "Lots of sleepy villages that don't even have shops," said Luke.
The magic of Estonia by bicycle
As a resident of Switzerland, Luke is well accustomed to being surrounded by breathtaking nature. Although Estonia does not have real mountains like Switzerland, he never got bored cycling around Estonia. "I really enjoyed cycling through the forests of Lahemaa National Park. My goal was to experience as much as possible, both cities and nature – I have never seen such contrasts anywhere before. How does one compare Lahemaa to Kiviõli?" he enthused.
Along the road, Luke was struck by the neighbourhoods of Soviet-era apartment buildings – how drab they looked, and how one must drive long distances to get away from there and see something interesting. He admitted that in the future he would probably refrain from riding by the mountains of oil shale ash in Ida-Viru County because of the poor air quality. At the same time, it's also one of the advantages of discovering Estonia by bicycle – seeing the differences between regions," explained Luke. He regrets that he didn't make it all the way to Narva or stop by Vasknarva, but there just wasn't enough time.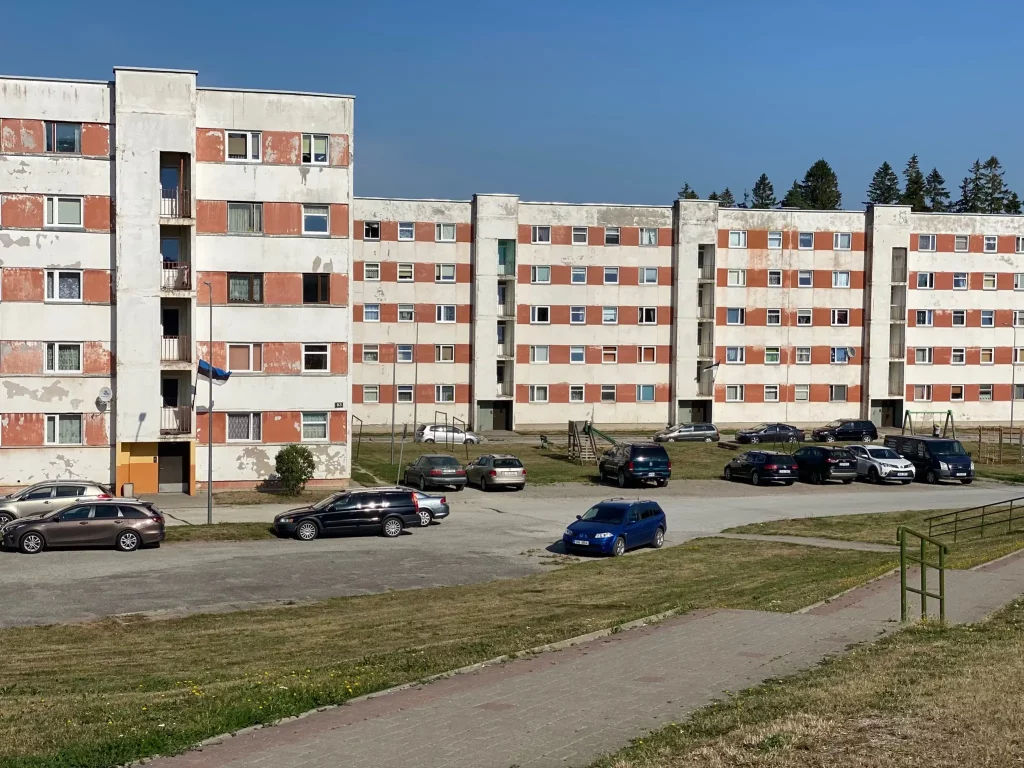 Alongside other highlights, such as Käsmu Maritime Museum, Hara submarine port, and picturesque Viljandi, one of Luke's warmest memories remains the Peipsi Food Street festival. "Every five kilometres, there was a stand with delicious food and activities. I feel that this festival is one of the best ways to get to know Estonian culture – spontaneously, together with the locals."
Luke was most impressed by Estona's second-largest city and historic university town Tartu.
"I immediately realised that this place was different – quite big, but still calm and nice. I understand why Tartu is spoken of as an ideal university city," he said, promising to return.
Although Luke is not a stranger to nature hikes and planned to sleep under the open skies, not everything went according to plan. On the first evening, it started raining, and he was forced to find accommodation some dozens of kilometres from Tallinn.
However, his determination to greet the new day in nature prevailed, and he got another chance in Lahemaa National Park. "In hindsight, I was foolish not to bring a mosquito net. Fortunately, another hiker on the camping site had a spare net, and I managed to get a good night's sleep. However, the experience of the first two nights taught me that I was not ready to sleep outside," said Luke, admitting that from then on he made sure that there were lodging options along the route.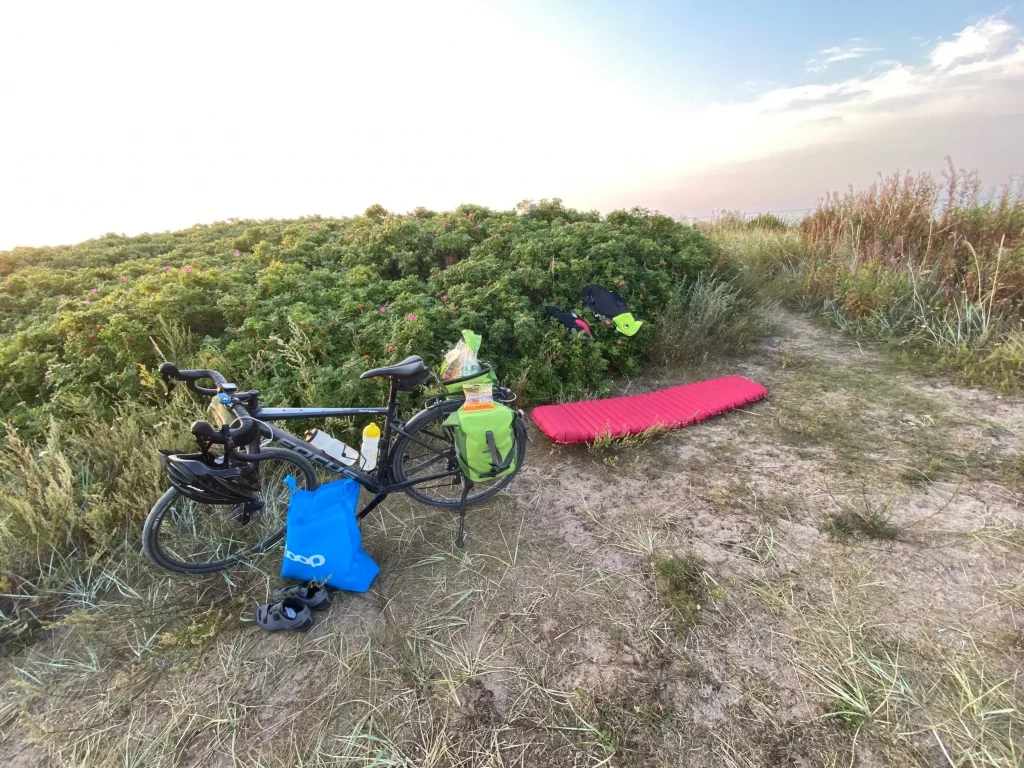 Tips for bike tours in Estonia
If you want to eat, the route must be planned ahead very accurately. "There are not many shops or food outlets along the roads. So even if you're hungry and in a low mood, you must keep pushing towards your goal. As an early riser, Luke was surprised that cafes open rather late in Estonia.
In terms of lodging, when riding around in Germany or Switzerland, cyclists can push forward until they get tired and choose from dozens of accommodations along the route. In Estonia, there is one perhaps every thirty kilometres. It will certainly make the journey more adventurous, but also more difficult. "I would say that in Estonia there is less room for error," said Luke, adding that although Estonians were very helpful, the language barrier did not allow for more elaborate conversation.
At the same time, Luke has strong praise for the infrastructure. "I didn't see too many other cyclists, which was surprising. Outside Tallinn and Tartu, I encountered maybe 2 or 3 cyclists. However, the road network was better equipped for cycling than I would have expected. There are a lot more bike lanes, even in national parks and around Käsmu, for example. On highways, there's the question of how drivers treat cyclists. Again, I was always given more space than I would have expected, feeling safe all the way,' praised Luke, adding that the biggest hindrance turned out to be the wind that made it hard to progress on otherwise flat landscapes.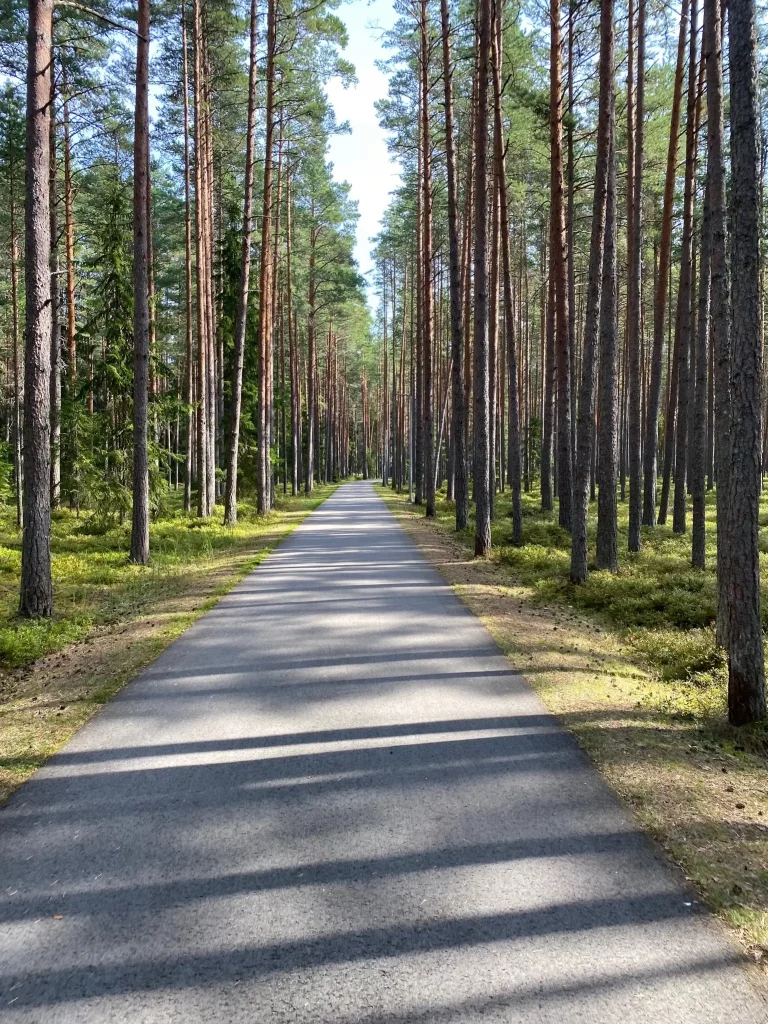 A test for the future
If we exclude Germany and Switzerland, it was Luke's first bike tour in a foreign country.
He purposefully chose Estonia as a relatively safe location to test if he was up for the task. Now he's got his confirmation – he made it! "I have been thinking of touring other countries, such as Ukraine. However, this is certainly not something that can be done on a whim as my little adventure in Estonia. Maybe I'll return once more with my bike, because I really like this country. I've heard that the western part of Estonia is also very nice,' said Luke, concluding his tribute to Estonia.
Lastly, Luke admitted that in one regard his tour in Estonia was a bit boring. "I had no problems with my bike," said Luke, smiling broadly.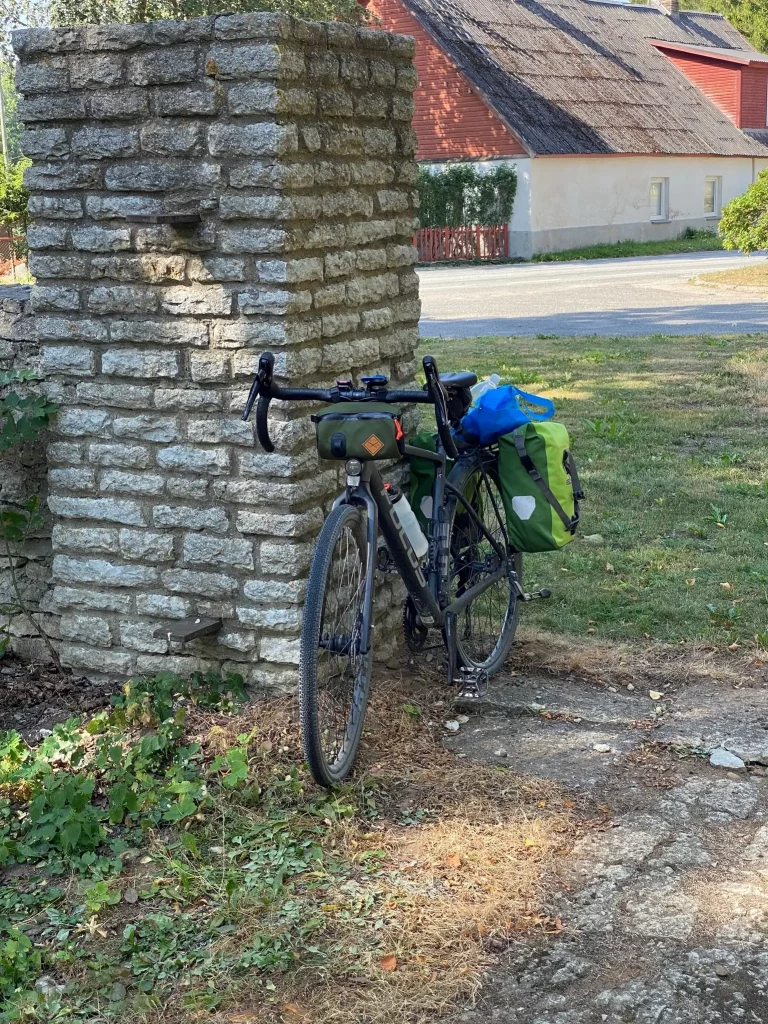 Interested in travelling to Estonia? The Visit Estonia website has everything you need to know about coming here!