estonian e-⁠resident breaks speed record for company incorporation
Austrian entrepreneur and Estonian e-⁠resident Dominik Panosch today broke Estonia's existing record for the fastest time to register a company from scratch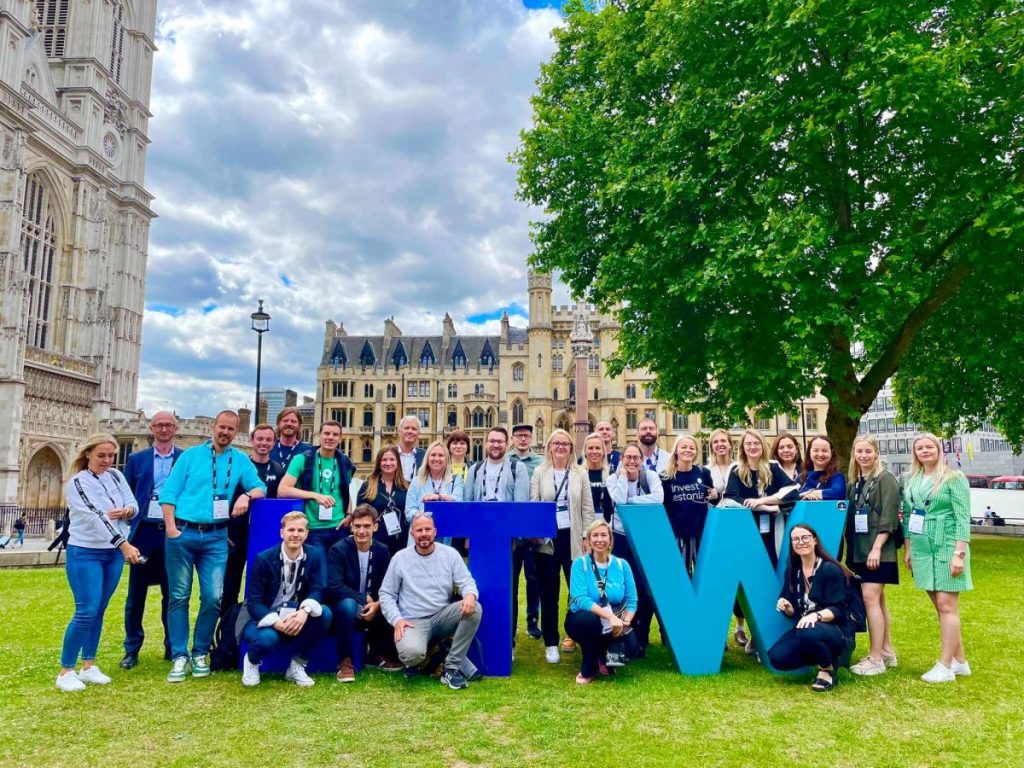 This morning, Austrian entrepreneur and e-resident Dominik Panosch broke Estonia's existing world record for the time taken to set up a company virtually. In an unbelievably fast time of 15 minutes and 33 seconds, Panosch set up his new business sign.online from scratch. His record shows how entrepreneurs benefit from e-⁠Residency, Estonia's Digital Growth Gateway to the EU, right from the start.
The record for virtual company creation took place on the main stage during the opening of London Tech Week. At a live session co-hosted by e-⁠Residency of Estonia, Invest Estonia, Startup Estonia and Work in Estonia, Panosch beat Estonia's previous record of 18 minutes and 3 seconds.
While Dominik attempted the record, the crowd heard from Estonian startup founders Martin Villig, co-founder of mobility super-app Bolt, and Taavet Hinrikus, co-founder of global FinTech company Wise (formerly TransferWise) and new startup Certific. Estonia's Ambassador to the UK, Viljar Lubi and Managing Director of e-⁠Residency, Lauri Haav also attended the milestone event.
Estonia: the Digital Growth Gateway to the EU
Speaking ahead of the event, Lubi commented: "Starting up a business in 15 minutes demonstrates how Estonia is a nation at the forefront of the digital economy and a safe and secure place from which to operate and grow a business." Haav explained that "e-⁠Residency is an Estonian success story and a model for global growth. We are demonstrating this in London, one of the world's leading tech hubs, showing how quick, safe and hassle-free it is for entrepreneurs from all over the world to open their company in the EU and manage business from anywhere, entirely online. It is our ambition for Estonia to become the Digital Growth Gateway for entrepreneurs around the world, and Europe's Unicorn hub."
After his amazing record-breaking attempt, Panosch was all smiles, saying "I was amazed how fast the company creation was. Once the info was filled in online, it was almost instant to have my company confirmed. Really excited for what's ahead for sign.online."
Panosch also explained his reasons for setting up a company in Estonia: "The EU is the world's largest single market and offers countless opportunities for business. Now, thanks to Estonia's pioneering e-⁠Residency programme, expanding a business to the EU online is quicker, safer and more convenient than ever before. In an uncertain world, e-⁠Residency is a no-brainer for entrepreneurs looking to start up or scale up quickly."
Digital Ease of Doing Business: Estonia's 7 winning characteristics
Coinciding with the record attempt, e-⁠Residency today also released a new Digital Ease of Doing Business analysis. It compares Estonia's business environment with ten other markets, including the USA (Delaware), Singapore, Poland, Spain, France, Australia, Canada, Germany, Brazil, and South Africa.
The analysis finds that Estonia has seven winning characteristics, from the speed of doing borderless business, to international languages spoken and support services for foreign businesses. These strengths support the country's ambition to be a "Digital Growth Gateway" to the EU.
We'll be publishing comprehensive guides on this blog in the coming weeks comparing Estonia to each of the markets. But in the meantime, here are the highlights of the seven winning characteristics:
Speed: Estonia is currently the only country included in the study that grants the establishment of a new business within two days. But why take two days, when you could try and break Panosch's record?
Access for foreign nationals: Estonia offers the easiest form of access for foreign nationals to establish a company: an e-⁠Residency digital ID. There is also no need for a local agent or director for an e-⁠resident's business.
Fully digitised government services: a state-issued digital ID makes it possible to use Estonia's digital services from anywhere in the world - whether you are a citizen, resident or e-⁠resident. Estonia's digital infrastructure is blockchain-based since 2008 and combined with secure, unique digital IDs, results in unparalleled data security.
International languages: Estonia is the only country included in the study that provides more than one international language to establish a company (English, Estonian and Russian).
Support services for foreigners: Estonia excels in providing a large and growing marketplace of support services for foreign nationals to start a business. In contrast, non-nationals of the UK or Singapore and non-EEA residents in Ireland and Portugal cannot even start accessing services without a visa.
Businesses per 100,000 people: Estonia had the highest number of companies registered per 100,000 in 2018 and the trend is growing. That's three times more than Portugal or Ireland, and twice as many as Singapore.
Transfer of shares: Estonia and Delaware are the only states included in the study that do not tax the transfer of shares. In other countries, the tax rate is between 0,2% and 2%. Estonia also has the world's most competitive tax system, with no corporate income tax on reinvested profits and no capital gains tax.
This research analysed ease of doing business in Estonia compared to ten other markets, collating third party data sources. Factors of comparison included opening a business in a foreign market, speed of opening a business, digital services available to businesses, and incorporation costs. More comprehensive market comparisons will be published on the blog in the coming weeks.