five years of e-⁠residency: past, present and future
The story of e-⁠Residency so far and what's to come
As I reported earlier this week, between 24 November and 1 December 2019, the e-⁠Residency team travelled around the world to join e-⁠residents, partners, Estonian embassy and consulate representatives, and other stakeholders to celebrate the 5th anniversary of e-⁠Residency.
Celebrations took place in over 20 locations from New York to Dubai, Istanbul to Seoul, and many places in between. At each event, participants heard keynote speeches from local Estonian Ambassadors as well as presentations by a representative of the e-⁠Residency team, a service provider, and one or more e-⁠residents.
We estimate that there were nearly 1,000 people in total who attended the events. But we acknowledge that there were many from the e-⁠resident community who couldn't make it.
For those of you who were unable to attend e-⁠Residency Week, we want to fill you in on what our team presented at each of the events. This post is an adapted version of our presentation, covering the past, present, and future of e-⁠Residency.
In this way, we hope to involve the whole community of Estonian e-⁠residents in this important milestone for e-⁠Residency and to fill you in on the story so far and what's to come.
Celebrating e-⁠Residency and e-Estonia
On 1 December 2014, Edward Lucas, then a Senior Editor at the Economist, became the first e-⁠resident. Now five years later, the program has grown bigger and better than expected.
There are now over 62,000 e-residents from over 160 countries, who have started over 10,000 companies. You can find up-to-date statistics on our website dashboard.
But e-⁠Residency didn't come out of nowhere. It is part of a much bigger story about the transformation of Estonia from a struggling, post-Soviet state to the world's most developed digital nation.
After Estonia regained independence in 1991 when the Soviet Union collapsed, it needed to adapt fast to ensure its economic survival and the future prosperity of its citizens. The government identified technology as its number one priority and set out to transform the country from scratch.
Now in Estonia (or e-Estonia as it has become known), 99% of public services are available online via its transparent and secure e-governance system. 98% of Estonians have a unique digital ID-card with which they can undertake e-services both public and private. It takes minutes to complete taxes online, vote in elections without leaving the house, receive e-prescriptions without visiting the doctor, and check a child's attendance at school without calling their teacher.
Importantly, Estonians (and of course e-residents too) own their own data and can see when and why anyone in government or beyond has accessed it at the eesti.ee portal.
This right to data provides the key to the success of Estonia's e-governance system: trust. That is, Estonians trust the infrastructure and services provided, as well as the public and private institutions providing them, and therefore use them in a widespread manner.
Estonia's transformation into e-Estonia is truly something special and unique. Yet, Estonians generally take the convenience of their digital nation for granted. Don't be surprised if you hear an Estonian speak with disbelief about the bureaucracy they experience in foreign countries!
E-⁠Residency: the beginnings
E-⁠Residency was born from humble beginnings. In early 2014, co-founders Taavi Kotka, Ruth Annus, and Siim Sikkut had the crazy idea to open the digital nation up to the world. A lean team led by e-⁠Residency's first Managing Director Kaspar Korjus was awarded a small grant to make their idea a reality.
The idea was simple: issue a digital identity and status to people outside of Estonia and provide access to some of Estonia's e-governance services and its open, trusted, transparent business environment.
It was a new and radical idea and because it was the first of its kind in the world its co-founders were initially not sure what could happen or where it would go. They truly were pioneering something that no other government had done before — offering state services in the form of e-governance to people outside the borders of the state.
But what was in it for Estonia? Well it was hoped that e-⁠Residency might:
Over time, the advantages of becoming an e-⁠resident became clearer. Put simply, e-⁠Residency provides a model for e-⁠residents to conduct their business without borders. They can start an EU company from anywhere in the world completely online, digitally sign and encrypt documents, and run their business at low cost and hassle free. Of course, e-⁠Residency does not provide any right of residency, citizenship, or travel to Estonia or the EU.
And there have also been benefits for Estonia, both tangible and intangible. E-⁠Residency has brought direct financial benefits to Estonia in the form of taxes and state fees and indirect economic benefits too: employment in and business to Estonian firms.
More difficult to quantify but just as important are the cultural benefits and 'soft power' the program has brought: raising awareness of Estonia abroad, spreading knowledge about the country's history, language, culture, and business environment, encouraging tourism and work migration, and instilling confidence and pride in the country about its unique offering to the world.
What's next for e-⁠Residency: new product and business developments
Of course, e-⁠Residency is not without challenges to solve and room for development. The e-⁠Residency team will never be content with the status quo and we want to innovate and grow as much as our e-⁠residents do. We speak with our e-⁠residents every day across many different channels — customer support, email, in-person, and via social media — and hear their challenges and needs. Our latest product developments reflect these needs.
On our 5th birthday, we are pleased to announce new features, some already live and others coming soon.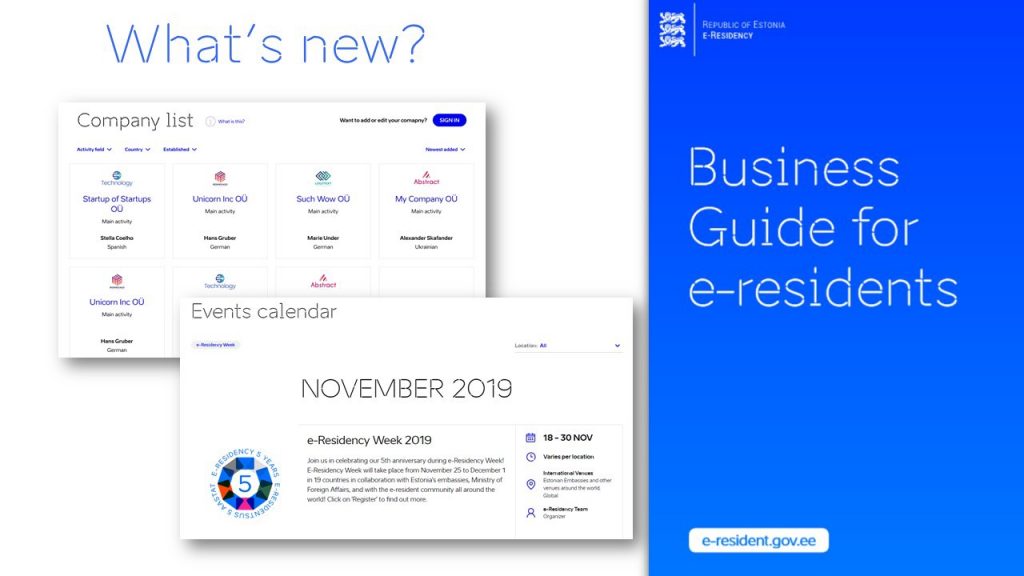 The comprehensive e-⁠Residency Business Guide was put together by the e-⁠Residency project team in cooperation with PriceWaterhouseCoopers Estonia and is now published on our website. The guide covers all relevant business topics for an e-⁠resident, from setting up a company to corporate taxation, employment matters, treatment of expenses, international tax rules, and trade in goods.
The new Events Calendar, which centralises e-⁠Residency community events and other key dates, is already live on our website.
The e-⁠Residency Company Profile list, online very soon, will give e-⁠residents a new channel to market your businesses and to find and contact other e-⁠resident entrepreneurs in the community.
In 2020, we also look forward to rolling out the new and improved Marketplace, plus other tools to support decision-making for potential and existing e-⁠residents.
Apart from product developments, what else are we working on and looking forward to in the future?
Rest assured that improved solutions for banking and taxation are key priorities for us. Another priority is increasing pick-up locations around the world. We are discussing these topics with a wide range of stakeholders in government and business and will continue to provide all relevant updates here on the blog and on our social media channels.
The white paper sets out our direction and frames our strategic priorities over the next 5 years: which are centred around technological, legal and cultural improvements to the program. Both the government of Estonia and Her Excellency the President Kersti Kaljulaid support the strategy outlined in the white paper. The President affirmed her support at e-⁠Residency's 5th birthday gala event in Tallinn, Estonia in November.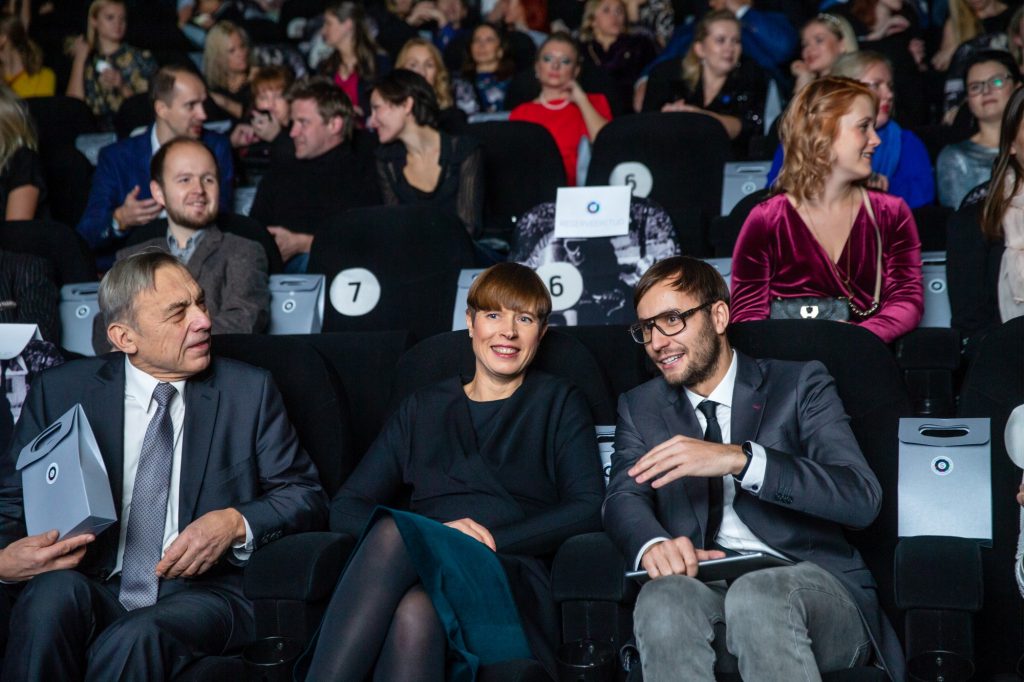 Looking forward, the Ministry of Culture in Estonia has designated 2020 as the year of Digital Culture. E-⁠Residency will be actively participating in related initiatives and will be calling on e-⁠residents to get involved so stay tuned for more on this front.
In 2020, the e-⁠Residency team will also continue to pursue other potential future uses of e-⁠Residency for e-⁠residents. Some of these ideas are already at early stages of being discussed at the political level (e.g. digital nomad visas or the ability of e-⁠residents to register their ship on the Estonian e-ship registry), while others are still in the conceptual stage (e.g. giving e-⁠residents access to pensions, healthcare, public transport, libraries, and archives in Estonia or removing the need for the e-⁠Residency digital card).
And finally, a quick word on the other e-⁠Residency-like programs that are starting to pop up around the world, such as in Dubai and Lithuania. I believe that this is a positive development and it demonstrates Estonia's international leadership and innovation. Estonia welcomes its fellow states to the party and the e-⁠Residency team looks forward to collaboration with these programs and for the collective learning that will grow out of such cooperation.