how e-⁠residents (can) help ukrainian defenders
In a world of global connections, a story of solidarity emerges, weaving together individuals from different corners of the world in support of Ukraine's defenders.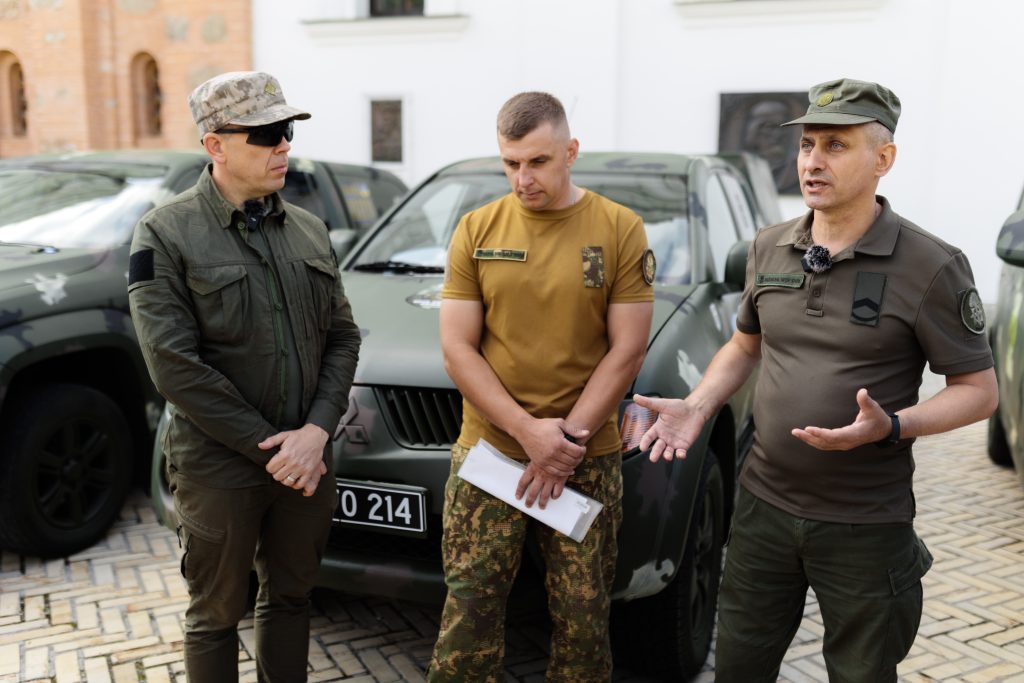 Meet Ihor, the seasoned platoon chief sergeant of the 3rd Brigade of the National Guard "Spartan" in the Armed Forces of Ukraine (AFU). His eyes welled up with tears as he received a life-saving gift that would impact the lives of his soldiers.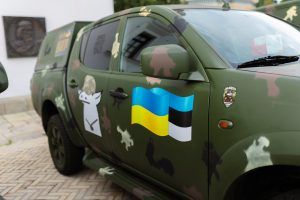 Ihor knew they would receive a 4x4 car for his unit that day. A car that will help to save the lives of his soldiers as it will close a crucial gap: The evacuation of wounded soldiers within what they call "the golden hour". The survival rate rises dramatically if they receive the necessary professional emergency treatment within this golden hour.
When the battle-tested soldier loses his cool
But what caught Ihor by surprise was when one of those drivers – 75 years old Renaud from Belgium - pulled out a huge bag full of First Aid Kits (tourniquets, band aids). One of 14 bags, one for each car, worth all together almost 10.000 EUR – an additional personal donation by Renaud alone. 
That's when Ihor lost his cool.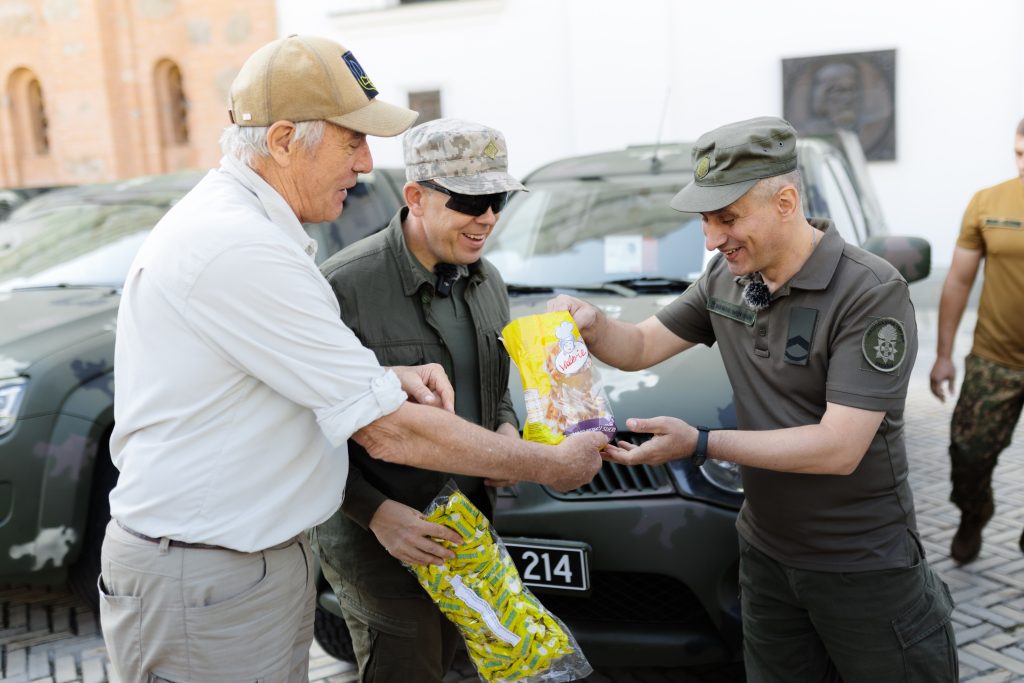 It was in this very instant that Ihor's composure wavered. It was a moment of realisation, a powerful understanding that this act was far from the usual anonymous contributions from charitable organisations. These were individuals who were truly invested, driven not just by financial donations, but by their dedication to making a difference. They not only donate money but think through, add value, pull up their sleeves, invest their time and come to Kyiv in person to show their support.
Their presence in Kyiv was a testament to their commitment – they engaged, listened, shared stories, and pledged to carry the message back home. Their presence ensured that the world would not forget the unwavering determination of brave Ukrainians, who sacrifice their blood and lives in the defence of freedom. For Ihor, the weight of this support was unmistakable, and he found himself overcome by the magnitude of their care and commitment.
"Seeing this battle-tested soldier with tears of gratitude in his eyes is a picture I will never forget."
My name is Christoph and I was one of those drivers of the 20th convoy of Help99. It was my 3rd one so far, my next one starts on 13th of September. I am an e-resident of Estonia and I have several businesses in this beautiful Baltic country with the unfriendly neighbor. I am also quite active in the e-Residency community as one of the co-founders of EERICA, the "Estonian e-⁠residents International Chamber Association''. EERICA is a welcoming and diverse community of active e-⁠residents from all continents (the annual membership fee is only symbolic 5 EUR).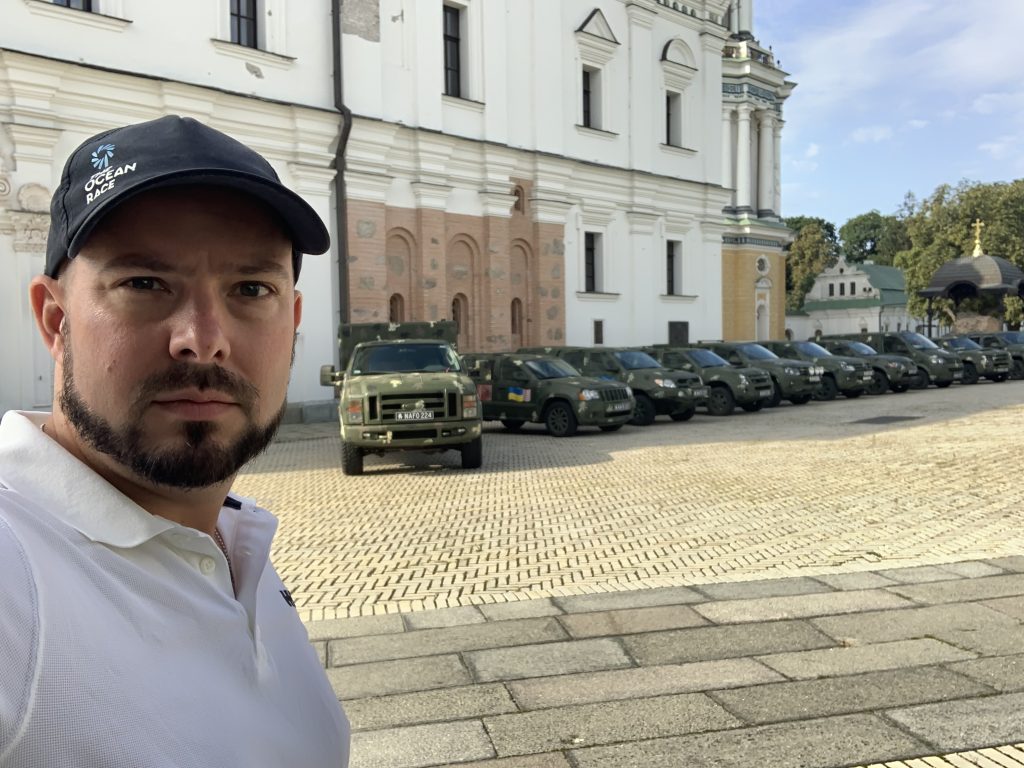 E-⁠residents care
At EERICA, the spirit of support extends beyond business endeavours. The organisation's members recognise the significance of defending Ukraine's sovereignty, not just for the nation itself, but also for the greater Baltic region, including Estonia. Their campaign with Help99 resonates with the principles of both organisations - grassroots efforts, volunteer-driven, and free from overhead costs.
This is why we are starting a campaign with Help99 as well. We like the concept of a charitable NGO that has zero overhead: All the work is done by volunteers who not only donate their time but often also their money. 
So we've started raising funds for a car for the medical evacuation unit of the 3rd Brigade "Spartan", 2nd Battalion and ask our fellow e-⁠residents to chip in a donation as well.
Estonia stands out as the nation providing unparalleled per capita support for Ukraine. And e-⁠residents are a part of Estonian society. We believe that this fundraiser is also a great way for the e-⁠Residency community to show that we actually have a strong connection with Estonia and care for its society, values and safety.
Donate tax free with your OÜ
To contribute to the campaign, please visit the fundraising campaign page and make your donation straight from your company's business account. If you donate at least 100 EUR you will receive an EERICA army patch.
This is a guest article by Estonian e-⁠resident Christoph Huebner.