serving for the greater good
E-⁠resident Alagan and Team Serw win the Global Hack work track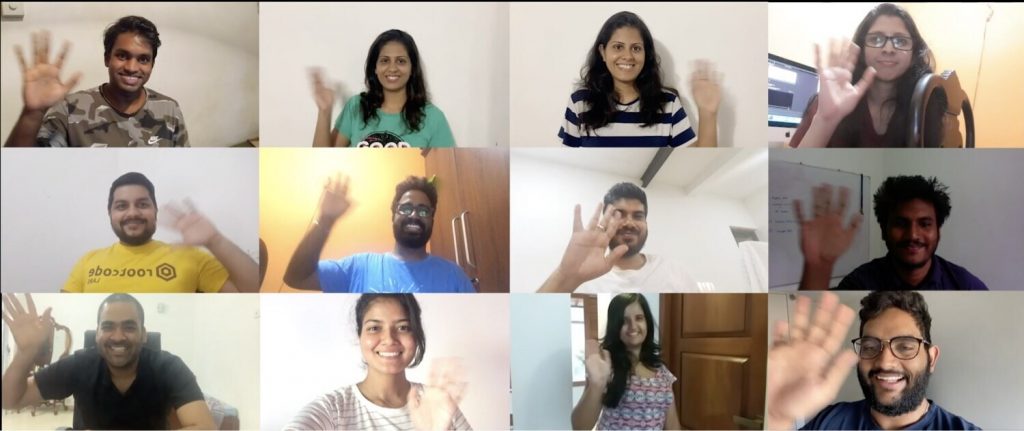 This is the story of a truly special e-resident, Alagan Mahalingam, his company and team at Rootcode OÜ, and their new product serw.io, who together won the work track of the Global Hack in an utterly convincing fashion.
Were it not for a series of fatefully fortunate emails, this story may not have unfolded in the same way or even been told here. But thank goodness they did, so that I can share Alagan's story now with our community. I hope you enjoy reading it as much as I have enjoyed writing it.
But first, let me introduce you to our protagonists, Alagan and his team at Rootcode Labs!
An engineer and computer scientist by training, Alagan's entrepreneurial journey started in 2014 while he was still at university in Colombo, Sri Lanka. In partnership with a UK technology firm, Alagan developed complex code for his first app. Called Singify, it used AI to measure a person's voice pitch when singing karaoke. In 2016, it was nominated as one of the best apps in Asia and in 2017, he exited, selling his share to another UK healthtech firm. The app is no longer in existence, but the algorithm is used in other products and experiments about the human voice.
After his successful exit, Alagan collaborated on several other complex projects, including leading the technology division as the CTO for Gogodoc, a hugely successful healthtech app in the UK.
In parallel, Alagan also founded Rootcode Labs in Colombo, a project he wanted to create on his own after gaining experience and confidence working in partnership with others. Rootcode Labs is a technology consulting firm which develops complex software for clients across the world. Rootcode Labs acts like an "extension of [its] clients' teams", which include large firms working in the healthcare, banking, fintech, retail, eCommerce, and energy sectors across the EU, US, Middle East, Asia and beyond.
As CEO, Alagan manages a team of 22 full-time employees in Colombo as well as contractors based around the world. He loves working and interacting with incredible minds who share his vision.
"The joy and energy I get from my team and partners and the fact that we constantly learn by doing what we love gets me excited to go to work every day."
Alagan's e-⁠Residency journey
Alagan became an e-⁠resident in 2019 in order to help scale and globalise Rootcode Labs into the EU. Sri Lanka has a vibrant tech community of energetic startups and entrepreneurs but being registered in the EU would make it easier for Rootcode Labs to work with EU-based companies.
Alagan frequently travels to Europe for work and so had a pretty good idea of the Estonian startup scene. In his opinion, Estonia is way ahead compared with other EU countries in terms of ease of doing business, efficient transfer atmosphere, and forward-thinking e-governance and digital services He was excited about the possibilities for Estonia in the next 5–10 years and considered it an interesting prospect to be the EU home of Rootcode.
"I travel around the EU a lot and Estonia is way ahead of the game. Even before I knew about e-Residency I was impressed with Estonia."
Alagan then heard about e-⁠Residency and after researching it thoroughly, realised that it was the perfect vehicle for Rootcode.
E-Residency allows entrepreneurs to launch a business registered in the EU from anywhere in the world. Learn more and apply:
Alagan picked up his e-⁠Residency card in July 2019 in San Francisco while there on business and quickly transitioned his business to his new Estonian company Rootcode OÜ in the following months.
"When I found e-Residency I couldn't believe it was possible. From the time of signing up, I was impressed with how the ecosystem worked, how easy the e-services worked, and how easy it was to start a company."
A series of fatefully fortunate events
On 8 April, Alagan was working late (the life of a CEO!) At around 10.30pm he noticed a new message flashing in his inbox from the e-⁠Residency team urging e-⁠residents to apply to the Global Hack. Here was the first of the fatefully fortunate emails!
The Global Hack is a global initiative which unites the Hack the Crisis movement and the 40+ hackathons held so far in response to the COVID-19 crisis. The Global Hack took place on 9–12 April with the objectives of battling the problems we are facing globally right now as well as creating solutions for the post-crisis world.
Home | The Global Hack
Global hack is the biggest online hackathon in the world fighting off the crisis to battle the problems we are facing as a global society after the immediate corona crisis is over. We are bringing together world class mentors and globally talented teams to build the solutions for the better future. …
Intrigued and with an idea already forming in his mind, Alagan clicked through to the Global Hack website and read all about it.
"The crisis has seen some experts projecting the worst. But the Global Hack provides a different path — how to leverage tech to protect people and the economy — which not only creates opportunities for business and society but also amplifies the impact we can make as a collective."
The more he read, the more his idea started to crystallise. After building up Rootcode, Alagan had always wanted to go back to developing his own product. He was obsessed with the idea of building a video consulting platform to allow people to serve others but so far had no way of validating it. Plus, life always seemed to get in the way.
The Global Hack came at the perfect moment. Here was a real opportunity to validate and bring to life a passion project that had been bugging Alagan for a while.
But there was one challenge: the Global Hack was due to start the next day and, what's more, was taking place over the Easter weekend. He decided to take it to his team as he knew he could not pull this off on his own. He dropped them a message on Slack and was overwhelmed with the enthusiastic, positive responses back. Within an hour he had registered his team of 12 Rootcode colleagues and was ready to hack through the weekend.
And hack they did. Team Serw pulled off an incredible feat, building a complex mobile application in just 48 hours.
Serw.io is a platform that provides secure, trusted one-to-one video consultations and payments between "serw experts" and their clients. For many businesses and independent professionals, during the lockdown, this might be a way to keep your business operating and find new customers at the same time. It is a service that could also be taken into the future — as people realise that there are certain consultations that can continue online.
The Serw ecosystem also helps profess
ionals to be discovered by customers worldwide. Customers can find verified experts who are credible, legitimate, and qualified in minutes. Experts come from a range of industries (corporate, independent, various sectors). The platform has a secure payment gateway and processes and secures data to high GDPR standards.
Watch the Team Serw pitch here:
It was a surprisingly simple idea but technically complex to implement. During the Global Hack, Alagan and his team did an enormous amount of work. They built a platform that included VoIP, payment, and appointment services. Normally this would take a month but given his team's knowledge and experience, they managed it in just 48 hours.
The Global Hack jury agreed. They unanimously voted Team Serw as the winner of the work track, citing the unbelievable amount of work that had gone into the prototype and the usefulness of Serw for use during the lockdown and beyond.
"Witnessing my team push ourselves to the limit and solve some of the world's biggest problems makes me realise the impact we are making and how much we are all growing every day."
Owing to Alagan's humility and community spirit, what came next was the second fatefully fortunate email. He sent a message to e-⁠Residency support thanking our team for sending the first email, without which he says his team would not have entered the competition at all, let alone win it!
A few more fortunate emails and introductions later between our support team, Alagan, and me, and I was listening to his incredible story over Zoom with a mixture of amazement and pride — this is the kind of story that truly demonstrates the value of e-⁠Residency and the brilliant, innovative, and collaborative spirit of our community.
Serving the greater good with Serw.io
Right now, the Rootcode team are currently finalising the backend work needed to launch Serw, onboarding "serw experts" from Sri Lanka, US, Middle East, and Europe, and quality-testing it with the help of these experts. They have already onboarded specialist personal trainers and nutritionists from a few established Sri Lankan organisations as well as independent experts from Europe.
Serw beta version will launch by the end of April 2020 and open for customers to test the functionality. In the coming months, they'll look at adding new features including document upload for legal experts, group consultations, and more.
We encourage all in our community to check out Serw and register as an expert in your field. Or you can view the growing community of service providers in a variety of fields and connect one-to-one for expert consultations:
Alagan is clear that he wants to build Serw in Estonia, headquarter it here, and employ local staff. He'll be coming to Tallinn to make this happen as soon as the lockdown loosens. He is bootstrapping Serw and is therefore actively looking for investors to support this project and expand around the world.
A relatively new e-⁠resident, Alagan is excited to discover all the benefits of e-⁠Residency. He says that without Estonia and e-⁠Residency, Rootcode and Serw would not have come so far, and so he is looking forward to getting more involved in the community.
"e-Residency has already made a big impact for many businesses worldwide and made Estonia a front runner in global innovation. I believe that it will be a factor in determining where the next set of world changing technologies are built."