the digital nomad life for ignacio and miguel
Estonian e-⁠residents Ignacio and Miguel enjoy travelling the world, but the digital nomad lifestyle is not for everyone.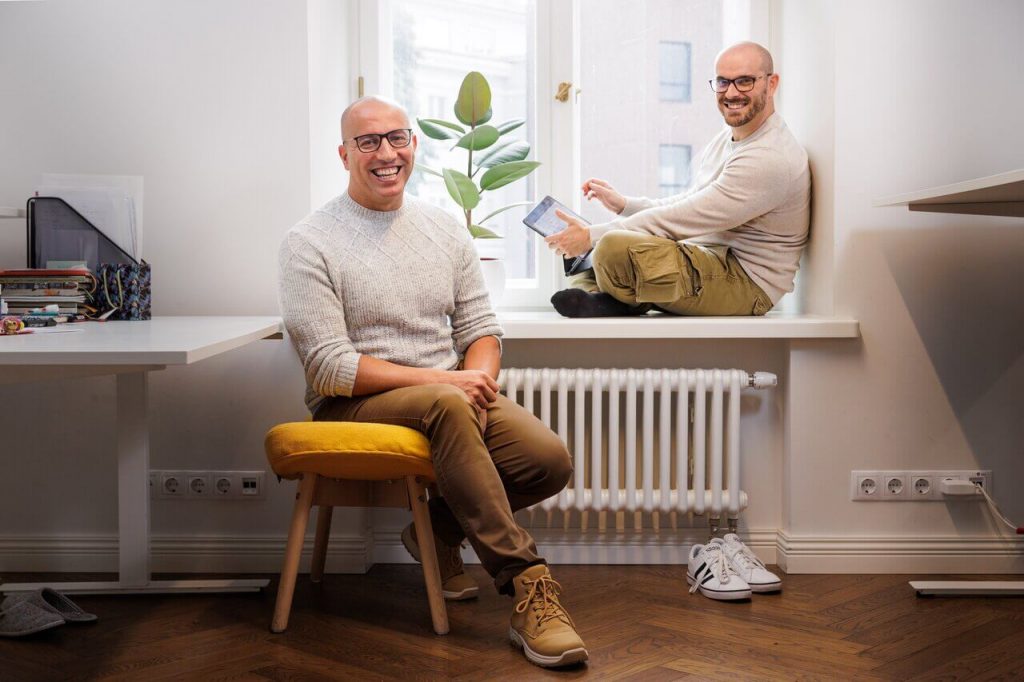 Estonia is the first country in the world to offer foreign nationals e-resident status, opening the door to partake in its ecosystem of public e-services. Among other things, Estonian e-residents are able to set up location-independent companies in the European Union. The process of establishment can be done remotely, and the same goes for the subsequent management of the business. That makes Estonia a paradise for digital nomads – at least for Ignacio Nieto Carvajal and Miguel Pinas, a couple from Spain. But is this new lifestyle trend of digital nomadism suitable for everyone? The following interview with Ignacio and Miguel was published in the Estonian weekly newspaper Õhtuleht on 3 November 2022.
For the past seven years, Ignacio (42) and Miguel (50) have been practicing the lifestyle of digital nomads, touching base in almost ten different locations from Latvia to Bali. However, they consider Estonia to be the loveliest and safest place to settle down. "No matter where we go, we keep coming back to Estonia every few months – it has become a sort of headquarters for us," the men claim.
Miguel and Ignacio are digital nomads – people whose lifestyle includes extensive travel around the world. This does not mean that they are travel bloggers or social media influencers whose livelihoods depend on sponsors. Instead, they can afford this lifestyle thanks to Estonian e-⁠Residency. They are entrepreneurs who have used their e-⁠resident status to set up a location-independent company, and are using Estonia's public e-services to manage it remotely from wherever they happen to be in the world.
This location-independence proved extremely useful during the COVID-19 pandemic when global travel was restricted. Ignacio and Miguel had no problems in running their company, Companio, that offers services to people who want to establish and manage location-independent enterprises. There was no need to be physically in the same country because all business transactions and meetings could be conducted online.
In essence, their company helps other entrepreneurs to live and work just like them – as digital nomads, i.e. focusing on how to attract clients and expand their business regardless of physical location. "We are really enthusiastic about Estonian e-Residency and all it has to offer. We are also happy to serve as unofficial e-Residency ambassadors, informing the rest of the world about such a wonderful opportunity, having been interviewed about our nomadic lifestyle by various international media," says Ignacio.
It wasn't an easy start
Eight years ago, living and working in Madrid, the couple felt that they needed a change as working from nine to five was no longer satisfying. Incidentally, Ignacio's employer decided to close and lay off its Spanish branch, offering work in their Latvian branch, in Riga.
And that's how the couple decided to move to Riga. "We heard from a friend that Latvia's neighbouring country Estonia had developed a very successful e-governance ecosystem. Intrigued, we got on the bus and went to Tallinn. While Riga was warm and sunny, Estonia welcomed us with grey skies and cool temperatures. Fortunately, the sombre first impression did not last long, and we liked Tallinn very much right away," Miguel recalls.
In 2017, when Miguel and Ignacio relocated to Estonia, they got to enjoy a particularly long and beautiful summer. By that time, the couple had been living as digital nomads for a couple of years already, and were able to fit their lives in a suitcase and on a computer. "Digital nomadism entails a change of mindset and getting out of your comfort zone. Once upon a time, we, too, had a lot of things, but we organised a special online bazaar, selling all our furniture and other larger items for a good price. We also sold our car and the apartment. Ultimately, we fit everything we owned in a couple of large suitcases," recalls Miguel.
At the airport, Miguel and Ignacio were wondering what's next. Two years later, their large suitcases and several backpacks had withered down to one suitcase. "At one point, you just get used to having a couple of black t-shirts, a hoodie, some shoes – basics that go together and with everything else. If there's something you need, you can get it from the local H&M or a second-hand shop, making it easier to give them away later. We have used a lot of second-hand clothing in Estonia, later returning the items to the same place," says Ignacio.
The men claim that they were happy to forego the frenzy of traditional consumer lifestyle, giving them the freedom to spontaneously get up and go to start a new life wherever they wanted. "Just pack the suitcase and get on a plane. It sounds simple, but of course we don't make these decisions lightly – we still calculate carefully where to go and for how long," explains Miguel.
In general, they have adopted the slow lifestyle, opting out from the cheap flights when travelling the world. "There are many digital nomads who travel to seek adventure and experience new things. We prefer to get to know our destination countries more thoroughly, immerse ourselves in their culture, and take it slow," says Miguel.
Estonia is gay-friendly
During the past eight years, Miguel and Ignacio have travelled to Latvia, Germany, Croatia, Serbia, Bulgaria, Lithuania, Thailand, Indonesia, Bali, Portugal, and Slovenia. Some places are not gay-friendly because of religion or tradition, although the men have not experienced any direct attacks. "Naturally, we respect local traditions and do not flaunt our relationship in public places. For example, we thought that Thailand would be quite conservative, but our local colleagues and friends didn't make a big deal about us being a couple. It goes to show that societies are modernising around the world. During the COVID pandemic, we stayed in Bulgaria, which proved to be a great place as well," recalls Ignacio.
In Bulgaria, the men were asked to change their sleeveless shirts to proper T-shirts. "That was a bit unexpected, because I was working out and sweating, but when in Rome… ," laughs Ignacio who is in excellent physical shape. Miguel and Ignacio have a number of gay friends in Estonia, and they feel that the locals are somehow especially tolerant. "We feel safe and welcome in Estonia," the couple gushed.
No matter where their travels take them, Miguel and Ignacio always come back to Estonia. And even though the local climate is not comparable to Thailand or Bali, the Spaniards like the fact that it is not hot all year round and there are different seasons. "I come from a region in Spain, where even the winters are hot. In Estonia, I saw and experienced snow for the first time, and it was wonderful," said Ignacio.
In order to get used to the long and cold winters in Estonia, Miguel and Ignacio went through three different phases. "At first, you're just taken aback by the beauty – it really is like a winter wonderland, especially Tallinn Old Town. Then, it gets really cold and streets are covered with ice. You have to walk like a penguin to get from point (a) to (b) without falling. And as the winter months go on, it becomes harder and harder to leave your cosy and warm home. However, we have managed not to become couch potatoes, venturing out to experience the local culture as much as possible," Miguel says.
Miguel and Ignacio are convinced that they made the right decision eight years ago. However, they stress that the lifestyle of digital nomads is not suited for everyone, and may lead to disappointment. "We have experienced a number of difficult moments, finding ourselves at a dead end. Fortunately, we have always been able to rely on each other. Second, when we were starting out, we had enough financial security, enabling us to get settled in a new country. Unfortunately, there are also so-called "beggars" among digital nomads, who use their Instagram account or blog to reel in money from their loyal followers. We don't think this is the right approach," says Miguel.
Of course, digital nomads are free to give up this lifestyle and return home to their former lives. Miguel and Ignacio know a number of people who have found love in a new country and have decided to settle down. During their travels, Miguel and Ignacio have discovered that this lifestyle is the most suitable one for them, and Estonia will always remain their headquarters, a safe haven waiting for their return.