the e-⁠resident startup transforming fallen leaves into sustainable packaging
Ukrainian startup Releaf plans to serve Europe's paper needs with a sustainable solution and an eCommerce base in Estonia
Ukrainian startup entrepreneur Alexander Sobolenko applied for e-Residency in January. It was a month before Russia invaded Ukraine, and there was a tense energy in the air. "Nobody knew the war would happen," he said, "but I had an internal feeling to get e-Residency, so I just did it."
Estonia granted Sobolenko e-Residency in February. However, the Estonian embassy in Kyiv temporarily close in the early months of the war. This made it impossible for him to retrieve his digitally encrypted e-Residency card, via which he could access the country's ecosystem of digital services and set up his company in the EU. "I had to wait until the beginning of June, when the embassy resumed its work," he said. "And the next day I applied for company registration."
That company is Releaf, an innovative startup that turns biowastes, such as leaves, into sustainable paper. The product is the brainchild of Valentyn Frechka, who devised a method of turning leaf fibers into a source of cellulose when he was still a high school student. In 2020, the company was registered in Ukraine and by 2021, had begun production and serving its first clients. Also in 2021, the business brought on Sobolenko, who had experience in the consumer electronics sector, to take over as chief business development officer while Frechka continued to focus on technology development.
From the beginning, Releaf experienced success. Companies like L'Oreal, Chanel, and Samsung began ordering paper products, such as paper bags, from the firm. "We didn't even contact them," said Sobolenko. "As we had a zero dollar marketing budget," he said. "In fact, we didn't spend a single dollar on European marketing." The Ukrainian startup also attracted some early investment, including a $100,000 Google Startup grant. It was developing rapidly. But then the war started in February.
"It changed everything for us, as it did for most Ukrainian people and businesses," Sobolenko said. Most of Releaf's business evaporated. Companies were not in a position to pay for paper or paper bags made from sustainable raw materials. In addition, customers in Europe were hesitant to partner with Ukrainian companies because of risks associated with the war. Not having access to large manufacturers that consume a lot of paper and paper packaging - the company's target audience - led Releaf to move some of its activities out of Ukraine.
In addition to using e-⁠Residency to incorporate an Estonian company, the company also registered in Lyon, France. This gave it another foothold in the heart of the EU, as well as access to adjacent capital markets. Releaf is using France as a springboard for building its own production site, which might be in France, or in another EU country. 
"From the very beginning we did not have our own production," said Sobolenko. "In Ukraine, we used outsourcing factories around Ukraine to produce paper and paper products," he said. "Our main goal is to build our own production and we want to do this in a country of the EU," he said.
Estonia has served as another European springboard to the eCommerce market. Releaf's entire eCommerce operation is run via its Estonian subsidiary. The company maintains a separate department specifically focused on eCommerce opportunities.
Estonian e-⁠Residency also allowed Releaf to become an EU company, even before it set up its location in France.
"e-Residency provided us with a chance to register the company immediately in the European Union," said Sobolenko, noting it took the company just days to set up the Estonian company:
He noted that he has a personal connection with Estonia and has visited the country half a dozen times. Next month, he will also be part of the Ukrainian delegation to Slush, a major European startup conference held annually in nearby Helsinki.
"I admit, this small country has a unique atmosphere, both in doing business and in daily life," he said. "It was so far from its Soviet past that I was impressed by how fast Estonia recovered and developed," he said. "I understood that I wanted to have business associated with this small, great country."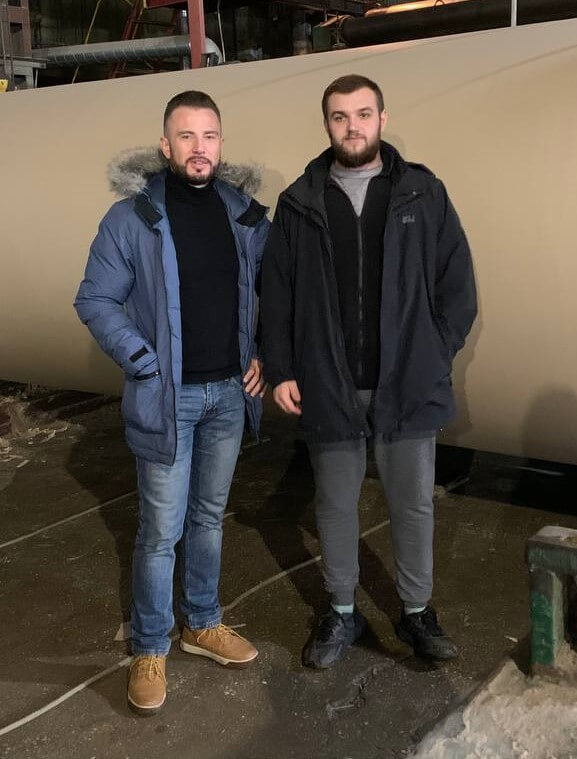 Releaf is raising money to build its factory in the EU. The company's current plans are to raise €2.5 million to build a facility by the first quarter of 2023, and to achieve €1 million in revenue within the same year by entering the European market as an EU company and to engage local distributors.
As for raw materials, a shortage of foliage is never a problem. Sobolenko noted that most European cities currently pay different operators to dispose of leaves, either through burning or composting, and that Releaf takes them for free. The Ukrainian startup can also source leaves from private farms, and the type of leaves is not an issue. The company has even sourced fibers from banana plantations.
But while Releaf has become within less than a year a European company, with Ukrainian, French, and Estonian operations, Sobolenko still calls Kyiv home. After taking refuge in Khmelnytskyi, a small city in western Ukraine, at the start of the war, he returned to Kyiv in April when Russian forces were defeated.
"The reason for returning was simple," said Sobolenko. "Nothing could replace home." Despite the ongoing war and the risk of airstrikes, Sobolenko has continued to lead Releaf from Kyiv. Some days he works from an underground parking garage that has been repurposed into a bomb shelter. But at least he has been home, Sobolenko said, in a place where he can invest all of his time and energy into Releaf.