How Bloomcoding's Emil Chichioi uses e-Residency to run his fast-growing edtech business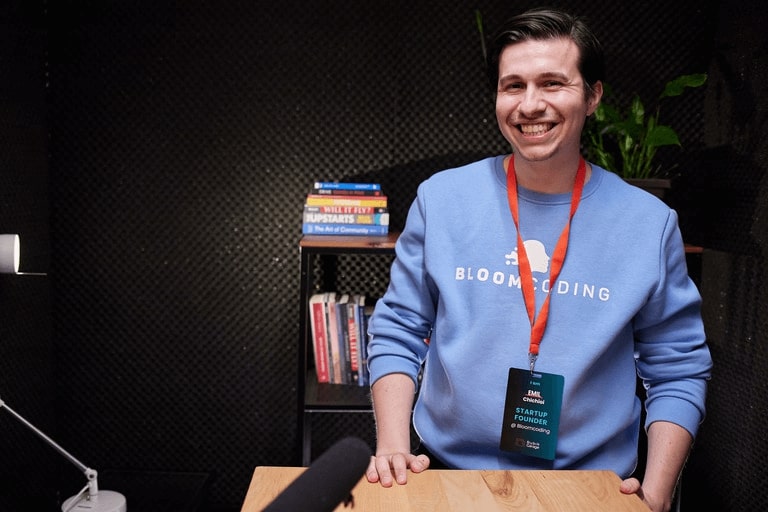 Edtech entrepreneur Emil Chichioi lives in the Netherlands and is originally from Moldova, but when he first set foot in Estonia in August to attend the annual sTARTUp Day conference, he said he felt right at home.
"There is quite a cultural affinity between Moldova and Estonia, as both have the legacy of the USSR," said Chichioi. "So I felt a real connection with this place; I almost felt at home," he said. "I loved it, absolutely. I was seriously inspired."
Chichioi is the personification of the ambitious youthful entrepreneur. The German word wunderkind comes to mind when speaking with him. And he started in high school. There, he organized a debate club that grew into the national debate association of Moldova. After completing school he naturally started two businesses. One offered crash courses in popular university subjects. The other organized camps to teach students 21st century skills such as leadership, time management, and collaboration.
Chichioi decided to relocate to the Netherlands during the 2019 constitutional crisis in Moldova. He started to work in the educational technology sector, holding various roles at AthenaStudies, which offers tutoring assistance to university students. While at Athena, Chichioi also began work on a side project called Bloombrein, to help Dutch students learn how to code. By early 2020, he had a facility in place, as well as teachers and a curriculum.
Everything was ready to go, and Bloombrein awaited its first pupils. Then the pandemic hit.
"We had to close everything down," said Chichioi. "That was when I saw the potential of doing it in a digital way."
Undeterred, Chichioi attended a hackathon in March 2021, where he created the branding and strategy around a new venture, called Bloomcoding, which would teach students how to code, but in a virtual way. By September 2021, the firm got its first grant, and in March 2022 it raised $100,000 in a pre-seed round. The company now has about 20 employees and works with more than 30 teachers. Chichioi described his role as CEO as "very hands-on" and said he helped to develop the curricula and manuals himself.
"I've started from the ground up," said Chichioi. "I had the ambition and motivation to do it."
Bloomcoding is focused on students aged 7 to 14. The online coding school provides all pupils with an augmented reality cube. Children thus experience lesson projects in 3D, which allows them to better visualize DNA molecules, planets, and other 3D creations.
"We actually bridge the digital divide," said Chichioi of the company's approach. "The augmented reality cube is very unique and allows children to be more engaged, to make learning more fun, and to understand the material better."
Bloomcoding takes its name from Bloom's taxonomy, a series of hierarchical models used for classifying educational learning objectives into levels of complexity and specificity. It was developed by American educational psychologist Benjamin Bloom.
"Bloom's taxonomy philosophy means that we value skills over content and place more emphasis on higher-order thinking," the company states on its website. "We believe that skills development in the new digital age, with newly emerging demands, requires a high use of higher-order skills."
Bloomcoding was originally launched in Romania, which shares a common language with Moldova, and quickly attracted 1,200 students. Considering the total market size is about 10,000 students doing brick and mortar coding courses, the onboarding of so many pupils is a triumph. Recently, the company expanded into Bulgaria, where it enrolled 100 students in a month. But these are still early days for Bloomcoding. "We want to be a global company," said Chichioi. "We want to expand everywhere and to help children across the globe."
The company also has some success stories. One Bloomcoding student built a game that has already reached 150,000 players. As such, even at age 25, the youthful Chichioi is already a veteran. "We are absolutely impressed," said Chichioi. "And so proud."
Chichioi does not recall exactly how he heard about e-Residency. But one thing is for certain. Becoming an e-resident and gaining access to Estonia's digital services has made managing a global company much easier. "It is extremely efficient," said Chichioi. "It's completely digital and requires no physical presence," he said. There is also the fact that Estonia doesn't tax profits if they are reinvested into one's business.
"Being part of the Estonian business hub is interesting," said Chichioi. "Because we were profitable from the beginning."
But it's Chichioi's connection with Estonia that makes him a proud e-resident. "I see Estonia as the big brother who has done it successfully," he said of his digital homeland. "Estonia is almost like the successful founder who is three steps ahead," he said.
Interested in edtech? E-Residency has helped many entrepreneurs start and grow edtech businesses with ease. Read more edtech case studies here on the blog.