trust anchors in a sea of information: the importance of e-⁠Residency spokespeople
E-⁠Residency has enlisted a team of rockstar e-⁠resident envoys and community leaders to help spread the word about the programme and the Estonian way of doing business
In 2014 in a land far up North (Estonia to be exact), a group of tech wizards launched e-⁠Residency. Since then, e-⁠Residency has become Estonia's global calling card as an innovative digital nation. Its growth strategy, adopted in 2022, now focuses on increasing the economic benefits that the programme delivers to Estonia. Including e-⁠Residency spokespeople in local and global communication activities supports achieving objectives for ensuring the programme's sustainability and continued growth.
In a world where information is delivered faster than a cheetah chasing its prey, having 'trust anchors' is essential. It not only helps us stand out in the noise, but also enhances the programme's credibility. E-⁠Residency's roster of spokespersons is made up of experienced and trustworthy e-⁠residents. They amplify the value of e-⁠Residency and doing business in Estonia. The initiative also recognises e-⁠residents who have been spreading the word for years and gives them an official title for their passion.
Building a Supportive Community
The success of e-⁠resident business owners is a testament to the effectiveness of e-⁠Residency. Our community is a diverse group of individuals who share the common goal of achieving success in their ventures. The programme's Spokespersons are instrumental in showcasing the benefits of e-⁠Residency to entrepreneurs worldwide. By sharing their own experiences and offering guidance and support, they are empowering others to achieve their goals.
By joining e-⁠Residency, entrepreneurs not only gain access to a global business environment, but they also join a community of engaged individuals who are experienced, ready, and willing to help. This means that when you become an e-⁠resident, you are not alone, there are peers that will encourage you to thrive.
By enlisting our envoys and community leaders to support and promote our e-resident entrepreneurs, we are not only helping them succeed but also amplifying the value of our community.
Two categories of Spokespersons
There are two categories of spokespersons: e-⁠Residency Envoys and e-⁠Residency Community Leaders.
E-⁠Residency Envoys
Envoys are top-of-their-class entrepreneurs, with considerable social capital. Envoys work closely with the e-⁠Residency team and cultivate a long-lasting working relationship based on mutual trust. They are reliable and authentic, which infuses their messages with great weight and value. Envoys represent e-⁠Residency in prominent media outlets and at various events, e.g., professional events, receptions for business delegations, and special events organised by e-⁠Residency. They cultivate relationships with policymakers, the media, and aspiring e-⁠residents.
Luke Seelenbinder was the first e-resident to officially become an e-Residency Envoy. He is the co-founder of Funktional OÜ, an IT consulting business. About the Spokespersons Project, he says: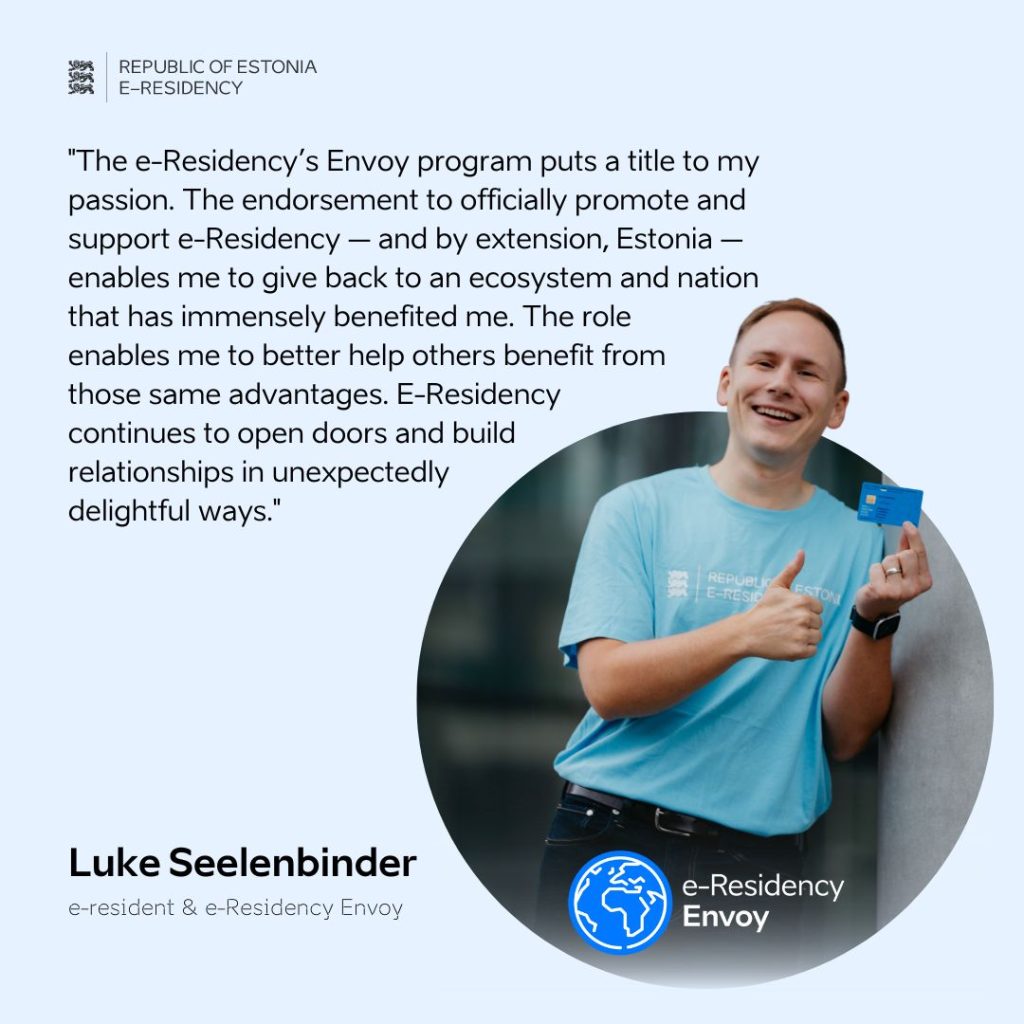 E-⁠Residency Community Leaders
Community Leaders are subject matter experts with experience in business development, making them reliable authorities in their community. They are well-versed in their native language and culture, fostering close relations with their community. They are self-starters, and e-⁠Residency is there to support and empower them.
Community Leaders keep in touch with their community mainly via social media, at events organised by e-⁠Residency, or at professional gatherings.
Their main task is to create and maintain a strong and reliable connection with people, to share their experiences with current or potential e-⁠residents, and to give them advice if needed.
Ian Wagner is the inaugural e-Residency Community Leader. He actually happens to be Luke's business partner and co-founder of Funktional OÜ. Ian has also been instrumental in bringing the community vibes to Estonia's new Business Hub in Seoul, South Korea, where he lives. About becoming a community leader, Ian says: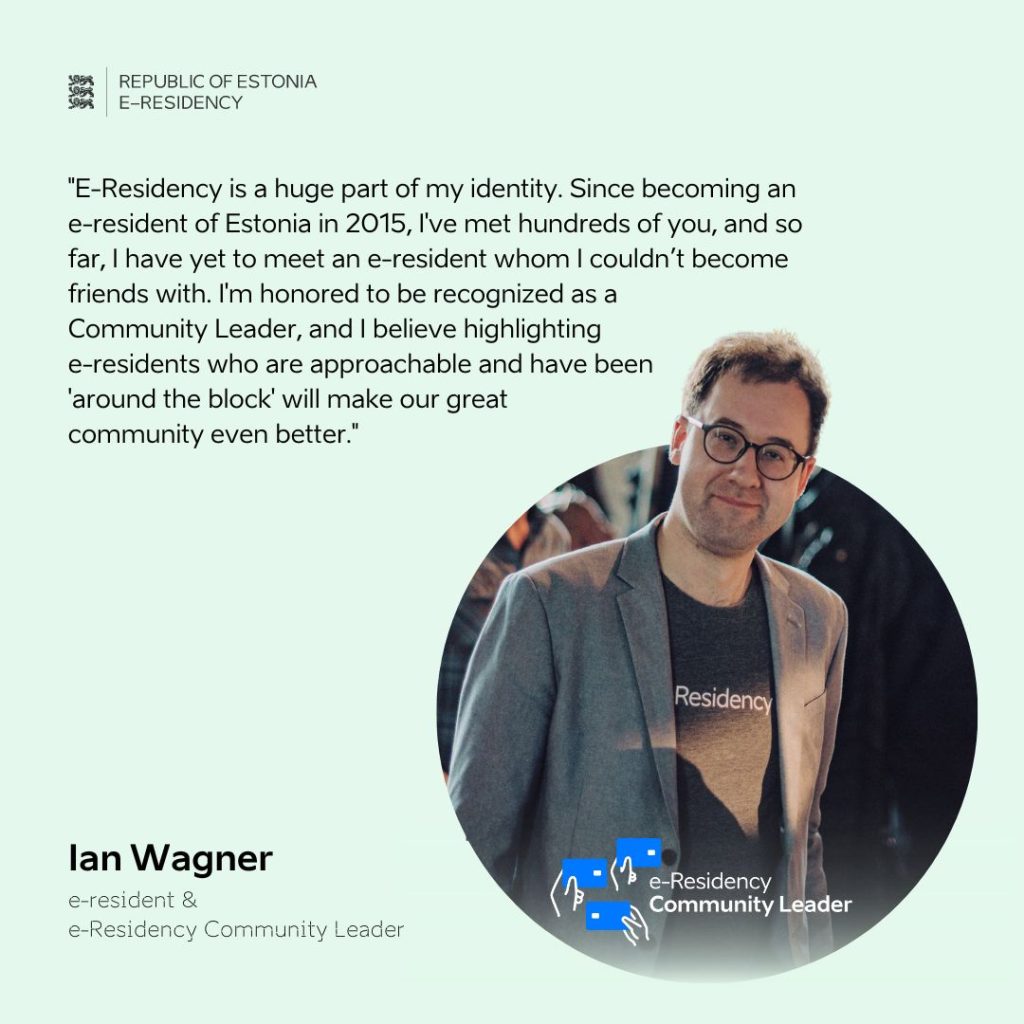 Empowering Spokespeople
Our spokespersons get the opportunity to showcase their expertise and success in front of a global audience. This way, they are positioning themselves as thought leaders in their respective fields. They also gain access to exclusive training and networking opportunities. Aligning themselves with an Estonian government initiative also boosts their credibility and recognition. By working together to support one another, we are building a stronger, more resilient community that will continue to thrive.
Our commitment to supporting our spokespeople extends beyond their involvement with e-⁠Residency, as we believe that their success is our success. We take pride in their accomplishments and will continue to empower them in any way we can. Their achievements are a reflection of the strength of our community.
Empowering our spokespeople is another concrete example of how e-Residency strives to increase opportunities for our community:
How We Pick Our Spokespeople
The selection process for Envoys and Community Leaders in e-⁠Residency is based on several key principles. The program strives to ensure diversity in its pool of spokespeople, encompassing a range of professional industries and lifestyles. We're talking different professions, lifestyles, and backgrounds, from the suit-and-tie types to the backpack-wearing digital nomads.
By maintaining a diverse group of representatives, e-⁠Residency hopes to convey its inclusivity and commitment to supporting individuals from all walks of life.
Ignacio Nieto Carvajal, co-founder of Companio and part of the first cohort of e-⁠Residency Envoys says: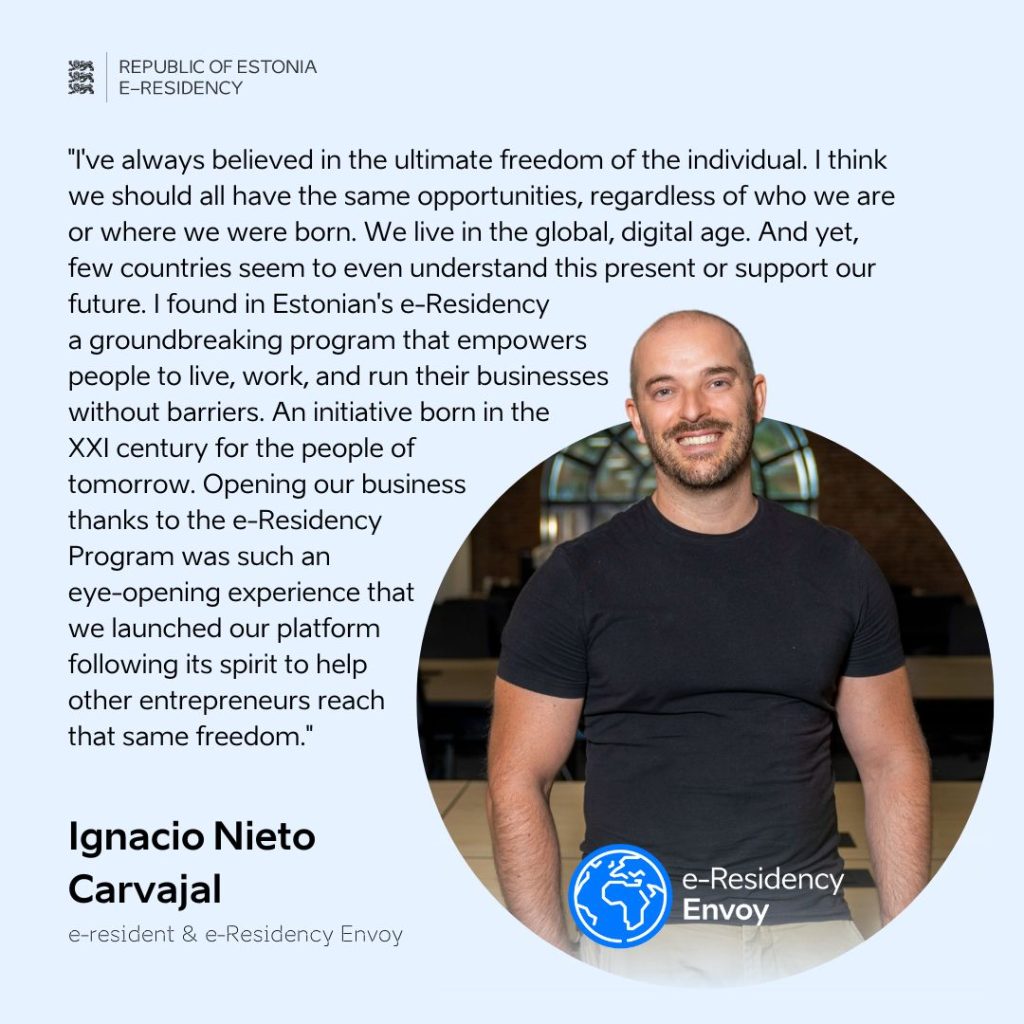 It's crucial for e-⁠Residency to have an established relationship with the chosen individuals, as trust plays a major role in this collaboration. We want people who we know, who we trust, and who we've already had some history with. It's like choosing a dance partner  - you want someone who knows your moves and can keep up with your rhythm.
Moreover, all spokespeople must have extensive experience with e-⁠Residency, hold a valid digital-ID, and run an established company in Estonia. These requirements ensure that the chosen representatives possess the necessary knowledge and credentials to serve as effective e-⁠Residency spokespeople.
Recognising the Importance of Spokespeople in the e-⁠Residency Ecosystem
As the Community & PR Manager at e-⁠Residency, I am so proud of this latest initiative. The inclusion of spokespersons in our communication strategy is a game-changer. Many e-⁠residents who are now signed up as Envoys and Community Leaders have been advocating for and supporting the program for years. Their efforts have been crucial to the program's growth and success, and we are grateful for their contributions.
By formalising their roles as spokespeople and expanding the pool of e-⁠residents who support the program's objectives, we can continue to build a strong and engaged community that benefits everyone involved.
We recognise that our spokespeople are an integral part of the e-⁠Residency ecosystem, and we are committed to supporting them . 
Going forward, we will continue to leverage the power of our spokespersons. They will not only help us ensure that our messages are heard loud and clear around the world, but they will also drive the success of e-⁠Residency. We'll update you more in the future about how to become a Spokesperson. So, keep an eye out for our communications around this.
Are you an e-⁠resident with a successful business or expertise in a particular area? And are you passionate about supporting our community and spreading the word about e-⁠Residency? We encourage you to sign up to our newsletter and follow our social media channels for more information on how we will be selecting future spokespeople.