E-Residency enables digital nomads and other location-independent entrepreneurs to manage EU-based companies 100% online.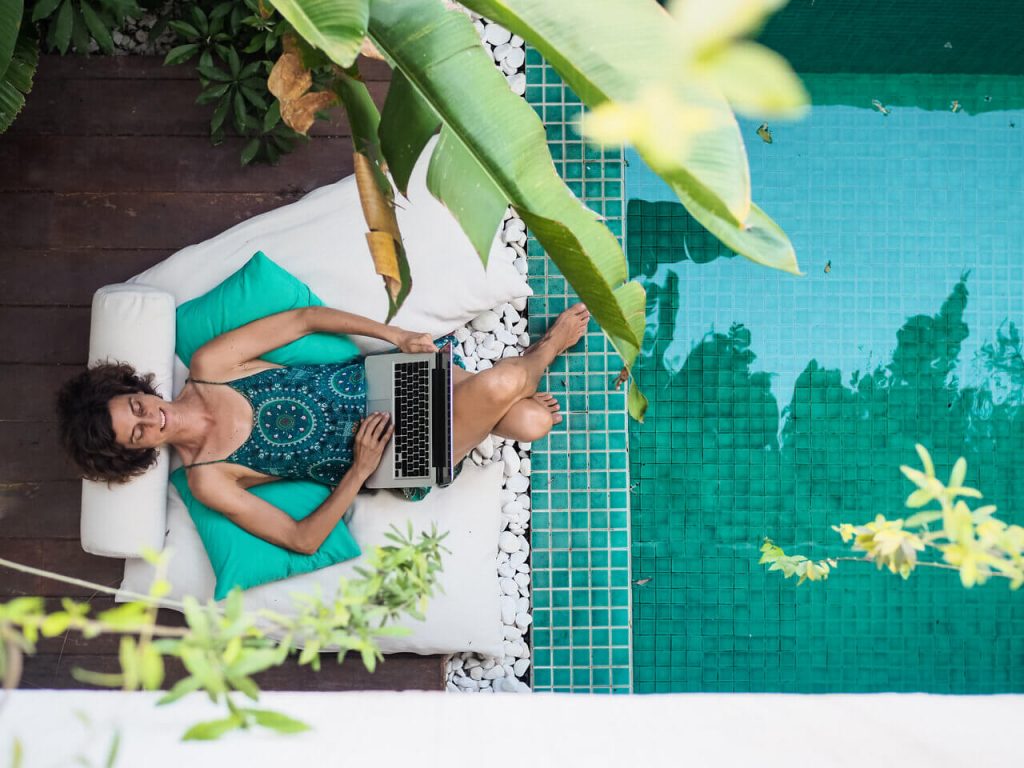 Digital nomads by their very nature need to be able to operate their businesses online. If you're interested to know how to run a company 100% online as a digital nomad, below are some tips to manage your business remotely.
Table of Contents
That includes managing your company affairs, finances, staff and HR, marketing, sales, bank account, and even your tax returns online.
If you know you want to be a digital nomad and run a company remotely, then it's imperative to choose a location from which to run your business where you can operate all aspects digitally. Remember that not every country will have the e-services to allow you to submit your annual tax returns and or manage your bank accounts online.
Estonia's e-Residency program has flourished since it began. Part of the reason it's so popular is because it enables digital nomads and other location-independent entrepreneurs to run EU-based companies 100% online.
Estonia is well known for being a global leader in the digitalisation of public services. In fact, Estonia ranks 9th out of 27 EU Member States in the 2022 edition of the Digital Economy and Society Index (DESI).
Estonia is also the EU leader in digital public services with almost 90% of internet users in the country having access to e-Government services. This makes Estonia one of the most digitalised countries in the world.
How digital nomads manage their businesses 100% online
Assuming that you've already started your digital nomad company 100% online, below are some tips to help you manage your business remotely.
That way you get to keep travelling and working as a digital nomad, while effectively and efficiently managing and growing a thriving business.
1. Manage your company affairs remotely (once registered )
If you've registered a company, you'll want to make sure that you can manage it remotely.
Depending on your company's articles, you may have a board of directors, shareholder meetings, or other legislated commitments when it comes to managing your company.
Whatever your corporate commitments, it's important to find ways to manage your company remotely.
E-Residency allows you to register a company in Estonia and access a range of Estonian public and private e-services which can facilitate remote company management.
2. Manage your finances remotely
Another critical aspect of running any business involves keeping tight control of finances (incomes and expenses) and reconciling these regularly.
To manage your finances remotely, you may have a bookkeeper or Chief Financial Officer who manages these for you – or perhaps even a team of remote finance employees. You can find a directory of vetted bookkeepers or accounting firms on the e-Residency Marketplace, who are ready to support your business enterprise.
There are many online financial and accounting tools and software services that can help you seamlessly collaborate, communicate and share financial information and data. For example, QuickBooks, FreshBooks, and Xero.
Consider also whether you need software that tracks inventories, generates invoices or tracks procurements – depending on the nature of your business.
3. Manage your staff remotely
There's been a sharp rise in the number of people working remotely since the start of the 2020 global pandemic.
As a digital nomad, you'll need to find ways to hire, onboard, and manage your remote staff.
There are a range of tools you can use to recruit, hire and manage remote staff around the world such as UpWork, Fiverr, or TopTal.
There are also various online HR systems to usefully manage staff and your payroll. E-Residency partners Deel and Payhawk are two that come to mind. And there are even a range of remote work benefits that you can provide to attract and retain top talent (e.g. remote health insurance).
4. Manage your marketing and sales remotely
There are many digital marketing and online sales tools and apps for digital nomads to run their businesses remotely from anywhere.
For example, you could create a website and sell your products or services online, integrating your website with social media channels, digital newsletters and customer relationship management (CRM) tools.
Some examples of sales and marketing tools and apps include Salesforce, HubSpot and Zoho. Or read this guide containing helpful PR strategies to drive more audience to your brand and content.
5. Manage your business bank account online
Another critical aspect of managing any business online, is having access to an online bank account with all the services you need to manage your finances effectively.
If you join the Estonia E-Residency program, you have many options for business bank accounts for your Estonian company. The best option is to open an account online with a fintech. There are a wide range of fintechs familiar with e-resident-founded businesses and ready to support you, like Wamo, Juni or Airwallex. Other options include traditional banks in Estonia or another EEA country. However, these will generally require you to visit their bank branch at least once to open your account, which might be a hassle if you're living on the other side of the world.
Read the complete guide to digital nomad banking for more information.
6. Submit online tax returns
Every business needs to submit an annual tax return. To successfully manage your company 100% online as a digital nomad, you'll need to find a way to submit your tax returns electronically.
Not all countries and jurisdictions offer this, but if you're paying taxes in Estonia, then one of the primary benefits is being able to submit online tax returns.
That means no matter where in the world you're busy living or travelling, as long as you owe tax in Estonia, you'll be able to electronically submit your tax return electronically and on time.
7. Grow your business through networking
If you want to grow your business, you may want to partner with other people or organisations and networking can help facilitate these partnerships.
Networking can also help spark new ideas and innovations, and can help connect you with possible leads and customers.
You can network online as a digital nomad to grow your connections and foster partnerships. This can be done by joining dedicated online communities of purpose or practice related to your business specialisation or connected with digital nomadism. Or you may want to participate in relevant events, incubators, accelerators, or contests.
Final thoughts on growing your business online as a digital nomad
Running a company 100% online as a digital nomad requires careful planning and consideration, as not all countries offer digital services to enable this.
For example, certain countries may not make it possible to submit online tax returns, others may not have adequate international online banking facilities, and others may not have enabling remote company management policies.
When it comes to growing your business online, there are luckily a wide range of tools that are available to use. Whether you're managing your staff and payroll, your finances, your marketing, sales or you're wanting to network – there are a range of digital solutions.
Finding the right solution for your needs may take a bit of research, and will depend on your exact requirements, budget and circumstances.
This article was written by guest contributor and seasoned digital nomad Andy Stofferis (www.andysto.com).