Digital nomadism is synonymous with a lifestyle reliant on technology and connectivity for doing business. That's why digital nomads are keen to find flexible and digital banking solutions that reflect their global appetite for traveling and working in different countries.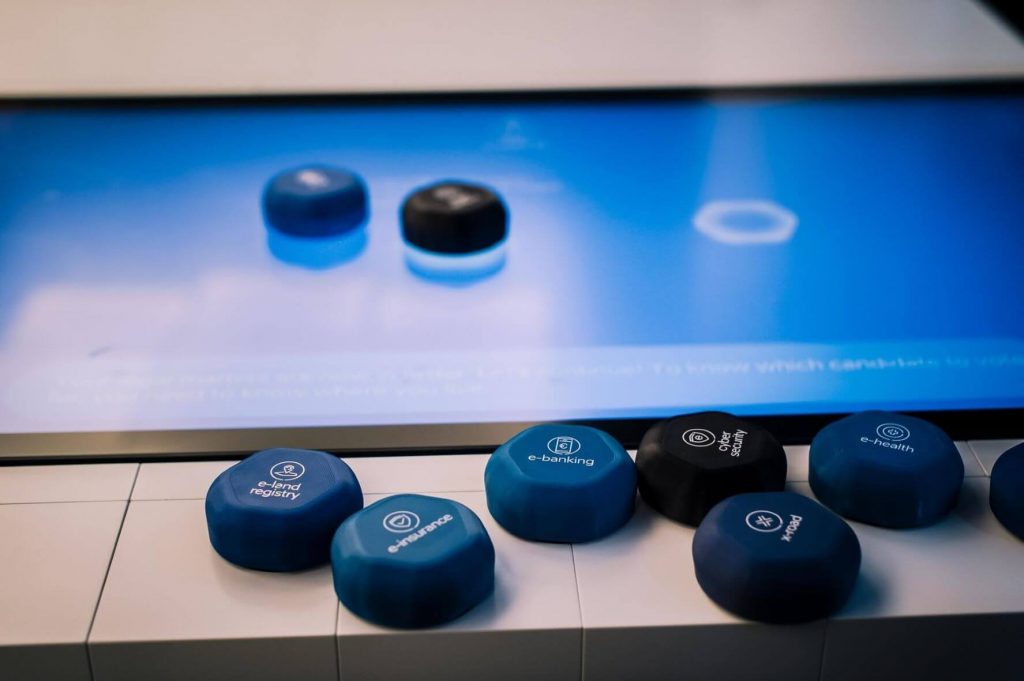 And it's not just digital nomads who are looking for innovative online banking solutions. Many people like working professionals who travel internationally need easy-to-access financial services. But finding the best international bank that gives you access to digital banking services may not always be that easy. That's why many people are moving away from traditional banks toward fintechs.
In fact, a recent McKinsey study shows that consumers are looking for more flexibility in their banking such as being able to access banking services through multiple channels (including digital ones).
Financial technology companies (or so-called 'fintechs') are bridging the gap between what traditional banks offer and what customers are now wanting. Fintechs for digital nomads provide an alternative to traditional, location-dependent banking systems that often lack functional online services.
This guide to digital nomad banking is also applicable to anyone who would like more innovative banking services and access to banking from anywhere in the world.
This digital nomad banking guide includes an overview of the following:
Banking for digital nomads
The rise of fintechs and digital banking
As digital nomads travel the world, often living in several different countries each of which may have its own banking systems – it can be overwhelming and challenging to find a suitable banking option.
Digital nomads using traditional banks in countries where they are living are faced with navigating those local banking systems. That includes the often difficult process of opening a local bank account and having to show proof of residence and sometimes citizenship or a work visa.
Using a traditional bank, especially when it comes to opening an account, may require you to go into a branch in person, and you may not even have the option of doing it online. Plus there's the added frustration of paying international foreign exchange fees on funds coming into your account, costly monthly banking fees, and ATM fees.
Because of these difficulties with traditional banking systems, many digital nomads are searching for alternative banking systems that offer more flexibility and digital services.
Some of the best international bank and fintech options for digital nomads that offer digital banking services include Revolut, N26, Monese, and Monzo which are better suited to EU and UK residents; Charles Schwab which is more suited to US residents; Stack which is better suited to Canadian residents; and Wise, Payoneer and PayPal which can be used globally.
Choosing between one of these digital banking or fintech solutions will depend on where you are living and resident, where you are from, and your exact needs. Certain digital banking options are better suited to personal banking, while others offer services for businesses, for example. Plus you'll want to compare rates, services, accessibility and whether you need digital nomad finance for your business, or specific online banking solutions for your digital nomad company.
Join us on 19 October for a live Q&A with fintechs Intergiro and DECTA: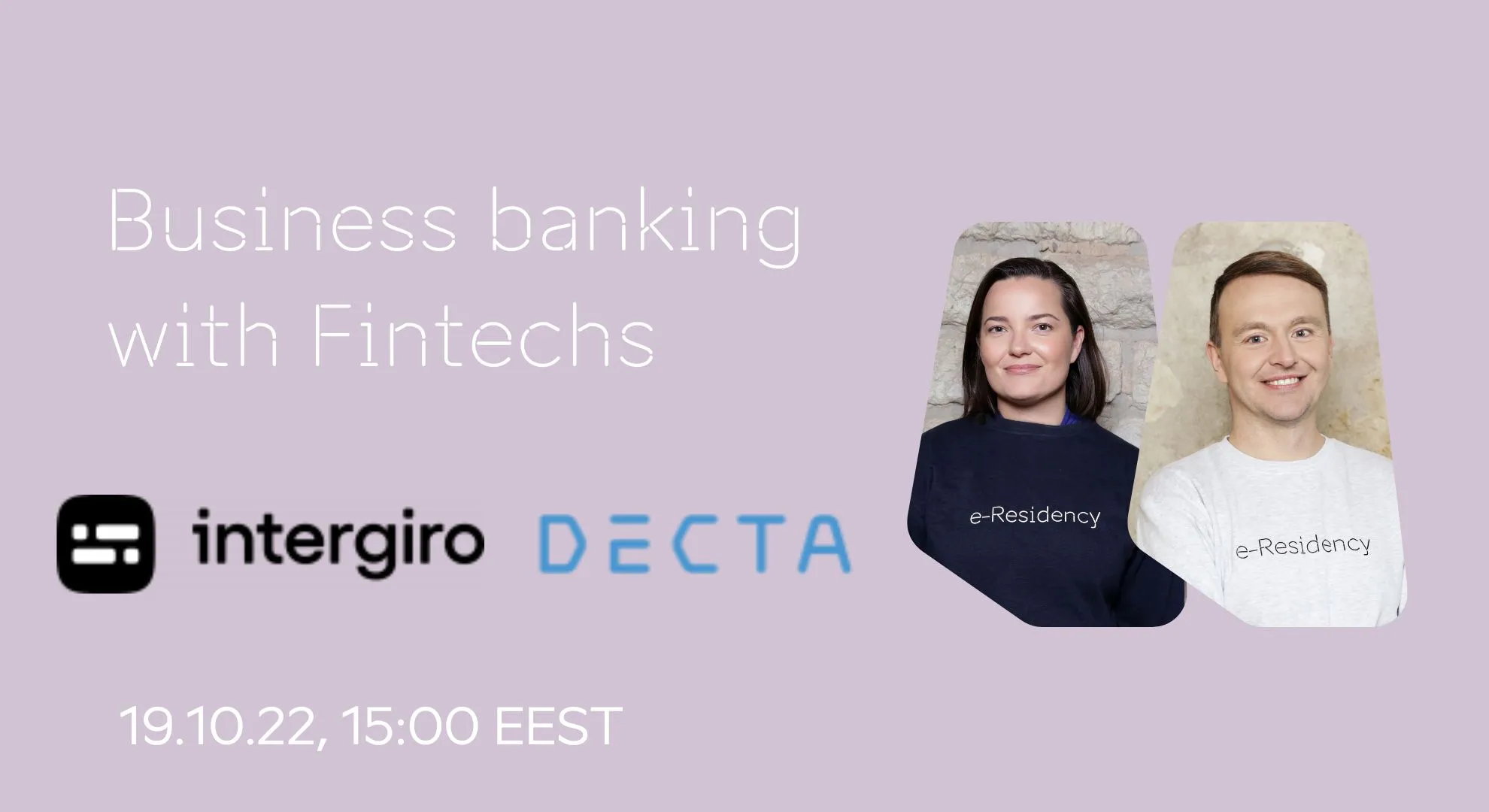 Business Banking with Fintechs: A Deep Dive with Intergiro & DECTA (Live Q&A) – e-Residency
Join e-Residency on 19 October 2022 at 15:00 EEST for a live webinar & deep dive into fintechs with special guests from Intergiro & DECTA.
Fintechs vs. traditional banks for digital nomads
To fully understand the benefits of fintech solutions for digital nomads, it's a good idea to compare them with traditional banks.
What is fintech?
Financial technology (fintech) evolved at the intersection of digital technology, innovation and the shortcomings of traditional banks.
Fintechs typically integrate with digital platforms (like smartphones) to provide convenient access to their services. And they typically use automation and AI to provide fast and efficient customer service. Fintech is evolving into various other sectors too, like cryptocurrency trading, education, and investment management.
Fintechs aim to be innovative and provide easy-to-access digital banking services to customers while being more affordable. That's why they generally charge lower fees than traditional banks, plus they often have higher interest rates so you can save more money. And because they're focused on innovation, they have modern and enhanced features that customers want.
Here are some of the main differences when it comes to fintechs compared with traditional banks:
Their focus: Fintechs tend to focus more on providing great customer experiences and digital functions that are easily accessible and personalized. Traditional banks on the other hand are more concerned with ensuring security and safeguarding against risks for themselves and their customers.
Access and market share: Because fintech is available to people on smartphones, it is more widely accessible than traditional banks which are only an option for customers near their location. That makes fintechs able to reach a larger portion of the market. And it makes it easier for customers to get the services they need without having to travel to a physical bank.
Operating model: Fintechs are businesses that are founded on innovation and cutting-edge technology, which makes them able to adapt quickly. It also means that their operating models are also typically more fluid in terms of business decision-making capabilities and less rigid as is more the case with traditional banks.
Technology focus: Fintechs are based on technological innovation and are heavily reliant on technology to be able to operate. On the flip side, this makes fintechs more susceptible to technological failures and also security risks like hacking and electronic fraud. Banks are able to operate independently of technology to a larger degree and cater to people who prefer in-person services rather than digital ones.
Risk and credit ratings: Banks typically only lend money to clients who have sufficient credit ratings, collateral and credit history to minimize risks. Fintechs take a different approach and often cater to people who may have been considered unbankable before.
Customer experience: Most fintechs offer customer service around the clock, which is quite different from traditional banks with limited opening hours. This makes it convenient to access for customers, where they can chat with someone to resolve any queries. By comparison, traditional banks often require you to be physically present in some circumstances, which customers can resent.
Regulations: Traditional banks are highly regulated and subject to a plethora of local and international laws. This helps to ensure financial safety, security, and transparency – as banks play vital roles in national economies. However, fintechs are often not as strictly regulated as banks. This makes it much easier for them to adapt to trends and changes, but it can also put them at an increased risk in terms of safety and security. And depending on where the fintech is located, there may be stricter or more lenient laws that apply.
Personal banking for digital nomads
If you're a digital nomad and are needing personal banking solutions from a digital bank, then you may want to look at both traditional banks that have integrated online technology service offerings as well as some fintech solutions.
Things to consider when choosing a bank as a digital nomad, include where you are tax resident, which bank offers the best interest rates for your personal savings account, which bank offers the lowest monthly fees and transactional charges, and which bank offers the digital services that you require. These considerations can help you achieve your digital nomad budget.
For example, if you specifically want to access your banking via a smartphone, you'll need to see if you can do that through your current bank or not. It's also worth investigating the various digital banking services that are on offer nowadays and comparing that with your current bank to make sure you're not missing out.
Business banking for digital nomads
If you're an entrepreneur or have a digital nomad company, then you are probably looking for business banking services in addition to personal ones. Or perhaps you are seeking digital nomad finance. In that case, you'll be wanting to find the best services, best rates and a bank that will offer you what you need.
Your choice of business bank as a digital nomad will depend on where your business is based. Take for example a business based in the EU. You can either use a fintech or a bank in the EU. And if you've applied for the Estonian e-Residency program, then you may also be eligible to use an Estonian bank. This gives e-resident digital nomads in Estonia a range of banking options to choose from.
The Estonian e-Residency Marketplace provides a comprehensive list of fintechs that offer business banking accounts to e-residents, such as Wise, Payhawk, Juni and Payoneer. However, you may not be eligible for bank loans from fintechs, and fintechs may not be the right solution for large corporations.
You may also be eligible for a business bank account with an EU bank, based on your Estonian e-Residency status and your client relationship with the bank in your home country. That means you may also be able to access a business loan from that bank, which is a big advantage. However, a significant drawback to using an EU bank if your business is run in Estonia, especially for businesses with online sales and transactions, is that your IBAN number will be from a different jurisdiction to Estonia and that could lead to IBAN discrimination and complications.
Using an Estonian bank if you're an e-resident is another option. Estonian banks can give you an Estonian IBAN number, enable you to transact internationally and could potentially grant you a business loan. Estonian banks are known for their wide range of online banking services, and you can use your e-resident digital ID card to manage your business banking transactions and services from anywhere. Estonian banks will require you to make at least one personal visit to their branch offices to authenticate your identity. Plus, Estonian banks generally require your business to have a strong connection to Estonia, which can be a blocker for many e-resident digital nomads.
Final thoughts on the best digital nomad banking solutions
Digital nomads need digital banking solutions. There are many advantages of e-banking solutions that are attractive to nomads, like the ability to access banking services anytime, anywhere, and using a range of media.
While some traditional banks do offer online banking services, there's also been a huge growth in fintechs that have created innovative, customer-focused e-banking solutions, often at much lower costs.
Choosing the right digital banking provider as a digital nomad takes careful consideration. You'll need to consider whether you need business banking or personal banking services. And where you are resident or where your company is based, plays a big role in which options you have. As an Estonian e-resident you can increase your range of banking options, depending on your exact status and needs.
This article was written by guest contributor Andy Stofferis (www.andysto.com).