Life as a digital nomad requires a handle on finances. Looking to create your own digital nomad budget? Read on to find everything you need to consider.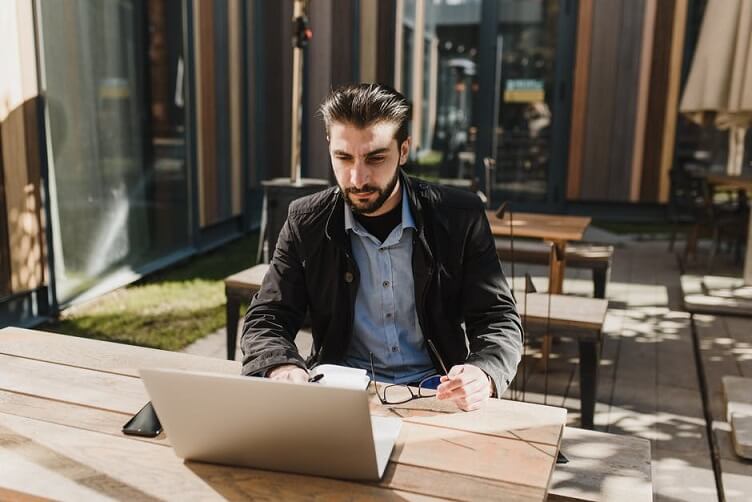 So you've decided to be a digital nomad. Congratulations – it's not hard to see the appeal of a 4 day work week!
By now we hope you've read our ultimate guide, found a digital nomad community, settled on a way to work as you travel, and started filling your kit of digital nomad tools so that you can live and work remotely as efficiently as possible.
But have you thought about your finances? While saving and spending worries exist no matter what job you're working or lifestyle you've chosen, there are some special things to think about as a digital nomad.
So before you jet off for Mexico or Cabo Verde, do you have a digital nomad budget? Have you written down a list of all the things you'll need to pay for? Or thought about how to manage your spending?
If you're looking for useful answers to these questions then you'll find everything you need to know in this article. We hope this guide helps to ensure that you can truly enjoy your digital nomad lifestyle without financial worries!
What are the typical cost items in a digital nomad budget?
Firstly, as a digital nomad, you need to prepare yourself for the expense of living a nomadic lifestyle. Will your monthly income cover comfortable accommodation and health bills?
All of these costs will vary depending on which country you're staying in and for how long. For example, some of the cheapest places to live as a digital nomad are in Bangkok, Saigon, and Budapest.
1) Digital nomad cost #1: Accommodation
Where you lay your head at night will very much depend on your preferences, how long you are staying, and of course your digital nomad budget. You might prefer to pay more for a comfortable stay in an apartment rental or a hotel. Or you could be more about meeting people by couchsurfing or staying in hostels.
Whatever your preference, accommodation will likely be one of your top expenses, so it's a good idea to budget for it sensibly.
2) Digital nomad cost #2: Food
If you decide to eat out most days then you'll need to factor that into your budget plan. Whereas cooking for yourself could end up saving you a lot of money when travelling the world.
3) Digital nomad cost #3: Activities & Hobbies
As well as the essentials, you also have to save money for having fun! Depending on your hobbies, you'll need to make room for the cost of lessons and materials.
4) Digital nomad cost #4: Travel costs, visas and insurance
Until humans learn to fly or teleport, we will continue to rely on existing forms of transport to move around – most of which carry costs to do so. Plus, many countries require visas for entry, which vary in price but must be budgeted by frequent travellers.
You'll also need to factor in digital nomad travel insurance or else you might run into debt if you have a health crisis. As long as you're prepared there should be no problems!
5) Digital nomad cost #5: Unexpected costs
Before you can travel to your long list of bucket list destinations, you'll need to prepare for unexpected costs that come with work while travelling…
For example, what if your laptop breaks suddenly? Or, you need to fly home suddenly for a family emergency? Part of the thrill of being location independent is travelling wherever you like, but it doesn't mean reality stops.
You never know what might come up in the worst moments and what will require extra cash, so keep an emergency stash.
6) Digital nomad cost #6: Business costs
If you're a digital nomad looking to run your own business on the road, have you thought about how to manage your business costs? Established company owners will know that certain outgoings like skills training, tickets for events or conferences, software and hardware can be treated as business-related expenses.
If you're new to the game, make sure to factor in the startup costs of forming a company into your own personal outgoings. You may need to bootstrap costs in the beginning. At least until your business starts to make a profit and can pay for itself.
Costs of starting and running a new business vary depending on where you register it, business form, volume of activities, the fees of your service providers, and the types of services you need.
If you're interested in starting your own company, then take a look at Estonian e-Residency. It allows you to start an EU-based company from anywhere in the world. For example, at a basic level for a private limited company (OÜ), the costs will include:
E-Residency application state fee = €100-€130
Company registration state fee = €265
Fee for legal address + licensed contact person in Estonia = €200-400 per year, on average
Fees for additional services (e.g. bookkeeping, accounting) start at €50 per month
Minimum share capital contribution = €2,500
Read more about costs and fees of starting a business in Estonia on our Knowledge Base.
Travelling the world & Tips on managing your spending
So, how do you save money as a digital nomad? And, what are some budgeting tips for digital nomads? Budgeting seems like a wonderful idea when you think about it, but in reality, it's a lot harder than it sounds to save money. Especially in a world full of instant buys, apps, and frequent deals.
We all need a little help when it comes to budgeting, so here are some tips to help you manage the life of being a digital nomad…
1) Tech to the rescue
One of the perks of living in the modern age is tech! Like the money saving apps that allow you to put different pots of money aside for the basics such as rent, food, emergency, and travelling expenses.
It can also be difficult to manage your costs and savings when you're dealing in different currencies. Luckily, fintech startups like Wise, Monese and Revolut are ready to help you make cheap international transfers.
2) It's the Little Things
Do you ever stop to think about every little thing you buy in a day? Maybe you grab a coffee at the local cafe or buy some flowers at the market down the street?
Of course, we're all be entitled to some treats every so often but these small things can add up…
So, it's just as important to prepare for the small daily expenses in your monthly budgets as it is the big ones we covered above.
3) Living Costs in Different Locations
Depending on where you're living at different moments in time, the living costs in the area will either increase or decrease so you should research in advance the cost of living in different locations.
Lots of remote jobs allow you to live wherever you want as long as you have decent wifi. To make the most of this freedom, choose wisely when it comes to picking a place to live. Cost should be one of the key drivers of your decision, especially if you're counting your pennies or looking to save.
4) Coliving and Coworking
One much-quoted downfall of being a digital nomad is being isolated and not having the opportunity to make friends with colleagues. As we already mentioned in our digital nomad community article, coliving or coworking spaces are good hubs to meet other locals and digital nomads.
As an added bonus, they are also a wonderful way to cut living costs!
For budget travel, you may also consider coffee shops as an alternative for a coworking space.
5) Make the Most of Public Transport
Even though it's easy to open your phone and order an Uber, sometimes the smarter choice is looking into bus lines, train routes, and other methods of public transport to limit travelling expenses.
6) Business expenses
As mentioned above, you may be able to attribute some of your outgoings to expenses related to your business. Things like skills training, conference tickets or software licences.
One part of the Estonian corporate tax system that is quite unique is that business-related expenses have no immediate tax effect. Expenses not related to the business will trigger corporate income tax of 20% on the gross.
If in doubt, always ask yourself one question: "Is this expense necessary or appropriate for maintaining or developing my business activities?" Or speak to a qualified accountant as you may find some of your day-to-day running costs can be covered by your company and managed tax effectively.
In summary, all of these are useful ways to help reduce the temptation of overspending and save for the future. If you're cautious about your spending, you'll definitely be able to stick to a digital nomad budget.
How to create the ultimate digital nomad budget and spending plan
So, how do you create the perfect budget plan? Here are a few ideas to get started.
1) Zero-sum budgeting
Have you heard of the zero-sum budget? This is a type of budgeting that means nothing is wasted. Every penny of your salary goes to something useful like accommodation.
For example, you can put 20% of your money aside for savings and investing and the rest should be divided between food, accommodation, travelling, gift buying, phone plans, and emergency savings.
This is one of the most popular budget ideas for digital nomads because it's easy to do and keep track of.
2) 50/30/20 method
How do you divide your money between types of outgoings? Have you heard of the 50/30/20 method?
50% for needs
30% for wants
20% for savings or debt repayments
This style of budgeting is perfect for people who want a template plan to follow because it's guaranteed to work!
3) Don't reinvent the wheel
Our final tip is – don't start from scratch. Look at the many variations of budget templates available online. There is no need to reinvent the wheel of budget plans, when many others have done the work before you. Take a minute to browse different versions online to find the right one for you.
Take the Leap and Start Your Business Today
We all fantasise about running away from reality and living by the beach. But the reality is that you need to make a living and ensure you have enough money to pay for this lifestyle.
Sounds like a dream, doesn't it?
E-Residency of Estonia can help you achieve this dream. Apply now and take the first step towards a life independent of location and budget stresses.