Digital nomad tools make life so much easier for that lifestyle. Here are some of the best tools to help your busy lifestyle.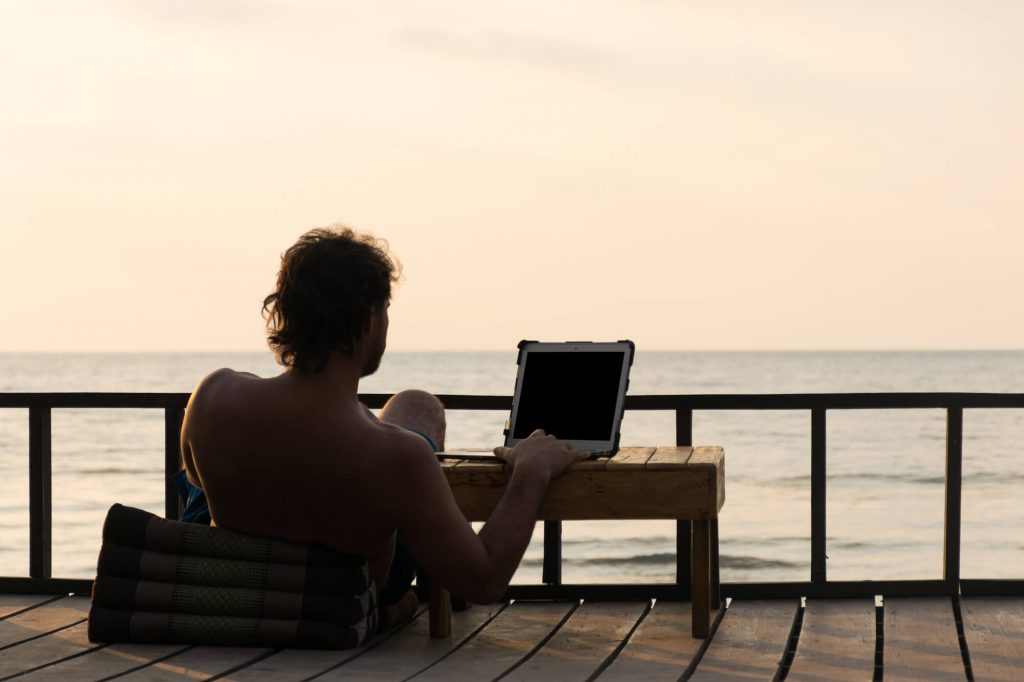 From 2019 to 2020, the number of American digital nomads grew by 49%. This growth isn't unique to just the US either. People from all over the world are giving up traditional jobs in favour of what a digital nomad lifestyle can offer them. The pandemic, lockdowns and remote work policies have seen the number of people trying out the work from anywhere and digital nomad lifestyles explode exponentially.
The e-Residency community is no stranger to these types of lifestyles. The programme is inherently location-independent by nature. Plus, e-resident entrepreneurs run their Estonian businesses remotely from all over the world, whether as digital nomads or not.
Are you looking to become a digital nomad yourself? Then you're probably looking for digital nomad resources before you embark on this adventure. Previously, we've given some tips on how to survive the transition to remote work during the early days of the covid-19 crisis. And check out our Ultimate Guide to Being a Digital Nomad and a list of top 7 ways to work as you travel covering our top picks for digital nomads in 2022.
Keep reading to get another great list of digital nomad tools that'll make work easier for you!
The best digital nomad tools:
Google Workspace
Google Workspace (formerly known as G-Suite) is one of the best digital nomad tools since a large portion of the world already uses it. So whether you're working with a collaborator or client, it's almost guaranteed they'll know how to use this suite of tools.
Not only can you work on documents, slides, and spreadsheets together, but you can also use shared calendars to easily see who's available and when. From there, you can schedule video conferences with the click of a button.
Slack
When it comes to 2022 digital nomad tools & apps, this is a must-have. Slack is a workspace that allows you to communicate with clients and other people, such as graphic designers, web designers, writers, etc.
You can create different channels to keep conversations more organized. You can also ping certain people or entire channels if needed. And if you want to find a vital piece of information that was shared, just type it into the search bar above.
You can share pictures, videos, and other files from your computer. In addition, you can create polls, send gifs, and add apps to Slack to make it more customized.
The one drawback is while you can chat, you can't voice or video chat with Slack.
Loom
It can be difficult to put down in words some more visual concepts, especially if you're experiencing bugs with a website. In that case, having Loom can be beneficial and it's indeed one of the most popular apps for digital nomads.
This tool allows you to record your screen, but not just that. You can also record your voice and even your face.
After recording, your video is instantly sharable, so you won't have to wait around to download anything. Just send the link to whoever you wish and they'll be able to see what you're seeing.
Asana
Asana is one of the top work tools/apps for digital nomads. This team management program lets you put down all tasks for a project, assign the appropriate shareholders, and set deadlines to keep everyone on track.
What's great about Asana is it allows you to see everything on both a granular and general level. The customizable timeline will let you catch anything that's unassigned and prevent your project from falling behind.
It'll also streamline everything so one shareholder isn't waiting for another. Because you can assign everyone to the appropriate section at the start, one person can hand off the baton to the next immediately after finishing their part.
Lingvist
Lingvist is great if you're going to be travelling often and want to learn the native languages before you arrive. This app helps you build up your vocabulary with as little as 30 minutes a day of practice.
You can build custom decks so the vocabulary you're learning caters to the words you'll use the most. In addition, you can use this app on both your phone and your computer.
Speakly
If you're looking for the best language learning apps free, then one of the best ones to download is Speakly. This app gives you a free 7-day trial and then afterwards, it's very cheap to keep going.
Speakly claims to be the fastest way to learn a language. You can select what your level is and what you're studying for (such as work or travelling), as well as how quickly you need to learn the language and how much time you have to study per day. Plus, like with Lingvist, you can use Speakly on both your phone and computer.
Toggl Track
As a digital nomad, you have the freedom to work as much (or as little) as you want. But the reality is, there are still bills to pay, which means you still have to work a certain amount of time to offset these costs and have money to spend as well.
It can be difficult to stay motivated and on track with work when you're your own boss. To keep yourself focused, a great time management tool is Toggl Track.
This time tracking software lets you stay focused on work and also log hours. It has over 100 integrations so you can add Toggl Track to your other tools seamlessly.
Even more important is Toggl Track can catch team burnout early on. That way, you can stay energized for work and not push yourself too much.
Anytime Mailbox
When it comes to digital nomad hacks for mail, the best-kept secret is virtual mailbox services. This is where a company lends you a secure mailbox at your chosen location and they'll receive and store your mail for you.
For the best virtual mailbox services, choose Anytime Mailbox. There are 1,288 locations across not just the US, Canada, and Hong Kong, but many other countries as well.
This service works with real street addresses and they can forward your mail and packages, as well as scan them for you. Considering that prices start at around $5 per month, it's a very affordable service.
E-Residency
In 2015, Estonia was the first country to launch e-Residency, a government-issued digital identity and status that provides access to Estonia's e-services, including the ability to start and run a company online, for people living beyond its borders.
Since then, 90,000 people from more than 170 countries have applied for e-Residency and registered 20,000 new Estonian companies online, including a large number of digital nomad entrepreneurs.
Estonia is a leader in providing digital tools for remote work and online collaboration. This is thanks to thirty years of prioritising digital transformation for its citizens, residents and now e-residents. As well as being the birthplace of pioneers of remote tech such as Skype, Wise, Monese, Toggl, Lingvist and Speakly. The pandemic was a stress test for the world to go digital. And thanks to 99% of Estonia's government services being available fully online, it passed with flying colours.
Use These Digital Nomad Tools to Streamline Your Work
When you're armed with the best digital nomad tools available, you'll be able to work in the most efficient way possible. And as a result, you'll get to live the digital nomad lifestyle of your dreams. Travel the world, enjoy your surroundings and learn about cultures with firsthand experiences you'll never forget.
Are you a digital nomad and interested in becoming an e-resident in Estonia? Apply for your unique digital ID now.