Do you have dreams of travelling full time but not sure how to make the money to do so? Check out our top ways to earn an income and work as you travel the world.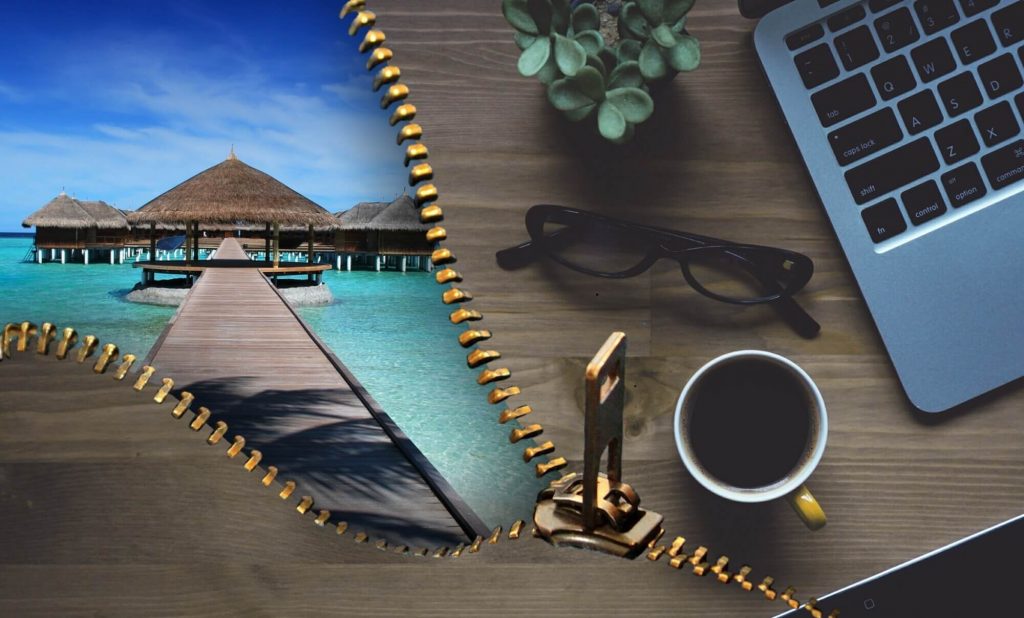 What are some of the places on your travel bucket list? Costa Rica, Croatia, Estonia…? I'm sure the list is endless. You will however need to work as you travel to support your expedition.
Travelling the world comes with an unmatched level of freedom. It will be hard to maintain your current job, so you need to find new ways to earn. There are over $787 billion economic opportunities open for digital nomads that you can take advantage of.
E-Residency has made true freedom possible for digital nomads by allowing entrepreneurs and freelancers to work digitally. You can now start and run a digital company and access the EU market with ease. It's therefore possible to get the best of both worlds: freedom and financial security – you just have to tap into the numerous opportunities.
Work as you travel in 2022
Wondering how to travel full time and make money? Continue reading to learn 7 ways to work as you travel, covering our top picks for digital nomads in 2022 (as well as highlighting the pros and cons for each):
Freelancing
Trading
Virtual Assistant
Teaching English Online
Digital Marketing Consulting & Support
Blogging
Selling physical or digital products
1. Freelancing
When transitioning from your everyday life to being a digital nomad, you need to earn money quickly. Freelancing is a quick solution to join the working nomads community.
Freelancing is popular today, with most of the world's population giving it a shot for the extra buck. There are numerous ways to earn money through freelancing including:
Content writing
Web design
Transcribing
Social media marketing
SEO services
Article writing
Pros
There are numerous and readily available freelancing jobs
Freelancing can be an excellent source of revenue as you try out other online careers
It's a quick way to find work and make money with limited barriers to entry
Requires minimal skill and work experience to start; thus, it's ideal for beginners
You can start small and grow your activities into a larger enterprise
Cons
As a beginner, you might make meagre earnings, so you should hone your skills to go pro.
Check out websites that list writing gigs to start as a freelancer. Such opportunities are a great way to make money since you can work from anywhere in the world online.
2. Trading
Do you have some background knowledge of financial markets? Online trading has become popular over the recent past as one of the ways to earn money from anywhere.
Every day, corporates are trading their stock, and you could make money by buying and selling them. You can make a pretty penny and still explore your favourite destinations by trading online.
Pros
Trading can be a highly lucrative way to make money online
The process is easy and doesn't need much of your time while trading
There are endless opportunities to make money
Cons
You require in-depth knowledge of NFT's, CFDs and the current trading information
The chances of losing money are high, so you could lose your investment
The learning process is time-intensive, and you need to be a pro to make it
If you have the time to learn to trade, it's worth giving a shot. You could realize more than just a decent profit once you've known how to trade.
Side note: Trading through an Estonian company could be a great solution – learn how.
3. Virtual Assistant
A virtual assistant might seem like the ordinary 9-5 job but is among the best jobs for digital nomads. Virtual assistants are tasked with talking to clients on business websites.
Pros
The job pays quite well
You don't need to talk with someone; most VA jobs involve text chatting
Cons
Being a Virtual assistant requires a schedule which is a bummer for most travellers
Requires you to find brands and businesses to work for
Virtual assistant jobs can be the answer for working from anywhere. You can still make time to travel to the places you wish once your VA gig is done.
4. Teaching English Online
English is the most popular language, with about 1.35 billion speakers globally. A larger number of non-English speakers wish to learn the language today. You could thus make money teaching English online.
Pros
You can have a flexible schedule and plan work and travel with ease
Most jobs are informal, so you could have fun while at it
As a native speaker, you'll experience limited barriers when teaching English online
Cons
Although the demand is high, you need to make a name for yourself to get jobs
If you'd like higher wages, you may need to take a TEFL course
You may need to learn a different language to converse with your learners
Teaching English online is a decent way to make an income while travelling. You also get the chance to meet amazing people from all walks of life and help them learn English.
5. Digital Marketing Consulting and Support
After you've spent years working in marketing, don't let the skills go to waste. You could start a career as a digital marketing consultant and serve different brands.
Pros
As a qualified professional, consultations can be an easy way to make money
You get to utilize your expertise to help brands grow, which is satisfying
Cons
Although qualifications aren't mandatory, you need extensive work experience in the field
The industry is pretty saturated, so you need to stand out
Digital consulting can prove lucrative if you acquire clients that pay well. You should try positioning yourself as an expert to start earning.
E-residents like Michelle from Brazil and Clement from Lebanon run their digital marketing agencies through their Estonian companies thanks to e-Residency.
6. Blogging
If you prefer the digital nomad life permanently, you should try blogging. Blogging starts as a hobby but is a big way to make a considerable income every month.
There are numerous ways to earn through blogs including:
Display ads
Digital products
Affiliate marketing
Sponsored content
Pros
Once the blog is up and running, you can make money perpetually
You get the ultimate freedom while blogging since you make your schedule
Cons
It takes time to earn from blogging since you have to make a name for yourself
Blogging is not a get rich quick scheme, so you need to be patient with the venture
If you love writing and focusing your energy on something consistently, try blogging (e.g. start a travel blog!). It's the ideal way to make money and learn while doing what you love, travel!
7. Selling Physical or Digital Products
Have you considered opening an online store? Selling physical or digital products is a great way to supplement your income sources as you travel.
Picture this – you have a consumer base that requires products from the other side of the globe. All you have to do is get their orders and organize shipping. Sounds easy, right? Well, you can do all this and still travel, so try out your luck.
And with e-Residency, you can start and run a company online to sell your goods in no time.
You Now Know Ways to Work as You Travel
Working from anywhere in the globe is today possible because of the internet. Therefore, you'll have an easy time transitioning from your regular life to becoming a digital nomad. The above guide contains ways to work as you travel.
The real way to achieve independence as a digital nomad is to start a company. The process is easier today since you can complete it 100% online with e-Residency. You'll thus manage the business fully online, incurring minimal costs while enjoying your travels.
Anyone looking to start a digital nomad life can apply for an Estonian e-Residency. There are no restrictions regarding citizenship to become an e-resident. Apply now for a secure and unique Government-issued digital ID online.