starting a solopreneur business: tips and strategies for success
There are many ways to get started as a solo business owner. Start off slow via a side hustle or make the transition to being self-employed from the get-go. It's your choice, boss!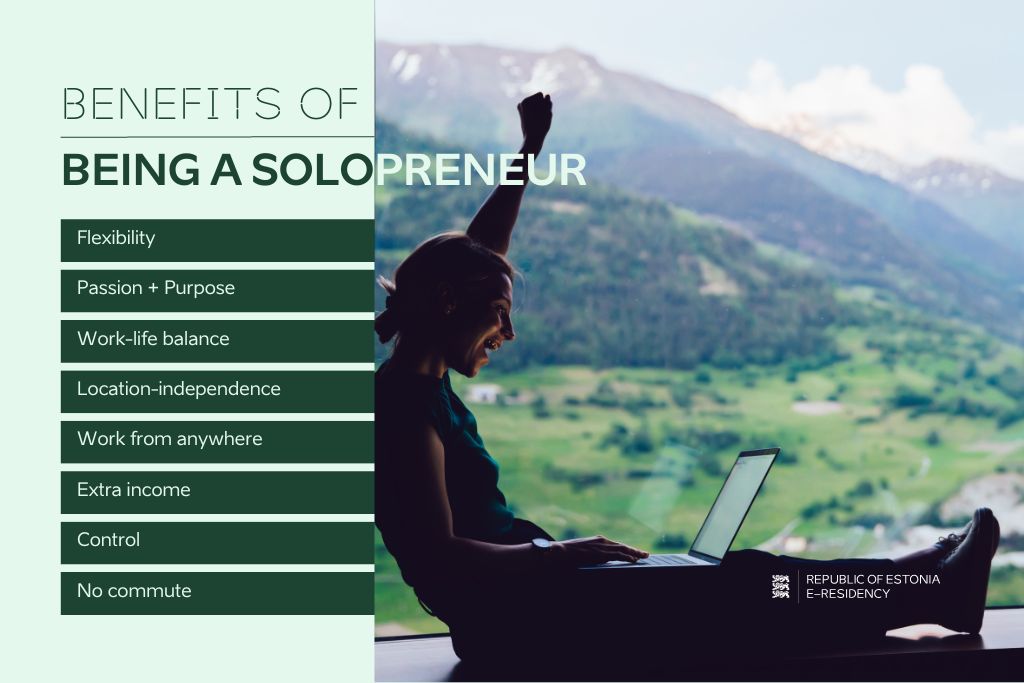 Starting a solopreneur business can be exciting and rewarding. There are a range of different types of industries that you can work in, and managing your own business can be lucrative, empowering and fulfilling. 
There are many ways to get started as a solo business owner. Either start off slow by having a side hustle and then turn that into a business that you manage when you're ready. Or make the transition to being self-employed from the get-go if you have the skills and connections to find work and get started earning a living. 
Being a self employed entrepreneur can also be a springboard for launching a career as an entrepreneur or serial entrepreneur if you decide to expand and scale in future. 
There are so many reasons why people choose to start a solo business. One of the many great things about having your own business, is that all decisions are yours, and yours alone, to make!
Below we look at what a one-person business really is, solopreneur trends in terms of typical career choices, and some popular reasons to get started as a solo entrepreneur.
What is a solopreneur? 
They take full responsibility for the successes and failures of the business, and don't hire any staff members to help them. In other words, they are entrepreneurs that run their businesses single-handedly.
People can work in many types of careers and business fields as solopreneurs. You could even be a solopreneur without realising it.
Solopreneurs, like entrepreneurs, often run businesses that provide services. That includes full-time careers like freelance consulting in a range of specialisations like marketing, graphic design, research, knowledge management, editing, website design, coding etc.
As a solopreneur you may also provide services as a content creator, a photographer, an influencer, a YouTuber or podcaster, a life coach, a musician - or you may have a side hustle or undertake some side projects to earn extra money in your spare time. 
Top 8 benefits of being a solopreneur 
There are so many benefits of being a solopreneur. No wonder that it's fast becoming a new business model trend around the globe.
It's also becoming easier for people to start careers as solopreneurs. Given the rapid deployment of cloud computing services, and the transition by many companies to remote and hybrid work models, there are an increasing number of opportunities to create a startup and work for yourself. 
But what are some reasons and motivations to get started as a self-employed entrepreneur? 
For some people, it's about finding a sense of passion and purpose for what they do. For others, it's about being able to control their own destiny a bit more. Other key benefits include the sense of freedom to manage your own time, not having to commute to an office every day, and to have more of a work life balance. All of these advantages fuel the move to being a solopreneur. 
And for many, what may start out as a side hustle, has the potential to grow into a thriving business. This precipitates the transition to being your own boss and working independently.
There is also a growing digital nomad movement around the world, where people are drawn to a life of travel and work. Many of whom often spend months or years in one place before moving elsewhere. 
Below are the top reasons why people are turning to working for themselves as sole operators, freelancers, and digital nomads.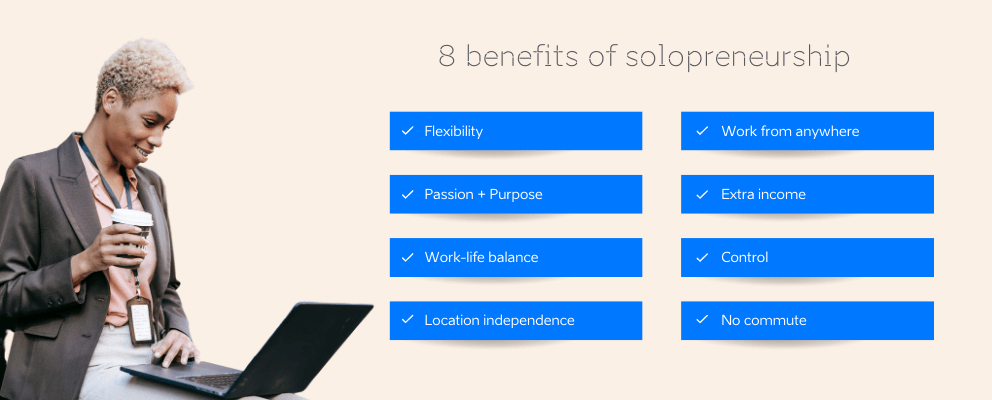 Benefit 1: Increase your flexibility
The most popular reason for people to become solopreneurs is the freedom and flexibility it provides. Whether you're a parent who needs to fetch kids from school every day, or someone who needs to be home to care for a family member - there are so many people who want to work, but need the flexibility to do so.
Flexibility comes in many forms. You can set your own working hours. Or choose to work remotely. Or simply take time off work when you want to. 
Many people who work in demanding and stressful office environments find being a solopreneur a welcome and refreshing change. This is particularly so when they no longer have to spend hours commuting or needing to stick to scheduled work hours.
Benefit 2: Focus on your passion and purpose 
For many people, the move to being a solopreneur is fueled by a sense of passion and purpose. Many start off in traditional careers, then find that their skills and experience can be used to start their solopreneur careers. 
Have you been stuck in a dull or stressful job? As a solopreneur, you have the opportunity to take your transferable skills to do something that you love. Sounds enticing, huh? 
Benefit 3: Improve your work life balance
Finding a healthy work life balance, avoiding burnout, and being mindful in all that you do is becoming centre stage in the work area, particularly since the start of the COVID pandemic. 
Many people find that switching to working for themselves allows them more freedom and a better work life balance. Instead of spending every morning in a two hour commute, solopreneurs may have other options. Go for a morning run or take a beach walk instead! 
Are you sick of only seeing your children late every night after getting back from the office? Well, solopreneurs may be able to collect kids from school and spend time with them during the afternoons. All while meeting their deadlines. 
Benefit 4: You don't need to worry about a lengthy commute 
Hate commuting? Well, another big reason for switching to a life of self-employment is to avoid this. Especially if you work from home or remotely.
Avoiding a lengthy commute can free up several hours of your day. More free time means more time to enjoy life and create a sense of balance. This can have positive emotional and health benefits, and can make your daily experience more positive and happy. 
Benefit 5: You can enjoy a location-independent lifestyle
Another popular reason to become a solopreneur is to start living a digital nomad lifestyle. Many digital nomads work remotely as freelancers or business owners, travelling the world and working as they travel. 
This may fill your need for adventure and travel. It could also save you money if you manage to earn money in a currency that converts well to where you're staying. 
There are also many new digital nomad visas which are helping to make it simpler and easier to work around the world. Similarly, there are a growing number of programs like Estonian e-⁠Residency for setting up a business in other countries. The Estonian e-⁠Residency program supports solopreneurs, entrepreneurs and digital nomads. It allows them to operate their businesses from Estonia and take advantage of the country's advanced digital services and open business environment.
Benefit 6: You can work from anywhere
Do you work best in an office, at home, from a coffee shop, or a coworking space? Being able to work from anywhere you choose gives solopreneurs a sense of control and choice which is sought after. 
This flexibility to choose where to work from is increasingly an option with the rise of remote work. But when combined with total control over your business operations and managing your workflow and your own clients, it's a highly attractive package that is enticing many people to become solopreneurs. 
Benefit 7: You can earn extra income & increase your earnings
Working as a freelancer, a consultant or managing your own business, can also mean a huge increase in earnings. This is yet another attractive feature about being self-employed.
Many people start out working on a side hustle. Soon, it becomes clear that they can make a career out of their chosen entrepreneurial activity. This then sparks the transition to starting a career as a solopreneur. Or, in many cases, people keep their day jobs and adopt a side hustle that allows them to earn an extra income and perhaps fulfil a sense of passion and purpose. 
Benefit 8: You have control and ownership of your business
Another reason to be your own boss is that you get to make all the important decisions and no longer have to take any direction from anyone else. For some this can sound daunting, for others it is soul-fulfilling. 
Are you craving the chance to run your own show, manage your own time, and take full responsibility for your earnings, successes, and failures? Then life as a solopreneur may be for you.
The basics of solopreneurship, ideas and how to get started
Getting started as a solopreneur can be as quick and easy as starting a small side hustle. Or it could be more of a long-term goal that involves rigorous planning. The route you take to start your career or side hustle as a solopreneur depends on you and your exact goals, experience and expectations. Below are some quick tips on how to get started as a solopreneur. 
Tips on starting a solopreneur business
Look for solopreneur ideas and get inspired by what others have managed to do and achieve.
Look at solopreneur examples and solopreneur success stories. Find inspiring small businesses ideas to replicate or adapt. And research what it took for these examples to get started and start thriving.
Consider your solopreneur business model and how you plan to operate your business. Will you start off with a side hustle and register a solopreneur company? Or will you become a freelancer as an independent contractor?
Identify your skills (including transferable skills), talents, experience plus any skills gaps which you may need to fill. This may help you identify which career path options may be best suited to you.
Consider what legal structure to use, figure out the tax and legal implications, and research the best options.
Figure out how to start a solo business easily. Run it 100% digitally, with access to a large marketplace like the EU. The Estonian e-Residency program is a popular choice among self-employed entrepreneurs and entrepreneurs alike. It offers a quick and easy way to start, run and manage a business online.
Network with other solopreneurs to find out first-hand how they got started, etc. You can do this by attending online solopreneurial events or joining a solopreneur network. Or you could join the Estonian e-⁠Residency program which has nearly 100,000+ members
Set goals and targets, create a schedule and commit to your new solopreneur career.
This article was written by guest contributor and seasoned digital nomad Andy Stofferis (www.andysto.com).
If you are interested in entrepreneurship or starting a business, take a look at some of our recent blog posts on entrepreneurship that provide valuable insights into the world of digital entrepreneurship, including the benefits and challenges of starting a business online, how to navigate the legal and financial aspects of setting up a company, and stories of successful e-⁠resident entrepreneurs.