the driving force of the new music industry
Argentine e-⁠resident and singer-songwriter Cristian Larrosa lives in Madrid, manages an international team and runs his music business out of Estonia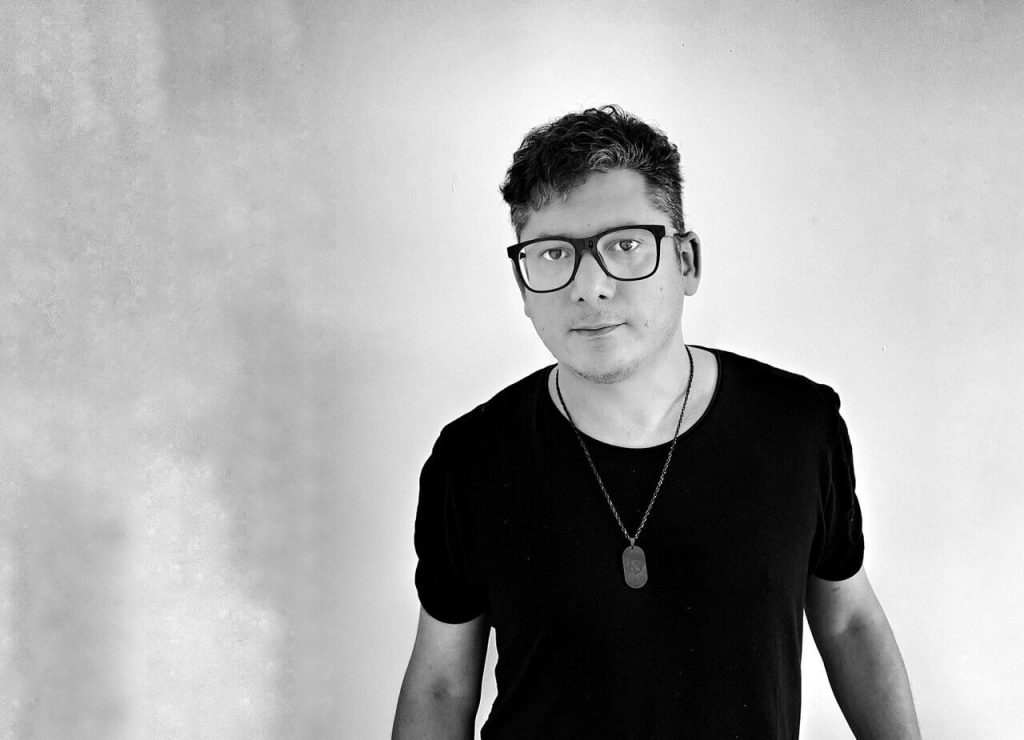 What do you think of when you think of an executive in the music industry? An old man in a suit, seated at the end of a long table somewhere in Hollywood, gesturing with a cigar, and saying, "I like it, we should sign them," or, "I don't like it, tell them the deal's off"? Chances are you don't think of someone like Cristian Larrosa, an Argentine singer-songwriter based in Madrid who manages an international team of professionals, while running the business through an Estonian company.
"The music industry used to be ruled by old people, and they got greedy in the 1990s with the CD format," says Larrosa. "But times are changing, and we are the new music executives," Larrosa says of his team. "We are calling ourselves the driving force of the new music industry."
Larrosa founded the Larrosa Music Group in 2019 to focus on music consulting, education, and to foster the adoption of new technologies, such as blockchain and web3. It includes a music publishing subsidiary as well as a label, Rose Records. But there is much more to Larrosa Music Group than just helping new artists get their careers off the ground. Larrosa is also busy building a community to discuss how new technologies can be best harnessed.
"Historically and even today, the music industry has always been a bit obscure, a bit dodgy, in terms of the way things are done in terms of contracts and agreements with musicians," Larrosa notes.
It was, in a way, the logical next step for Larrosa, who started out as a singer songwriter in Argentina in the early 2000s. He set up his first music companies there in South America, before moving to Spain a decade ago to work as the musical director of a Spanish company, where he ran its production team creating karaoke and cover tracks. In 2019, Viel Music Iberia, the company he was working for at the time as a music producer, dissolved following an acquisition.
It was then that Larrosa decided to set out on his own and set up his own business. And this was when Estonian e-Residency came into the picture. "Our company is based in Estonia because it just makes everything easier," he says. Indeed, Larrosa manages a team of nine nationalities based all around the world. Most of its operations are run remotely, and, as noted, when they do need to use a studio or office space, they hire it. Most of Larrosa's clients are also outside of Spain, particularly in the US, which made invoicing through a Spanish company cumbersome.
After some research, he discovered Estonian e-Residency, applied, was accepted, and became an e-resident, having picked up his e-Residency card at the Estonian embassy in Madrid in 2019. Larrosa says that the quick process of becoming an e-resident allowed him to save months of work to set up a company, and to work seamlessly with his team of digital nomads. "We were able to start working straight away," he says. "The setup was so quick, and everything flowed."
Considering that Larrosa specializes in Latin music, the firm's location has raised some eyebrows. When the company was filling out paperwork with the Latin Recording Academy, the organizers told them that they had made a mistake. Estonia? Didn't they mean El Salvador? Or Ecuador? The instrumental album the sent to be considered went on to win the Latin Grammy Award for Best Instrumental Album
"I think we are the only Estonian company in the Latin Recording Academy," Larrosa says.
Much of this musician's life these days is spent running Larrosa Music Group. Larrosa in particular wants to help artists negotiate the complex world of financing and to assist them with their contracts. The group is also implementing new technologies to collect royalty payments, for example, or to design smart contracts that are more effective and transparent for artists. They can also introduce artists to investors, and teach them how to use their assets as collateral. As noted, there is an effort to build a community and to create content around new technologies.
Visit the Larrosa Music Group website to learn more:
Somos la Nueva Industria de la Música | Especialistas en financiación y nuevas tecnologías
Larrosa Music Group es una consultora especializada en la nueva industria de la música, sobre todo en modelos de financiación por regalías musicales, inversión en proyectos, implementación de nuevas tecnologías como inteligencia artificial y Blockchain, y la divulgación de contenidos de vanguardia a…
Of course, this double life is not always easy for Larrosa. He is a musician first and foremost, with five albums to his name, and a particular knack for writing memorable, piano-based ballads. Larrosa says that balancing business and creativity is the "biggest dilemma" in his life at the moment, and that the only thing a musician and entrepreneur like himself can do is turn of the screens, detach from the business world with its Microsoft Excel sheets and blockchain, and sit down at the piano or guitar for a while. He expects to do this more, as the business gets running.
"Our team will eventually take care of everything I am doing, and I will have time to sit down at the piano and make music again," he says. Larrosa might also make it up to Estonia because, admittedly, he has never set foot in his new digital homeland, though he sincerely would like to.
"It's been pretty amazing for us, having such an easy way to do things, and thanks to a system I really admire," says Larrosa. "I am looking forward to doing things in Estonia, to collaborating, and to continuing to spread the word about e-⁠Residency."