why is e-⁠Residency the best way to start and run a company?
One core vision and four core values explain the success of e-⁠Residency of Estonia and form the basis for our strategic objectives and future focus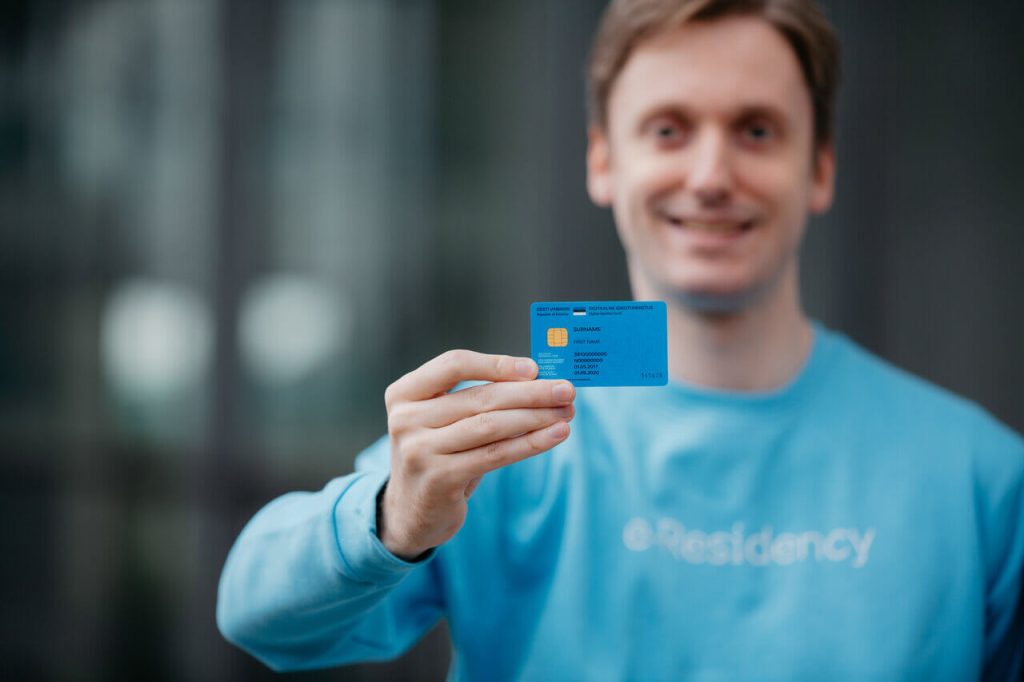 The vision of e-⁠Residency of Estonia is to be where entrepreneurs go to do business, 100% digitally and from anywhere in the world. Our four core value propositions are ease, trust, opportunity and community.
Since the programme launched in 2014, 100,000 e-⁠residents from 179 countries have joined e-⁠Residency and received their own digital ID card. E-⁠resident entrepreneurs have gone on to register 24,000 Estonian companies. And they continue to log into Estonian e-services with their digital IDs on a regular basis to manage their business accounts, file taxes, and submit annual reports.
The Core Vision of e-⁠Residency
To be where entrepreneurs go to do business, 100% digitally and from anywhere in the world.
And these numbers continue to grow at a steady pace. 11,835 e-⁠residents joined our community in 2022. Leading the charge were entrepreneurs from Spain, Germany, and Ukraine. E-⁠residents started 4,463 companies - just over 20% of all companies started in Estonia in 2022.
So what makes e-⁠Residency the go-to place for global entrepreneurs? Why is the programme so popular for people wanting to start and run a business? In this article, we'll cover the four key advantages e-⁠Residency has over our competition - which our team refers to as our four core values.
The Four Core Values of e-⁠Residency
Underlying our vision are four core value propositions: ease, trust, opportunity and community. We identified these key values following a long process of self-reflection, feedback from e-⁠residents and other partners, and research into the strengths of the e-⁠Residency programme.
Our vision and values differentiate us from competitors - other e-⁠residency programmes or places or methods to set up a business. They also guide our strategy and decision-making processes. This means that every project we commit to or goal we set must reflect the intent of our vision and values. So let's dive in deeper and introduce them one by one.
1. E-⁠Residency makes business easy at every stage.
The first core value proposition of e-⁠Residency is ease - perhaps the most obvious and self-explanatory. E-⁠Residency makes business easy at every stage.
Whether you are starting, running or growing a business, you will find e-⁠Residency 100% digital, always in English, and entirely built for your needs.
Starting: set up a business in as little as 15 minutes, like Austrian e-resident Dominic Panosch did when he registered sign.online on-stage at London Tech Week in May 2022 and broke the world record for fastest company incorporation.
Running: run your business from anywhere. With an e-⁠Residency digital ID, you have 24/7 remote access to Estonian e-services. So, you can access your company accounts, make changes, file taxes or submit annual reports anytime and from anywhere.
Growing: Overcome barriers to growth by joining a supportive community of like-minded people. E-⁠Residency doesn't just give you access to e-services; it also opens up growth opportunities for you and your business in Estonia and the EU.
E-residents have a broad choice of resources and support available for every step of your customer journey. And when you're ready to start an Estonian company, we also offer a very helpful tool of support: the e-⁠Residency Marketplace.
The Marketplace is a curated, vetted business directory of a of trusted service providers, who can help with legal address and contact person set-up, company formation, opening a business bank account, tax consulting, accounting, relocation and more. This gives you the option to further automate and delegate any business administration tasks further and make life easier for yourself. It also saves you precious time to dedicate to developing your product/service or plan, find partnerships, and spend time on marketing or sales.
2. E-⁠residents do business securely in the world's most digital country 
Our second core value is trust - encompassing security, corporate safety and business continuity. With e-⁠Residency, you can do business securely in the world's most digital country - Estonia.
Since it was launched in 2014, e-⁠Residency has been designed to meet the needs of the world's entrepreneurs. These needs are not just about ease of doing business, but also about safety and dependability. 
E-⁠Residency didn't come from nowhere. Over the last 30 years, through collaboration between the private and public sectors, digital pioneer Estonia has built state-of-the-art digital infrastructure. To ensure data security, there's no central database. A distributed data exchange layer (known as X Road) enables secure, encrypted data exchanges between decentralised public or private databases.
As a result, now 99% of public services can be resolved safely online by Estonian citizens and residents with their Estonian national IDs. And by extension, e-⁠residents get a secure digital ID just like the one Estonian citizens have and the right to access certain e-services to start and run a business. All ID holders in Estonia (whether citizens, residents or e-⁠residents) own their personal data and have the right to view their information and see how it is being used. 
Estonia's International Business Rankings
Index
EU Digital Public Services Index 2022
Economic Freedom Index 2022
Index
EU Digital Public Services Index 2022
Economic Freedom Index 2022
On the other hand, Estonia has an open business environment where all company information is publicly available. It ranks among the best in the world for transparency, rule of law and anti-corruption. This means you can have complete confidence in doing business, in a country that's transparent and in the EU. 
3. E-⁠residents can access opportunities for their business to thrive 
The third core value proposition is opportunity - referring to all the possibilities for you and your business to grow and thrive.
How? Well, having e-⁠Residency of Estonia gives you and your business access to unrivalled growth opportunities in a few broad ways:
Trade within the EU. Yes - that's right. Having a company in Estonia means you have an official EU business. So, regardless of your citizenship or residency, your business can trade within the European Economic Area (EEA), the world's largest single market.
Reach a pool of investors and partners to help you scale. Just like Estonian founders, e-residents with Estonian companies can access private investors, accelerator and incubator programmes. They are also eligible to apply for many EU or Estonian public grants. Along with local business chambers and high-value pitching competitions at local startup conferences, this means it's seamless to seek out new clients, collaborators or investors for your fast-growing technological venture through the e-⁠Residency and Estonian business networks.
Benefit from a government that incentivises growth and innovation. Estonia leads Europe as the most entrepreneurial country for tech startups (according to Atomico's State of European Tech 2021). And we're the birthplace of globally recognised unicorns like Wise, Bolt, Pipedrive, and Skype. The country's innovation-friendly government and entrepreneurial culture has helped create a vibrant business ecosystem that incentivises startups and small businesses to scale. To illustrate, consider the country's favorable tax system (ranked the most competitive in the OECD for 9 years running) that rewards early stage reinvestment, as well as its low level regulation, minimal bureaucracy, and founder friendly laws.
4. Through e-⁠Residency, you can connect to the world's entrepreneurs
The fourth core value is community - I'm sure you've heard this one before as it has been a mainstay almost since e-⁠Residency began.
When you become an e-⁠resident, you're not simply getting a digital ID or a business gateway to Estonia. You're also able to connect to a truly international community of people with a passion for entrepreneurship. They are business owners, digital nomads, consultants, startup founders, and investors, just to name a few.
Established e-residents are ready and willing to provide advice and shortcuts to help in your e-Residency journeys. The best example of this is the Estonian e-resident international chamber association (eerica), an independent, membership-based organisation of e-⁠residents formed to provide support to the community.
E-residents tell us they feel a huge sense of inclusion and belonging that comes with Estonia's digital community. There are 100,000 Estonian e-residents based around the world in 179 countries. So, wherever you are in the world you will find a network of experience, advice and support from like-minded people. Find an event online or near your location and start networking with fellow e-⁠residents now.