A recap of the biggest business festival in the Baltics from the e-Residency perspective
sTARTUp Day 2020 took place on 30 and 31 January at the University of Tartu. The 'biggest business festival in the Baltics' provides a space for over 4000 people from 60 countries, including startup founders, investors, business coaches, companies, government and university students, to meet and network. Attendees listened to stimulating talks from 158 speakers across 4 stages, participated in seminars on a range of topics and, most importantly, had the opportunity to pitch their businesses to serious investors.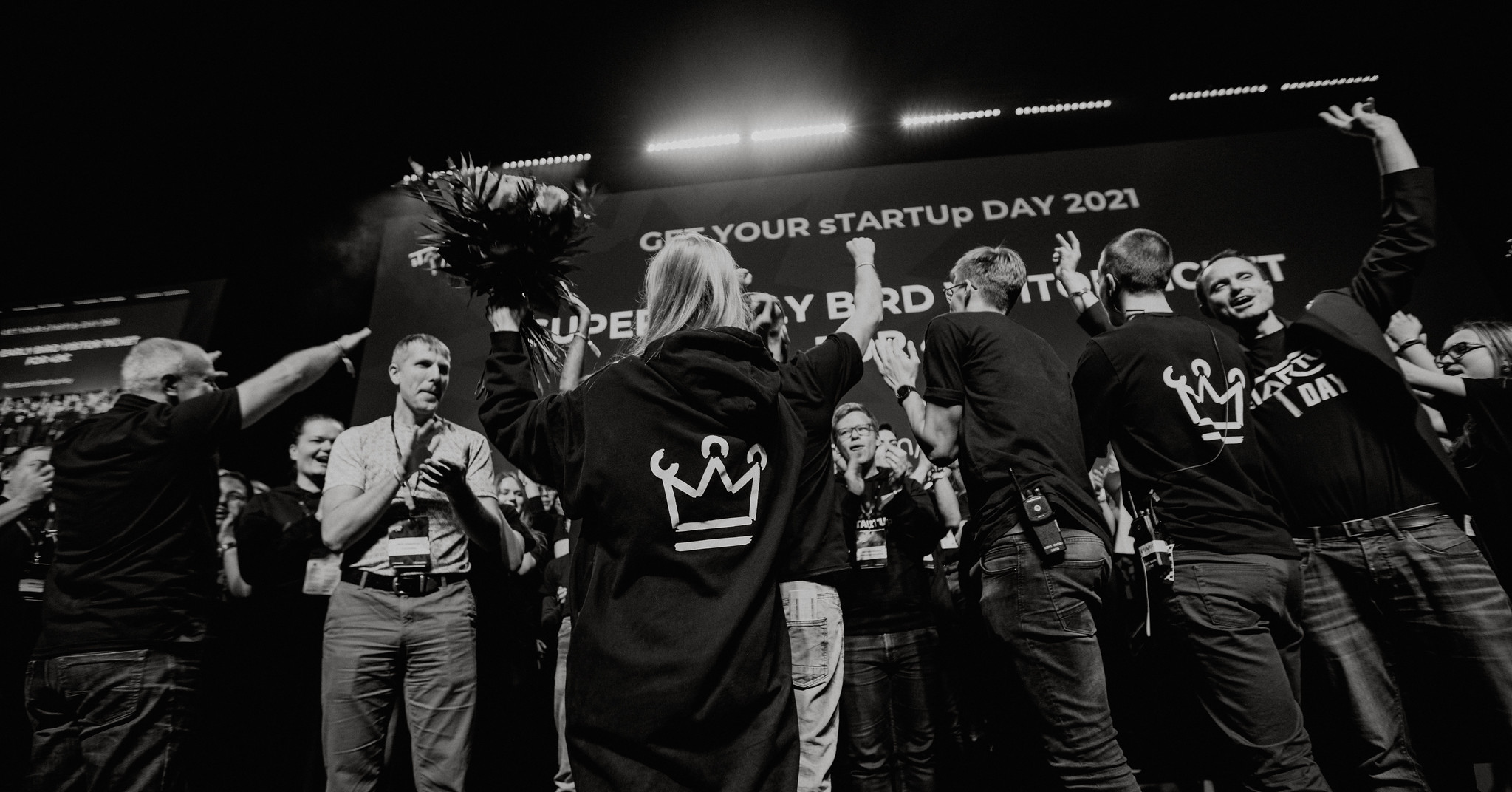 sTARTUp Day 2020 in numbers – a record year! — sTARTUp Day 2021
Baltics' biggest business festival sTARTUp Day took place for the 4th time on 29-31 January in UT Sports Hall in Tartu with 4400 visitors.
Several e-residents were in attendance, including first-timer Alexander Storozhuk of PRNEWS.IO. He was recommended to attend by fellow Estonian company Smaily.com. "We had a booth there, which helped us to magnetize attendees over the two days and engage in talks with them."
It was e-resident Oliver Gasser's second sTARTUp Day after founding moduulo and participating at sTARTUp Day already in 2019 with a booth. He said afterwards, "we were really excited to come back to Tartu in 2020. For my startup it is very important to be present in the Estonian Ecosystem. sTARTUp Day is a perfect occasion to meet other startup founders as well as investors and corporates."
Members of the e-Residency team were also present at sTARTUp Day. It was my first such event and I really enjoyed soaking up the atmosphere, which was electric with new business ideas, relationships, and ventures.
My festival started with a fascinating presentation by Jeremy Goldman on 'Predicting the Successful Startup of Tomorrow', and I am now a loyal listener of his FUTUREPROOF podcast. Towards the end of day one, I heard a keynote about maximising productivity by Connor Swenson, an ex-Googler and Mindfulness Coach. His presentation felt more like a therapy session. With some simple breathing exercises and tips on maximising focus and productivity, Connor transformed a tired, distracted audience into laser-focused, mindful jedis.
On day two, I checked out the impressive sTARTUp pitching competition, and am looking forward to following the progress of some of the great finalists including the ultimate winner Jeff App.
Throughout the event, I also took the opportunity to 'speed network' with several other participants on mutual topics of interest, including e-residents, partners, and other potential collaborators from the startup community. This initiative is brilliant, and efficiently organised using the Brella networking app. The buzz around the dedicated networking space was catching and it was very motivating to be amongst it!
The e-residents in attendance also found this initiative helpful too. Oliver from moduulo said:
Alexander from PRNEWS.IO also took advantage of the networking opportunity provided by sTARTUp Day 2020:
Of course, it wouldn't be a business event without great parties, and sTARTUp Day certainly delivered on this front. On night one, conference attendees warmed up their vocal chords at the karaoke party at Forrest bar. Founders, investors, and even one of my e-Residency colleagues took to the stage to sing classics and show why they chose business over show business. On night two, the organisers outdid themselves by throwing an underground garage party in the new DELTA building at the University of Tartu. The party was a hit for its delicious cocktails and soulful tunes from Estonian funk band, The Motown Sound, and singers Rita Ray, Robert Linna, and Anna-Liisa Supp. Participants danced the night away and caught up with friends and business partners, both new and old, in a more informal, relaxed space.
My other e-Residency colleagues in attendance made good use of the opportunity to meet business partners and e-residents, both existing and potential. For example, Pille Sidra, Product Manager at e-Residency, "heard some useful feedback from e-residents and also attended a UX seminar, where I got some new good ideas for product development."
E-Residency also co-hosted a pre-event seminar on 29 January with Marketplace members Silva Hunt and Payoneer. Approximately 45 people in attendance heard keynotes from each of the three hosts as well as a panel discussion with e-residents, including Oliver Gasser, who said after the event: " I was very happy when I received the invitation from the e-Residency team to participate on their panel. Meeting other potential e-residents and entrepreneurs is always very interesting!"
My colleague, Raimo Matvere, Head of Partnerships at e-Residency perfectly summarised the value of sTARTUp Day for e-residents:
The next sTARTUp Day will take place on 27–29 January 2021 in Tartu, Estonia. Early bird tickets are already on sale.
We encourage e-residents to attend if they can… But don't let us to convince you – listen to your fellow e-residents!
Like Alexander Storozhuk from PRNEWS.IO, who "recommends e-residents take part in this conference, as you have the possibility to get acquainted with the right people in a suitable atmosphere. Every person we met was eager to give us useful professional advice or refer someone else who could help. So, all in all a great area for networking and a really warm welcome for foreign companies."
And if any of you do decide to attend in 2021, let the team here at e-Residency know and come visit us in Tallinn too if you're in the Estonian neighbourhood!
A tiny tale about Tartu…
Tartu is located in eastern Estonia and is the country's second biggest city by population. It is famous for being home to one of the oldest universities in Northern Europe, the 17th century University of Tartu, as well as the Estonian National Museum (or 'Eesti Rahva Muuseum' in Estonian). During sTARTUp week, I attended the museum and was lucky enough to see the Peace Treaty of Tartu, which was on display to mark the centenary of its signing.
Tartu is regarded as an intellectual and creative city, which means there is always something thought-provoking to see at the numerous museums, galleries, or theatres. And being a university town, there are numerous bars, restaurants, and nightclubs to sample while you're there.
Tartu is 2.5 hours drive from Tallinn, and there are comfortable and cheap train and bus options to get you there. Accommodation ranges from hostels to 5 star hotels. And as the city centre is quite compact, it's easy to get around on foot, by bus, or by using a rideshare app like Uber or Bolt.
I highly recommend a visit to Tartu if you are in Estonia. You can read more at the visittartu.ee website.