A guest post by all-in-on-finance-solution Payhawk on ways to manage distributed team finances as smoothly as possible.
This article about distributed team finances is a guest post by Payhawk, an all-in-one financial technology provider and a trusted member of the e-Residency Marketplace. Payhawk combines credit cards, payments, expenses, cash management, and pre-accounting into one integrated experience.
Did you know that Estonia has the highest number of startups per capita in the EU? An impressive stat, and thanks to e-Residency, starting a business in Estonia couldn't be easier. You can create your own company digitally in no time and in just a few steps.
But, once you're done with the process of setting up your business, you'll need to consider how you're going to manage your team remotely, especially when it comes to their finances. After all, key advantages of e-Residency are the ability to run your business location independently and to easily manage a remote team thanks to digital solutions.
Remote employees can feel isolated and distracted, so it's crucial to communicate, empathize, and be flexible. If remote employees and their unique situation are considered from the beginning, studies say that working from home can actually be more productive than working from an office.
At Payhawk, our all-in-one finance solution for businesses, works with companies from all over Europe, including Estonian companies founded by e-residents. Many of these companies have distributed teams, and as such, our team has developed a high level of expertise around managing finances when it comes to remote working. Here are our five top tips.
1. Set up your tool-kit
First, you'll need to look into collaboration and communication tools. These tools are vital for remote working, and their use is by far the most significant change in working from home, as outlined in a recent survey.
Find tools for video conferencing, chat apps, e-signatures, and task management that adapt to your business and needs. But don't forget to consider your company spending. If your employees are spending remotely, they need the tools to help them, and your business needs a solution that will let you get a transparent view of spending and seamlessly manage company expenses.
2. Give access to company funds
Empowering your employees wherever they are is critical to help them focus on their work and achieve company goals. Helping them avoid mundane tasks like collecting receipts or asking for funds approvals will let them move faster in their roles. Your remote team will need to pay for their hardware and software, online subscriptions, and business trips, among other things, so give them good tools to do so.
Expense management software, like Payhawk, means e-resident company owners can issue virtual cards to their employees in seconds. And, if your employees really need metal or plastic cards, they can receive them in just a couple of days, either at their home or office. Also, our solution allows your team to upload out-of-pocket expenses that can quickly get reimbursed from the platform without getting mixed up with the payroll.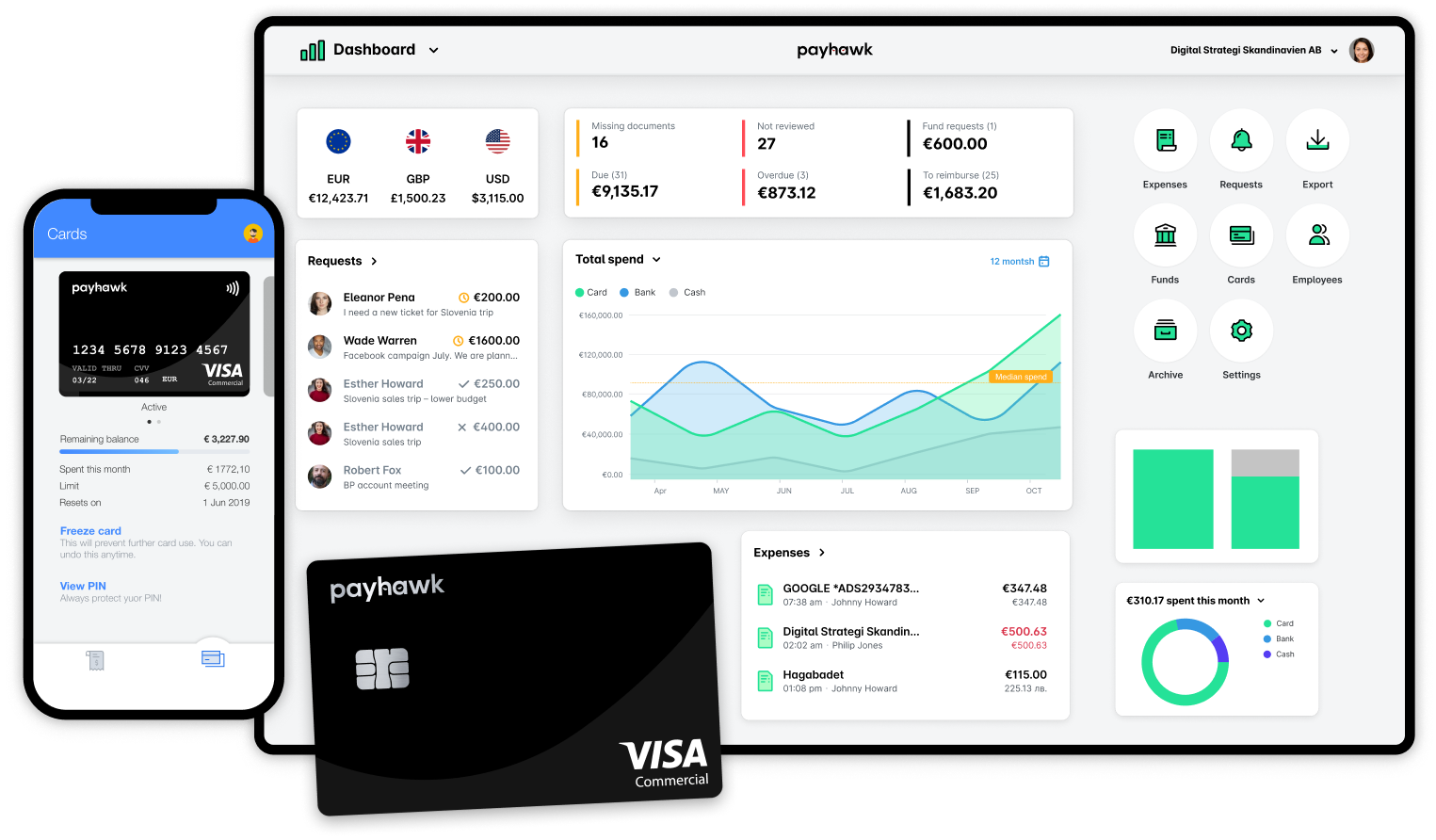 Payhawk – The Financial System of Tomorrow with NextGen Visa Cards
Payhawk combines credit cards, payments, expenses, and cash into one experience powered by NextGen Visa Commercial Cards, dedicated IBANs, SEPA and Faster Payments.
3. Focus on long term tasks
Budgeting is an important task that can be hard to maneuver remotely, as multiple teams will need to provide input. Moreover, due partly to the isolation, it can often be common to focus on everyday tasks rather than consider long-term initiatives when working remotely.
As a business, you should have periodic budget reviews and provide your finance team with access to real-time cash flow information. This vital information-sharing process can be done easily with cash flow tools and expense management solutions, so your teams (including finance) can retrieve real-time data at any moment.
4. Review your distributed team finances internal policies
When managing your distributed teams, you need to consider how you'll design or update your internal policies around digitization. With our software, your spend policies are woven into card payments via the supporting software, so you can have complete control of what and where your team can spend.
Meanwhile, look into digitized vendors and service providers when creating your procurement policy, so you can really become fully paperless.
Many vendors on the e-Residency Marketplace offer digitized solutions. Take a look today to support your Estonian company's more seamless business administration.
5. Don't forget integrations for distributed team finances
One final thought to be aware of is integrations. For each SaaS tool or system you put in place, you'll likely need to consider which other tools it needs to work with.
Manually uploading data is no fun, especially when today's systems can automatically sync information with the touch of a button. Business software integrations are particularly important for managing your bills and accounting. Once you have all the information in one system, such as expense management software, you can send this directly to your accounting software or partner.
---
At Payhawk, our team understands the challenge of managing widespread and international teams. With offices based in London, Berlin, Barcelona, and Sofia, we have to carefully consider how to successfully communicate company culture, build trust among team members, and make sure everyone is productive. A tricky but invaluable set of tasks.
One quick win, however, is remote spending and budget management. If you allow your team to focus on their work while you take care of the main administrative tasks seamlessly, then there's less scope for frustration and more time to focus on company success.
Ready to digitally transform your distributed business with Estonian e-Residency? Apply to become an e-resident now.