E-Residency of Estonia stands with Ukraine. Here are ways to support the people of Ukraine, plus information and resources for Ukrainians in our community.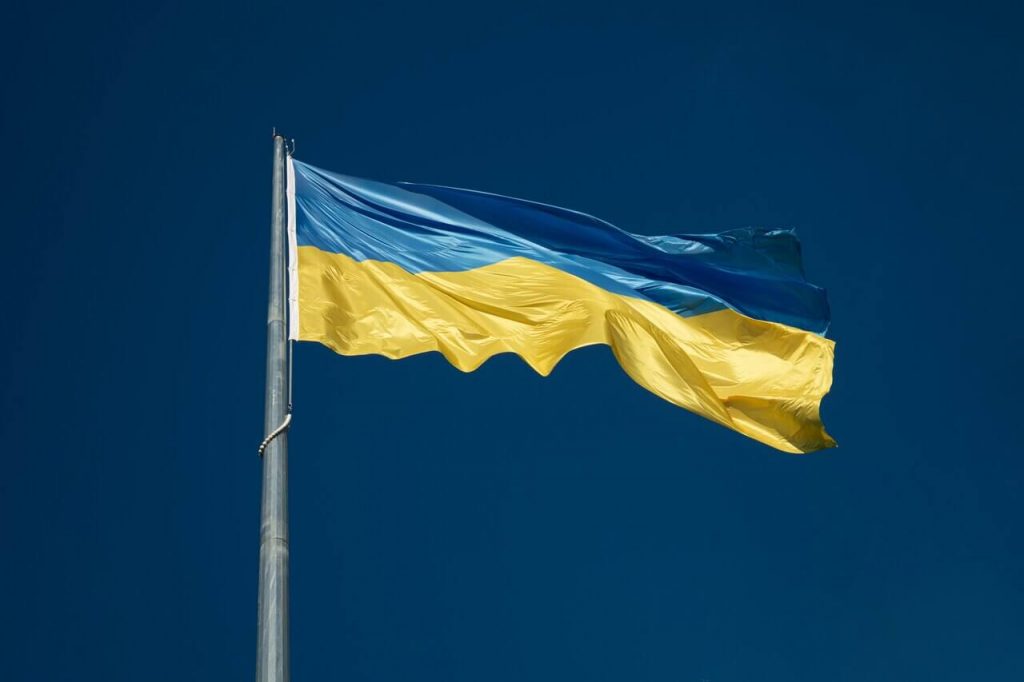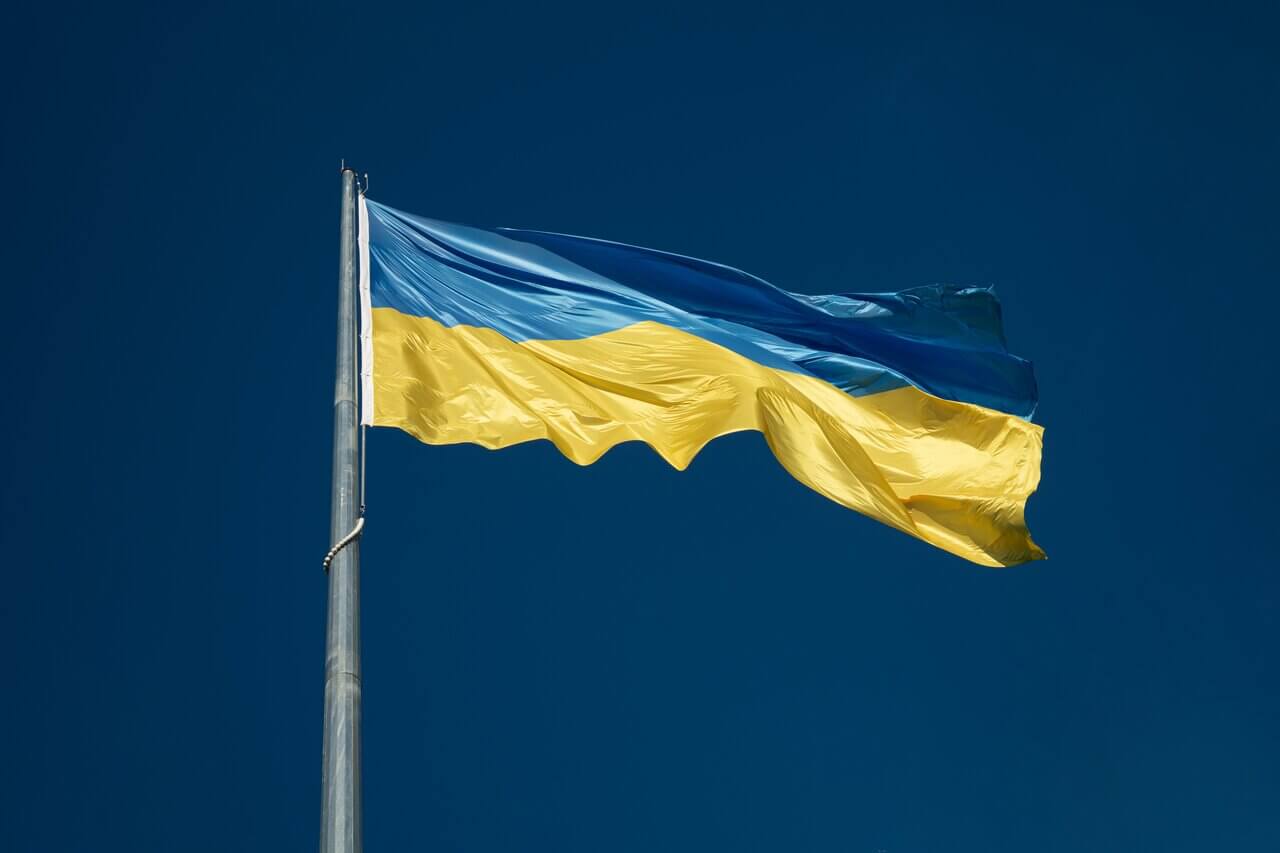 Last edited on 06.04.22 to include information about our offer to reimburse e-Residency set-up fees for Ukrainian entrepreneurs. Also edited on 24.03.22 to include new rules passed by the Estonian Parliament to allow tax-free donations to certain Ukrainian charity organisations for Estonian companies until the end of the year. Also edited on 13.06.22 to announce that the Estonian Embassy in Kyiv is issuing e-Residency digital ID cards again.
---
If you're like us, your thoughts are with the fearless people of Ukraine right now. And feeling strongly about how to support Ukraine and its people.
Here in Tallinn, over 30,000 people (2% of the Estonian population) gathered in Freedom Square for a rally on Saturday, 26 February to support Ukraine. Estonian President Alar Karis also shared this video message to the Ukrainian people on behalf of Estonia. The Estonian Government is making laws and policies to help Ukrainians live and work here, local NGOs have quickly set up donation drives and support networks, and tech startups here have donated money and resources.
We're posting this article to communicate to our community the best ways to support Ukraine and also to highlight Estonian initiatives and resources. We'll be updating this article as new information and resources arise.
E-Residency state fee reimbursement offer
On 6 April, we officially launched our new offer to financially support Ukrainian entrepreneurs. Ukrainian citizens who are granted e-Residency and register their first company in Estonia using an eligible business service provider will be reimbursed their set-up fees. Read more about the eligibility requirements and the process.
It's a small gesture, but we hope this helps Ukrainians affected by the war gain access to the tools they need to run a successful business from anywhere in the world.
(This section was added on 06.04.22 ).
How to support Ukraine?
Donate
The most urgent need is for donations for economic, military and humanitarian relief. Estonia's NGO community has launched a website with ways to donate and help (also here in Russian). You can donate as an individual or on behalf of your Estonian company.
Estonian companies can make tax-free donations to certain Ukrainian charity organisations this year. The Estonian Parliament has passed a special rule exempting companies from income tax of donations and gifts made for the preservation of the territorial integrity and sovereignty of Ukraine and for the purpose of providing and organizing humanitarian aid. This exemption runs until the end of 2022. The law names specific organisations to which companies can make tax-free donations. They include the Red Cross (Eesti Punase Risti Keskbüroo), the National Defence Promotion Foundation (Riigikaitse Edendamise Sihtasutus), the Estonian Refugee Council (Eesti Pagulusabi), MTÜ Mondo, and the Ukrainian Cultural Centre (Ukraina Kultuurikeskus).
For individuals, it is possible to make tax-exempt donations to the same list of organisations. Read more here on the Estonian Tax & Customs Board website in Estonian, Russian and English.
If you're located in Estonia, there are a number of other ways you can help, including donating supplies, housing refugees, or volunteering as translators. You'll find more information about how to do so at the website of the Estonian Refugee Council (Eesti Pagulusabi) or the Rescue Union (Päästeliit).
Beyond Estonia, this official website from the government of Ukraine offers additional ways to help. The UNHCR has also launched this appeal for donations to provide life-saving protection to families forced to flee their homes.
(This section was edited on 24.03.22 to update the information about tax-free donations by Estonian companies).
Support Ukrainian e-residents
We are proud and fortunate to count over 5,000 Ukrainians among our community of e-residents of Estonia around the world. Here are just a few Ukrainian e-resident business stories for you to read, share and support:
Other Ukrainian e-resident entrepreneurs have listed their Estonian businesses in the e-Residency Company List. We encourage all other Ukrainian e-residents to add your own companies to this list. And for other e-residents, take a look, connect and support these businesses in their time of need.
Important Note for Ukrainians considering e-Residency: e-Residency applications remain open for Ukrainians, and consular services at the Embassy of Estonia in Kyiv have resumed as of 1 June, meaning e-Residency digital ID cards can be collected at this pickup location again. Find a information about pickup locations here. And please contact konsul@mfa.ee for more information about your individual situation. (This paragraph was edited to announced that the Kyiv Embassy is issuing e-Residency digital ID cards again as at 1 June).
Spread news for Ukrainians about staying and working in Estonia
Ukrainians with a visa or permit about to expire may continue to stay in Estonia.
Further, Ukrainians without a biometric passport can now enter Estonia without a visa. This includes the children, parents, and spouses of Ukrainian citizens, even if they are citizens of another country. Read more on the Police and Border Guard website in English and Russian.
The City of Tallinn has opened a Refugee reception centre in cooperation with the Estonian Social Insurance Board, the Police and Border Guard Board and the Estonian Refugee Council. Its objective is to meet the primary needs of the refugees from the war in Ukraine. You can find more information here in Ukrainian and in English.
The Ministry of Interior has made a guide about the possibilities for Ukrainian Citizens to enter and stay in Estonia. View and download the document at the Work in Estonia website.
Work in Estonia has started an awareness campaign in Ukraine about job opportunities in Estonia, targeting the country's IT professionals to provide them opportunities to work in Estonia.
SafetyWing has also made a shout-out to remote companies currently hiring roles that Ukrainian citizens can apply to. They are in the process of compiling a directory to help people who have lost their jobs due to the conflict. For e-resident companies with open roles that can be filled remotely, we encourage you to add these to this list.
Understand the security situation in Europe
Finally, it's important to only read trusted sources about the security situation in Ukraine and further afield in Europe. The situation is changing on an hourly basis and there is a lot of misinformation on the internet right now.
The Estonian government has launched a web page bringing together information on its crisis website. The webpage titled "Security Situation in Europe" presents the Estonian government's latest news, statements and travel advice about the situation in the region.
Estonian World is providing rolling updates on the war from an Estonian perspective, which you can follow on their website. The Estonian Ministry of Foreign Affairs also tweeted this list of legitimate news sources:
Frequently asked questions
How can I receive my digital ID card if I chose the Estonian Embassy in Kyiv as my pickup location?
Starting from 01.06.2022, the Estonian Embassy in Kyiv has reopened consular services. This means you can collect your e-Residency kit there again. If you have any specific questions, please contact the Estonian Ministry of Foreign Affairs at konsul@mfa.ee.
2. I have left Ukraine but chose the Estonian Embassy in Kyiv as my digital ID card pickup location. Can I receive my e-Residency kit outside of Ukraine?
Yes! You can choose another pickup location from various options across the world and send your request to konsul@mfa.ee. You will have 6 months to pick up your digital ID card from your chosen location after receiving an email notification that your e-Residency kit has arrived.
3. My e-Residency kit has arrived but I might not be able to pick it up within 6 months. Is it possible to extend the period for collecting my e-Residency kit?
Yes! The period for collecting the e-Residency kit can be extended for an additional 6 months. Since the extension will not be done automatically, please send your request to konsul@mfa.ee.
4. My e-Residency card is expiring. How can I renew my card? Can I continue using the online services while I wait for my new card to arrive?
E-residents can renew their digital identity by filing an application here. As the Estonian Embassy in Kyiv is temporarily closed, it is advised to choose another pickup location to collect your new ID card within the following 6 months.

5. I have moved to another country from Ukraine. How can I create an Estonian based company here using e-Residency?
E-Residency allows entrepreneurs to run their companies location-independently – as an e-resident you are able to virtually establish and manage your company from anywhere in the world. For detailed steps on how to start your company, visit the e-Residency website and our Knowledge Base. E-Residency's virtual Marketplace provides a list of service providers to help you launch your company and you can read more on how to choose a service provider best suited for your needs. Visit our blog for stories from e-residents and their business endeavors in more than 175 countries worldwide.
6. How does the e-Residency state fee reimbursement offer work?
E-Residency has launched a state fee reimbursement offer to financially support Ukrainian entrepreneurs, help them deal with the consequences of war, and promote the development of the Ukrainian and Estonian economies. E-Residency will reimburse the state fee for the e-Residency application and participating service providers will reimburse the state fee for registering a company in Estonia to those eligible.
You're eligible to take up this offer if you meet the following criteria:
You are a citizen of Ukraine
You have been granted e-Residency status on or after February 24, 2022
You have been accepted as a client by an eligible business service provider
You register a new company in Estonia as an Estonian e-resident before December 31, 2022
You do not own a company registered in Estonia or have control over (including being a member of a company's Board or a shareholder) any other Estonian registered company or companies before February 24, 2022
The reimbursement process works as follows:
Apply for e-Residency, pay the application fee, and collect your digital ID card.
Choose an eligible business service provider from this select list.
Register your company.
Your business service provider will reimburse you the state fees for both e-Residency and company registration.
For more details, please refer to our Knowledge Base.