from digital nomad to e-⁠resident
E-⁠Residency helps South African e-⁠resident Fifi Matlatse get her message across that just like charity, security begins at home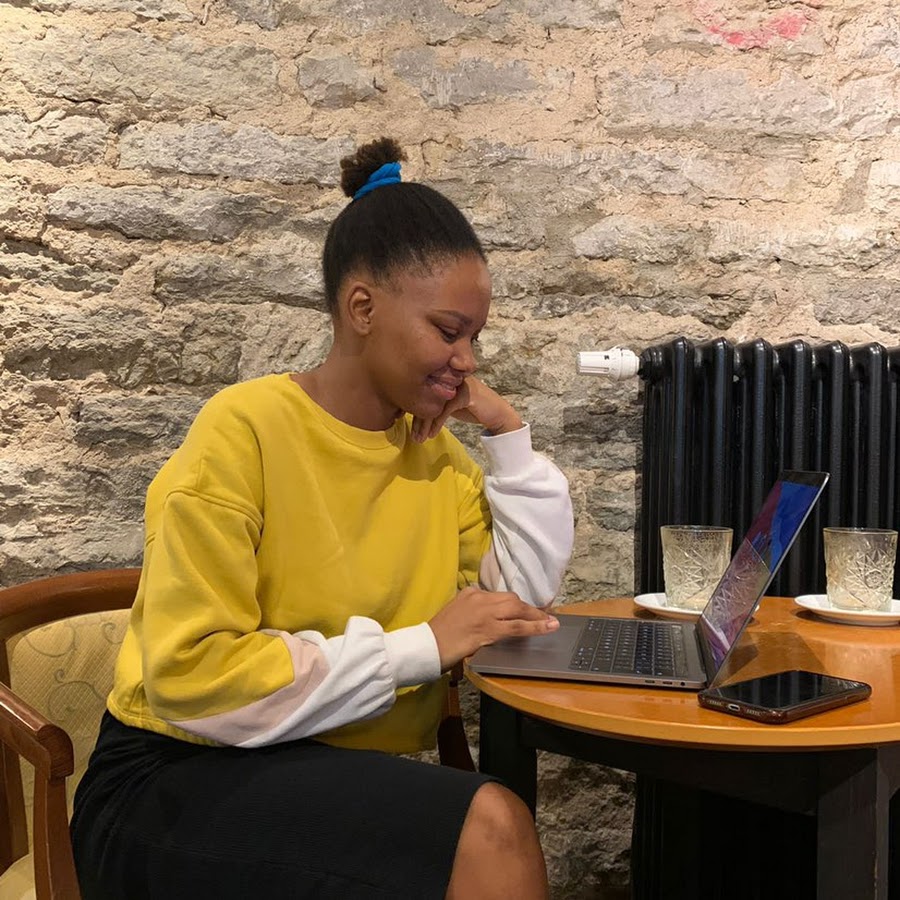 South African e-resident Fifi Matlatse is a newbie freelancer who's a wannabe entrepreneur, specializing in developing and implementing cybersecurity and data protection programs. In the not-too-distant future, she envisages Fifi M Advisory establishing itself as "one of the leading boutique cybersecurity consultancy firms in Europe and Africa." She pictures herself "workationing from some tropical island resort or snow-capped mountain chalet, inspiring young girls everywhere to follow their dreams, and to make the choice to take the chance they have to change their lives for the better."
Currently in Estonia on the country's digital nomad visa, Fifi became an e-⁠resident to help her remotely manage her business while on the road.
It all started with a business suit
Named Refiloe at birth - which translates as "We have been gifted" - suggests that Fifi is destined for great things.
Even from an early age, Fifi had a keen interest in the worlds of commerce and finance. Indeed, the top of her Christmas present wish list as a child was a business suit. Little surprise then that she went on to complete a Masters degree in Information Science funded by a Carnegie Foundation scholarship. But it wasn't information science where Fifi felt her future lay, but the world of finance and consulting. She set her heart on entering the private sector and duly sent out blanket applications.
One of the four big audit firms replied and offered Fifi a cybersecurity-related position. It wasn't what she had applied for but she jumped at the opportunity. Three months after she was hired, Fifi had won her first promotion. 
Fifi speaks candidly about being a knowledge sponge, absorbing "not just the technical security and data protection stuff, but also soft skills that aren't really taught in school/university. Like how to handle difficult clients, delegating upwards, how to remember people's names, and most importantly, how to fake it till you make it."
Teaching what she learnt, Fifi passed on her accrued wisdom to the latest hires. Then burnout hit. After management did nothing to ease her burgeoning workload, Fifi handed in her notice.
After a short stint in Washington, D.C,  a coworker recommended her for a post in the Irish capital.
Prioritising independence as a digital nomad
Backpacking through Europe prior to moving to Dublin acclimatized Fifi for relocating to yet another new continent. But then the pandemic hit. And nothing prepared her for lockdown. Losing the aunt that had raised her and not being able to be with family during that difficult time hit hard as she poignantly recalls, "No one was there to wipe away my tears."
An idea germinated, for Fifi to take back control of her life and work for herself rather than others. Fifi was initially attracted to the Welcome to Barbados visa for remote workers. Until she did some further research and found there were European countries offering a similar package with altogether less upheaval.
Estonia was one of these and the fact it's a Schengen country was a massive draw for Fifi. She looked forward to budget travel without having to apply for a visa. So Fifi went all out to secure an Estonian Digital Nomad Visa.
It was the visa that led Fifi to finding out about e-⁠Residency. It wasn't something that initially appealed as she had recently registered a company in South Africa. But then the business admin in South Africa started to pile up and Fifi found she couldn't deal with it remotely.
From digital nomad to South African e-⁠resident
Running a European-based company has led her clients to trust her more. Much of Fifi's work relates to GDPR regulation compliance. Estonia is the ideal business address for her.
Fifi also uses the country as a "case study." The way Estonia reacted to the 2007 cyber attack was a master class. She points to the creation of resilient systems as a lesson well worth following. 
Letting e-⁠Residency take care of Fifi M Advisory's accounts has been a key benefit. She admits to not being a natural accountant. It allows the South African e-⁠resident to concentrate on her core services.
NATO's Secretary General Jens Stoltenberg has declared that "NATO's main task during the pandemic is to make sure the health crisis does not become a security crisis." For Fifi M Advisory's CEO, cybersecurity expert Fifi Matlatse, "Covid-19 has significantly diversified and increased the cyber threat landscape, not only for organizations/governments/countries, but also for regular people like me and you."  From employees using personal devices without organizational technical controls to more adaptive, sophisticated and targeted social engineering tactics, cyber attacks are on the rise.
Fellow e-⁠residents could benefit from Fifi M Advisory's cybersecurity and data protection services. Fifi points to the "gap or maturity assessments" she can carry out along with the production of "roadmaps to improve maturity and bridge gaps." No company is too big or small for her when it comes to collaboration.
Although Fifi is very complimentary about the support offered by e-⁠Residency through webinars and official government approval, she suggests that a lower cost would attract more of her compatriots. "South Africa has a young, vibrant workforce that is being pushed away from their home country because of growing unemployment. If some sort of subsidy could be introduced for e-⁠Residency, this would be a welcome improvement," according to Fifi. 
Living in Estonia has been one of Fifi's most memorable experiences to date. She thinks people believe Estonians are as cold as the climate but Fifi points to the friendliness of strangers. During her year here, she has also fallen in love.
"There is a quality of life here that you would struggle to find elsewhere in Europe", she claims. Fifi knew she was in the right place when she had her first meal here, of Shashlik which "tasted like home."