e-⁠residency for european digital nomads
How can e-⁠Residency help EU citizens on your digital nomad journeys? Keep a digital footprint in the Single Market and manage an EU company remotely with ease.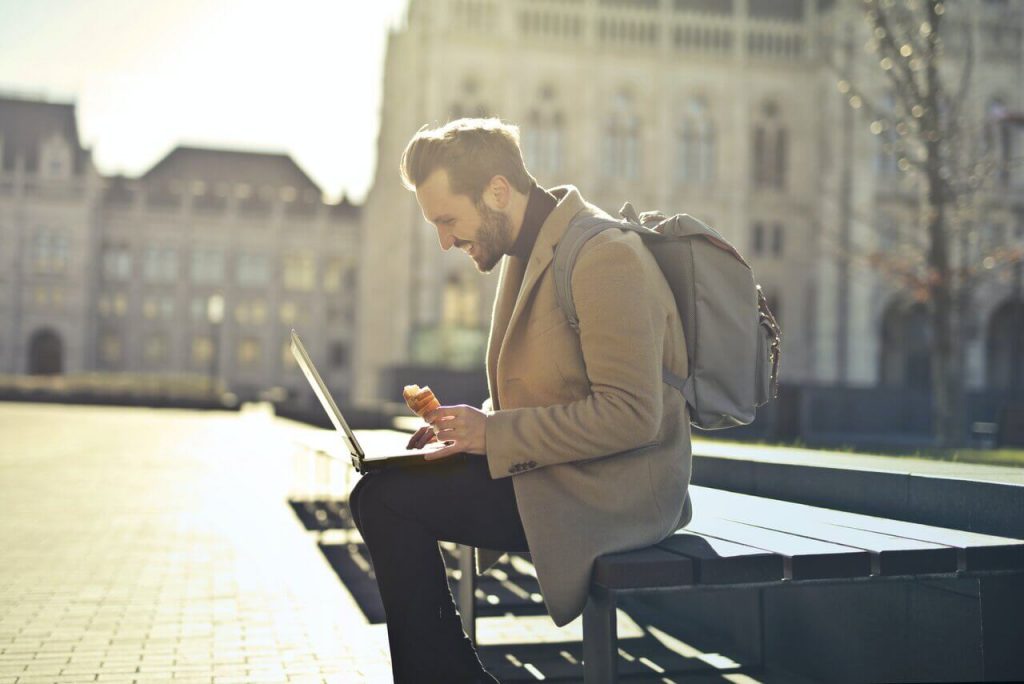 Have you been wondering how e-⁠Residency could help with your digital nomad journey as an EU citizen? Then we've got you covered. This article aims to provide an overview of the benefits of the Estonian e-⁠Residency program for European digital nomads, or those contemplating a location-independent lifestyle. 
These benefits include being able to access a wide range of advanced digital services in Estonia, which can help you efficiently manage your business remotely from anywhere. Another benefit is the ability to easily, quickly and affordably register an EU-based company online, giving you a digital footprint in one of the world's biggest economies.
Below we also share insights on how to get started as a remote working, location-independent professional - such as connecting with experienced nomads, and planning your budget. 
What are the benefits of e-⁠Residency for European digital nomads?
For European Union (EU) citizens who are keen to work and travel the world as digital nomads, there are various benefits to becoming an e-⁠resident. 
Even though you may already have EU citizenship, you may want to consider how easily you can set up and manage your business remotely through your own country, as you embark on your digital nomad journey. 
For example, does your country enable you to quickly, easily and affordably establish a company online? And how much corporate tax will you have to pay? Also consider how easily you'll be able to access the digital services you need to run your business remotely, such as online banking, online tax returns and digitally sign and send documents. 
Below we take a closer look at some of the specific benefits of e-⁠Residency for European digital nomads.
1. European digital nomads can easily manage an EU-based company online
Estonia is a world leader when it comes to digital services, e-government and cybersecurity. In fact, 99% of Estonian state services are available online and the vast majority of citizens submit their tax returns electronically. 
Being an Estonian e-resident allows you to access a whole range of Estonian digital services, which can help reduce bureaucracy and help you save time and money on company administration. These advanced digital services include online banking, online tax return submissions, and the ability to digitally and securely sign documents online. You'll also be able to encrypt and send documents securely (and verify the authenticity of signed documents).
This means that as a digital nomad, you can easily manage your company online, no matter where you are based. All you need is an internet connection. 
If you plan to run your company from another EU country that doesn't have such advanced digital services, you may spend hours struggling to manage your business online and may even need to take costly trips home to sort out bureaucratic challenges. 
2. e-⁠Residency enables remote work from anywhere
Even if you are an EU citizen, that doesn't guarantee that you will be able to easily and efficiently work from anywhere overseas as a nomad. 
One of the enabling factors for successfully working as a digital nomad, is finding a way to manage your company remotely. That includes your business banking, tax and financial reporting, and legally incorporating and managing your business. 
Estonian e-⁠Residency enables all of these benefits and helps you run your digital business in a paperless fashion. That means you can live the digital nomad lifestyle, while being able to operate your company effectively and efficiently. 
Compared with some other EU countries where it's challenging to access the digital services needed to run an online business, or to easily establish an EU-based company - e-⁠Residency offers advanced digital services that make it simple and easy for European digital nomads to run their companies from anywhere. 
3. Easy and affordable e-⁠Residency registration process
E-Residency has a quick and efficient application process. It takes just 30 minutes to file your online application. And the application fee and business registration fees are also very reasonably priced.
Your e-⁠Residency application will be processed and your digital ID printed and sent with your e-⁠Residency kit to your chosen pickup point within 3-8 weeks. You can collect your e-⁠Residency kit at 45+ locations worldwide. The kit contains your personal digital ID card, smart card reader, plus PIN + PUK codes to use with your card, which you can use to transact online using digital services.
Compared with some other EU countries, this offers a very efficient and secure way of accessing advanced digital services and being able to quickly register an EU company. Normally, company registration takes a day or two, but recently an e-⁠resident broke the world record for company incorporation in a time of 15 minutes and 33 seconds!
4. Affordable opportunity to operate an EU-based company (while maintaining access to the EU market)
If you're contemplating running an online business from anywhere, you'll need access to digital services and you'll want to have access to a large, stable economic market of customers.
That's why e-⁠Residency is particularly popular among EU citizens. You're able to maintain access to the large EU market, while also having access to advanced digital services that enable you to efficiently and effectively run your business remotely.
Once you're an e-⁠resident, you can then register a company in Estonia. There are a variety of different company ownership models to choose from, with the private limited company (OÜ) being the most popular and suitable for e-⁠residents. 
Keeping your business in the EU market brings with it a wealth of opportunity, given that it's one of the largest global economies. This presents a significant business opportunity and advantage - being able to access a large potential customer base across 27 EU member states.
How to get started on my digital nomad journey?
If you're wondering how to get started on your digital nomad journey, then here are some useful tips. 
1. Learn from experienced digital nomads or join a digital nomad community
There's no better resource to learn from about digital nomadism, than learning from experienced digital nomads themselves. Just because you may not personally know any digital nomads, that shouldn't be a barrier to connecting with that community. 
There are numerous digital nomad blogs, e-books, podcasts and even dedicated digital nomad communities or networks which you could connect with to learn more. We've even covered the topic of community on the blog:
These resources can give you useful insights into which countries to work and travel in, nomad's tips and tricks, or what to avoid. And they can give you invaluable practical advice on how to get started on your journey. 
2. Do lots of research on destinations, legal requirements and tax implications
One of the most time-consuming aspects of starting your journey as a location independent professional - is doing thorough research. 
While research may not be everyone's cup of tea, it's important that you do it as you may otherwise be in for some unwelcome surprises. Particularly when it comes to paying tax, or breaching legal requirements. 
Some of the specific things that you should consider doing in-depth research into, are which countries are hotspots for digital nomads, where will you base yourself (consider staying at dedicated remote work coworking and coliving spaces), and what the legal and tax implications are of working around the world. 
For example, you may need a visa to live and work in certain countries even as a nomad. And you may also need to prove a certain monthly income, to get a digital nomad visa. 
Furthermore, it is important to make sure that you'll be covered when it comes to healthcare. There are various dedicated digital nomad health insurance plans that cover multiple countries. 
3. Decide what type of job you'll do, based on your skills
If you plan to work remotely, you'll need to ensure you have a remote job and one that you can do from anywhere. Many nomads are self-employed, but there are also various options for finding remote work online or through your existing networks. 
It's worth looking at your skills and then trying to search for online roles that match those. There are a multitude of remote work marketplaces that make finding virtual work easier. Or you may decide to freelance work for a variety of different organisations. 
You may also want to consider starting a company of your own. Once you're an e-⁠resident you can quickly and easily register your very own Estonian company.
4. Prepare a budget
Unless you have endless funds, it's imperative to draw up a budget for your plans. While there are many cost savings related to working remotely, there are also many overheads and unexpected costs - especially if you haven't planned for them.
That includes things like digital nomad health insurance, accommodation, membership to coworking spaces, travel insurance, and the costs of flights and general travel activities. 
A good starting point to planning your digital nomad budget is to look at sites that offer information about the living costs in the cities you plan to visit. These can give you a rough idea of monthly expenses and how they may vary from place to place.
5. Figure out how to run your business online
If you're planning to work and travel remotely, you'll need access to the tools to manage your business online. This includes being able to file your company and personal taxes online, and the ability to do online banking.
There are a range of e-services that can make it easy and efficient to run an online business from anywhere, but not all countries provide these e-services. Above we looked at how e-⁠Residency of Estonia offers access to advanced digital services, making it a popular choice among digital nomads.
6. Start travelling!
Next, it's time to start travelling and living the digital nomad lifestyle. Hopefully, your journey will be filled with a multitude of adventures and fulfilment. 
Final thoughts for European digital nomads
If you're planning to start working as a digital nomad, then you'll want to find a way of managing your business affairs online. 
E-⁠Residency offers remote workers access to a range of Estonian advanced e-services, which help to streamline virtual management of your business. 
In addition, e-⁠residents can register an Estonian company, which provides an affordable way to maintain access to one of the largest economies in the world as it's part of the EU. What's more - the process of establishing your Estonian business is efficient, affordable and fully online - in contrast to some of the protracted and complex company registration procedures in other European nations. 
For EU citizens, these are some of the many benefits of becoming an Estonian e-⁠resident. 
This article was written by guest contributor and seasoned digital nomad Andy Stofferis (www.andysto.com).